ВЕРНОСТЬ - FIDELITY № 126 - 2009
JUNE / ИЮНЬ 7
The Editorial Board is glad to inform our Readers that this issue of "FIDELITY" has articles in English, and Russian Languages.
С удовлетворением сообщаем, что в этом номере журнала "ВЕРНОСТЬ" помещены статьи на английском и русском языках.
Придет время, и криминальный режим предателей и неокоммунистических мародеров рухнет. В России будет восстановлена Православная русская национальная власть.
Установив законность и порядок, русский народ постепенно восстановит истинные духовно-нравственные ценности, на которых славные предки создавали Великую Российскую Державу.
Мы возродим нашу Родину – Россию!
Наше дело Правое! Победа будет за нами!
CONTENTS - ОГЛАВЛЕНИЕ
1. ХРИСТОС ВОСКРЕСЕ! В. Соколов
2. HIEROMARTYR JOSEPH, METROPOLITAN OF PETROGRAD and those with him. Dr. V. Moss
3. FROM A LETTER OF THE OPTINA ELDER ST. ANATOLY THE YOUNGER (+1927). Seraphim Larin
4. TWO YEARS DOWN THE TRACK… Protodeacon Herman Ivanov-Trinadtsati. Translated by Seraphim Larin
5. ИДОЛОПОКЛОНСТВО. В. Соколов
6. ЗАМУРОВАННЫЕ. Глава из новой книги. Иван Миронов
7. ПОЕЗДКА В ПРОВИНЦИЮ. В. Соколов
8. EASTERN TEACHINGS IN THE LIGHT OF CHRISTIANITY. Seraphim Larin
9. ПСАЛОМ. П. Котлов-Бондаренко
10. ВСПОМИНАЯ ТОВАРИЩА СТАЛИНА. Вадим Винoградов
11. РОКОВАЯ СДЕЛКА. Как продавали Аляску. Иван Миронов. (Начало см. Верность №125)
12. ПСАЛОМ. П. Котлов-Бондаренко
13. РЕЦЕНЗИЯ: ТРЕТИЙ РИМ, Русский Альманах, № 6. Г.М. Солдатов
14. В РОССИИ РУССКИМ МЕСТА НЕТ? Георгий Знаменский.
15. ИЖЕВСКОЕ ВОССТАНИЕ. Н.Н.Смоленцев-Соболь. (Продолжение cм. No. 114, 119, 122)
16. ДВА СТУЛА. В. Соколов
17. БОРЬБА ПРАВИТЕЛЬСТВА СССР-РФ И МП ПРОТИВ РУССКОЙ МОНАРХИИ. Г.М. Солдатов (Прод. см. No. 125)
18. СТАРЫЕ ЛЫЖИ. В. Соколов
19. © INFORMATION ON COPYRIGHT. Anna (Nancy) Soldatow
20 QUO VADIS , ДУХОВЕНСТВО РПЦЗ(МП)? Г.М. Солдатов
21. VICTORIES OVER US ARE BUT TEMPORARY. G.M.Soldatow. Translated by Seraphim Larin
22. НАМ СООБЩИЛИ – WE WERE INFORMED.
1. St John of San-Francisco Can Be Appointed Patron of the Branch Of The KGB Of Russian Federation
2. Putins and Luzhkovs images displayed on hallway walls of a Moscow church
3 Реставрационная Гоморра. В Суздале чиновники отобрали у верующих восстановленные ими храмы
4. Председатель Конституционного суда России будет назначаться
5. Забытая история сопротивления: Демонстрация на Розенштрассе
* * *
ИЗ ПОСЛАНИЙ СВЯТЫХ АПОСТОЛОВ
Смотрите, братия, чтоб не было в ком из вас сердца лукавого и неверного, дабы вам не отступить от Бога живого.
Но наставляйте друг друга каждый день, доколе можно говорить «ныне», чтобы кто из вас не ожесточился, обольстившись грехом.
Посему станем праздновать не со старою закваскою, не с закваскою порока и лукавства, но с опресноками чистоты и истины.
Ничего не делайте по любопрению или по тщеславию, но по смиренномудрию почитайте один другого высших себя.
Делая добро, да не унываем; ибо в свое время пожнем, если не ослабнем.
* * *
ХРИСТОС ВОСКРЕСЕ!
В. Соколов
Впечатления от Пасхальной ночи в Москве вселяют надежду. Храмы переполнены.. В церкви не только старушки – молодежь, мужчины, современные красавицы – все предстали перед Творцом. Но многое происходящее непонятно – и это объяснимо. И язык службы не совсем ясен – что объяснимо тоже. Сколько лет вытравливали веру, лишали знания! Но все это не может воспрепятствовать устремлению духа человека к Богу. Не старайтесь, легионы бесов, нет победы вам ни «на небеси, ни на земли». В Российской Федерации еще есть потомки Русских! Врата ада не одолеют их! Когда на возглас: Христос Воскресе, многоголосый хор молящихся отвечает: Воистину Воскресе – очень верится в возрождение России. Только подъем, если будет, то постепенный, не с первой на десятую ступеньку, а с первой на вторую и т. д.
Сергианская церковь - неприемлема, но люди пришли не в нее, а к Богу. Куда идти тому, кто сердцем с новомученниками, кто не хочет быть в Красной церкви. Куда идти бесчисленному народу необъятной страны? Альтернативы, практически, нет. Где храмы Белой Церкви? Теперь в храмах Русской Церкви - священство Московской Патриархии. Но веру во Христа ни какой иерарх не может осквернить, тем более, уничтожить. Потаенный храм души всегда открыт, но сердце жаждет собора – « Где двое и трое во имя Мое». Бог среди нас!....Да, - «Панихиду рано петь по Руси Святой»
Пасха 2009
* * *
HIEROMARTYR JOSEPH, METROPOLITAN OF PETROGRAD and those with him
Dr. V. Moss
Metropolitan Joseph, in the world Ivan Semyonovich Petrovykh, was born on December 15, 1872 in the town of Ustyuzhna in Novgorod province, in a lower middle class family. He finished his studies at the Ustyuzhna theological school and the Novgorod theological seminary and then, in 1895, entered the Moscow Theological Academy. In 1899 he graduated from the Academy with the degree of candidate of theology and a professor's scholarship. On September 9, 1900 he was confirmed as lecturer of the Academy in the faculty of Biblical history. On August 26, 1901, he was tonsured as a monk by Bishop Arsenius (Stadnitsky), the rector of the Academy, in the Gethsemane skete. Bishop Arsenius' words at his tonsuring had a great significance for Fr. Joseph in his future life: "Now, when the name of God is blasphemed, silence is shameful and will be counted as pusillanimity or insensitive coldness with regard to the faith. May this criminal lukewarmness, which the Lord warns against, not be in you. Work burning with the Spirit of the Lord."
On September 30, 1901, Fr. Joseph was ordained to the diaconate, and on October 14 – to the priesthood. In February, 1903, he was awarded the degree of master of theology; the theme of his dissertation being: "The history of the Jewish people according to the archaeology of Joseph Flavian". On December 9, 1903 he was made inspector and extraordinary professor of the Moscow Academy. On 18 January, 1904 he was raised to the rank of archimandrite.
While teaching Biblical history at the Moscow Academy , Fr. Joseph came up against a powerful anti-monastic tendency in the professorial body. "This polemic between the professors of the Academy and the steward of the Holy Trinity – St. Sergius Lavra, Archimandrite Nicon (Rozhdestvensky) began already in 1902 and unfolded on the pages of the journals Soul-Profiting Reading and The Theological Herald. The professors subjected monasticism in its contemporary form to sharp criticism and called on the monks to carry out in a practical way the commandment of love for one's neighbour in the form of social service. Archimandrite Nicon defended the contemplative character of monasticism. The articles on both sides were quite sharp in character. In March, 1904 Metropolitan Vladimir of Moscow banned an article by the Academy Professor N.F. Kapterev, which was being prepared for the press as a reply to Archimandrite Nicon. On March 18 an extraordinary session of the Academy Council took place for this reason. The decision was taken to protest against the metropolitan's ban. Archimandrite Joseph did not agree with this decision, supported the ban on the publication and expressed himself against N.F. Kapterev's article because of its unbecoming and sharp attacks and even 'the poison of barbs, mockeries and insults directed not only against opponents but also against monasticism itself, but very well concealed under an external mask of objective scholarship'.
"For his words Archimandrite Joseph was publicly and coarsely reproached by the offended N.F. Kapterev, after which he left the meeting. The scene made a bad impression on everyone, but Fr. Joseph was not spared – it was considered that he had received his due for his conceit and his speech against the professorial corporation and one of its most senior members. Professor I.V. Popov in a letter of April 16, 1904 wrote: 'Joseph set off straight from the meeting to the elders at the skete. There he wept and wrote a petition for his retirement…' At Pascha a deputation from the professors was received by Metropolitan Vladimir, who also summoned Archimandrite Joseph. In spite of the warm reception and long conversation with the professors, the ban was not removed, and Kapterev's article was not printed."
In June, 1906 Fr. Joseph was appointed superior of the Yablochinsky St. Onuphrius monastery in Kholm diocese. The monastery was in a very poor, run-down condition, and the Orthodox in the area were surrounded by hostile Catholics. However, the young archimandrite succeeded in bringing the monastery into a flourishing condition.
In 1907 he was appointed to the Yuriev monastery in Novgorod diocese. In 1909 he wrote prophetically: "Now many are complaining about the hard times for the Church… Remembering the words of the Saviour with complete accuracy, we must expect still worse times for the Church… Without any exaggeration, she must truly live through a condition close to complete destruction and her being overcome by the gates of hell. Perhaps with us, exactly as in the land of freedom, America, they will drive the Name of Christ out of the schools. They will adapt prayer assemblies into ordinary meetings permitted by the police, as in that other land of freedom, France, and will convert the heritage of the Church, together with the very right of faith, into the property of the state. Perhaps the faith of Christ will again hide in the woods, the deserts, the catacombs, and the confession of the faith will be only in secret, while immoral and blasphemous presentations will come out into the open. All this may happen! The struggle against Christ will be waged with desperation, with the exertion of the last drop of human and hellish energy, and only then, perhaps, will it be given to hell and to mankind to assure us with complete obviousness of the unfailing power and might of the priceless promise of Christ: 'I will build My Church, and the gates of hell will not prevail against her' (Matth. 16.18)."
On March 15, 1909, Fr. Joseph was consecrated Bishop of Uglich, a vicariate of Yaroslavl diocese in the Holy Trinity cathedral of the Alexander Nevsky Lavra by Metropolitans Anthony of Petersburg, Vladimir of Moscow, Flavian of Kiev and others. In the same year he was appointed superior of the Spaso-Yakovlevsky monastery in Rostov, which post he retained until 1923. He was in the see of Uglich for many years as the vicar of Archbishop Tikhon (Bellavin), and from 1913 - of Archbishop Agathangelus (Preobrazhensky).
From August 25 to September 16, 1914 Bishop Joseph was temporary administrator of the Kostroma diocese. During this period, short though it was, he did much to help the Russian soldiers and their families at the beginning of the war. Bishop Joseph's influence persisted, for in 1946 the Moscow Patriarchate Bishop Anthony reported that "the Kostroma region is steeped in the Josephite spirit", and that "to uproot this it is necessary to open a series of churches that have been preserved".
Between 1905 and 1910 he published In the Embrace of the Father. The Diary of a Monk in 12 volumes (St. Petersburg). He very much loved the Liturgy and served every day. He was an expert in church chanting, and in 1911 went to Mount Athos in order to acquaint himself better with the subtleties of ancient church chant.
Bishop Joseph did a great deal for the Spaso-Yakovlevsky monastery. In 1909 he consecrated a church in honour of the Tolga icon of the Mother of God, and restored the Conception church. At Pascha, April 1, 1912, he consecrated the church of the Resurrection of Christ, which had been built on his initiative. In 1913 Bishop Joseph met the Emperor Nicholas in the monastery, and a little later - Princess Elizabeth Fyodorovna. In 1916 he consecrated a chapel in honour of the Vatopedi icon of the Mother of God, and in 1917 - a church in honour of the Mother of God, "the Joy of all who Sorrow".
Bishop Joseph was a member of the Local Council of the Russian Church in 1917-18. From December 1, 1917 to January 20, 1918 he was temporary administrator of the Riga diocese.
On April 26, 1919 the relics of Saints Isaiah, Ignatius, Abraham, Euphrosyne of Polotsk and Demetrius of Rostov had been uncovered by order of the uyezd congress of soviets. Vladyka Joseph organised a cross procession to protest against the uncovering of the holy relics. On July 7, 1919 he was arrested for "breaking up the campaign to uncover the relics in his diocese by means of ringing of bells and cross processions". While he was in prison in Yaroslavl thousands of his admirers signed a petition for his release. On July 18 he was transferred to the inner prison of the Cheka in the Lubyanka in Moscow. He was released in August.
On January 22, 1920 Bishop Joseph as promoted to the rank of Archbishop of Rostov, a vicariate of the Yaroslavl diocese, and lived in the Spaso-Yakovlevsky monastery. In the same year he became temporary administrator of the Novgorod diocese (until 1925). On July 8 he was arrested, and on July 26 was sentenced to one year's conditional internment in the camps.
During the renovationist heresy, Archbishop Joseph shut himself up in the monastery and ruled his dioceses from there, not taking an active part in the struggle with renovationism - but not cooperating with it, either.
In May, 1922 he was arrested, and on June 19, 1922 the Yaroslavl revolutionary tribunal sentenced him to four years' deprivation of liberty for resisting the requisitioning of church valuables. He was released on January 5, 1923 on the orders of Kalinin. From 1923 to 1926 he was temporary administrator of the Yaroslavl diocese.
On May 21, 1924 Patriarch Tikhon appointed him a member of the Holy Synod. On April 12, 1925 he took part in signing the act transferring the leadership of the Church to Metropolitan Peter. On December 6, 1925 Metropolitan Peter appointed him third candidate for deputy patriarchal locum tenens after Metropolitan Michael (Yermakov) and Metropolitan Sergius (Stragorodsky).
In August, 1926 he was appointed Metropolitan of Petrograd – in the words of the ukaz, "as a consequence of the insistent request of the believers". He was living in Novgorod at the time, and was informed of his new appointment by Bishop Alexis of Khutyn, the future Soviet "patriarch", who now became temporary administrator of the Novgorod diocese. Bishop Alexis had himself been considered for the Petrograd see, but had been passed over because of the people's strong suspicion that "he could unite with the renovationists".
Metropolitan Joseph accepted the appointment "out of obedience", but objected to being called metropolitan "of Leningrad", rather than the pre-revolutionary name of Petrograd. On August 29 / September 11 he arrived in the city. That evening and the following morning, the feast of St. Alexander Nevsky, he celebrated services in the Alexander Nevsky Lavra.
The future hieromartyr Fr. Michael Cheltsov wrote: "there were no bounds to the jubilation and compunction, joy could be heard everywhere and could be seen on the faces. There were the most lively conversations and prayers of gratitude to God." Metropolitan Joseph served with Bishops Alexis, Gabriel (Voyevodin), Nicholas (Yarushevich), Stefan (Bekh), Gregory (Lebedev), Sergius (Druzhinin) and Demetrius (Lyubimov). Of these, two (Alexis and Nicholas) became pillars of the post-war Soviet church, while all the others suffered martyrs' deaths.
"The new metropolitan was tall, grey-haired, with glasses, serious-looking, somewhat unsociable, as if strict. He has something in common in his external appearance with Metropolitan Benjamin. He walks with something of a stoop. He doesn't talk with anyone in the altar. He even sent a message through Bishop Gregory to one of the clergy who was 'conversing' in the altar that he should be 'quieter'. The clergy and bishops immediately felt that the 'master' had arrived: they all pulled themselves together. His voice was high, quite tender, pleasant, with a pure diction. In general he created a good, pleasant impression.
"From a first glance at him, Metropolitan Joseph inspired trust and sympathy… The monk with the completely ascetic appearance attracted and pleased people; there was nothing affected in his serving: it was simple and prayerful… People spoke of him as of a true monk, a kind man, a fervent man of prayer who was responsive to the needs and woes of others; one wanted to be near him and listen to him… And it seemed to us clergy that he was precisely the man we needed, that he was the man who could display that authority that compels to obedience, disperses opposition, teaches order and disciplines with a single glance – in a word, that real life would begin with him, that he would be Vladyka and Father amongst us."
On September 13 in the evening Metropolitan Joseph left Petrograd for Moscow, leaving Bishop Gabriel as his vicar. But he never returned; for while in Moscow, he was summoned to the OGPU. On expressing a negative opinion concerning the planned legalization of the Church to the OGPU departmental head of the Church division, Eugene Tuchkov, he was sent to Rostov and forbidden to leave that city. The OGPU justified their action on the grounds that he was "a Johnnite", who "secretly ordained people belonging to that sect". As Fr. Michael Cheltsov put it more truly, "Soviet power couldn't leave us with even a little well-being."
Two weeks after his departure, the liberal clergy of Petrograd addressed Metropolitan Joseph with the following requests: "1) that he declare to the Administrative section concerning his agreement with our memorandum [about the convening of a diocesan congress]; 2) that he choose new vicars without a 'past' and acceptable for the authorities; 3) that he try to remain neutral among the clergy groupings; 4) that he leave his Eminence Alexis as vicar here; and 5) that he order that his name be commemorated as 'of Leningrad', which, apparently, the rightists are trying to escape."
On September 28 Metropolitan Joseph was summoned to the OGPU agent Tuchkov in Moscow and was offered three places of exile (Archangelsk and two other places) for three years. Soon it was rumoured in Petrograd that this was all the work of the liberal clergy, who were trying to replace Metropolitan Joseph with Bishop Alexis. Indeed, Metropolitan Joseph's vicar, Bishop Gabriel, petitioned to be replaced by Bishop Alexis or Bishop Nicholas because of the liberal clergy's disenchantment with him. However, Metropolitan Sergius did not agree to this because Tuchkov was still conducting negotiations with Metropolitan Joseph, whose popularity was increasing all the more as a result of all that had happened.
On December 8, following the arrest of Metropolitan Sergius, Metropolitan Joseph became temporary leader of the Russian Church as deputy of the patriarchal locum tenens, Metropolitan Peter. The same day he appointed his own deputies as deputy of the patriarchal locum tenens.
On December 16 Metropolitan Joseph was summoned to the Lubyanka, and on December 28 he was arrested and told to live, without right of departure, in the former Modensky Nikolayevsky monastery near his native Ustyuzhna in Novgorod (or Cherepovets) diocese.
In March, Metropolitan Sergius was released from prison and immediately began on his pro-Soviet course. On May 10 Bishop Alexis, who had been forbidden to serve in Petrograd by Metropolitan Joseph, appealed to Metropolitan Sergius to put his comrade, Bishop Nicholas of Peterhof, in charge of the diocese. Metropolitan Sergius replied that "it is first necessary to clarify the question of the position of Metropolitan Joseph – whether he will be given the opportunity to return to Leningrad or not…" In other words, Metropolitan Sergius already made no appointments without the approval of the authorities.
In July, 1927 Metropolitan Sergius issued his well-known declaration, which placed the Russian Church in submission to the Soviets, and in the middle of August Bishop Demetrius of Gdov, Protopriest Alexander Sovetov and other clergy of the Petrograd diocese sent a letter to Metropolitan Joseph expressing their disagreement with the church position of Metropolitan Sergius. Protopriest Alexander, the dean of the Holy Trinity church, remained a pillar of the Josephite Church to the end. He was frequently arrested and was struck from the register in the 1930s as a "white guard officer".
On September 17, 1927, Metropolitan Sergius, probably acting under pressure from the authorities, transferred Metropolitan Joseph from Petrograd to Odessa. This aroused the extreme dissatisfaction of the Petrograd flock, and in many churches it was openly said that "Metropolitan Joseph has been transferred wrongly in accordance with the report of Bishop Nicholas, who has evidently slandered him."
On September 28, Metropolitan Joseph wrote to Sergius that he refused to accept it, saying that he saw in it "an evil intrigue by a clique which did not want him to be in Leningrad". Then he wrote to Tuchkov asking that he be allowed to administer the Leningrad diocese. Finally he wrote to Sergius again rebuking him and his Synod for "a woefully servile obedience to a principle alien to the Church". He said that he regarded his transfer as "anti-canonical, ill-advised and pleasing to an evil intrigue in which I will have no part". He clearly saw in it the hand of the OGPU, to which Metropolitan Sergius was simply giving in.
Certainly, the fact that more than forty bishops were transferred by Sergius in this period was one of the main complaints of the confessing bishops against him, and seems hard to justify by any purely ecclesiastical considerations.
However, on October 25 Sergius' Synod confirmed the decision to transfer Metropolitan Joseph, and appointed Metropolitan Sergius himself to the see of Petrograd. In the same decision Bishops Demetrius and Seraphim were forbidden to leave the diocese "without the knowledge and blessing" of Bishop Nicholas (Yarushevich). Metropolitan Joseph heard about all this through messengers.
On October 25, Bishop Nicholas (Yarushevich) proclaimed in the cathedral of the Resurrection of Christ in Petrograd the decision of the Provisional Synod to transfer Metropolitan Joseph (Petrovykh) from Petrograd to Odessa (the secular authorities had already forbidden Metropolitan Joseph to return to the city). This caused major disturbances in Petrograd. The discontent of the faithful was compounded by the fact that on October 21 Sergius had ordered that the civil authorities be prayed for during the Divine services, and prohibited prayer for the bishops in exile.
Metropolitan Joseph moved to Rostov (taking the place of an absent hierarch), and then, on October 30, he wrote to Sergius: "You made me metropolitan of Leningrad without the slightest striving for it on my part. It was not without disturbance and distress that I accepted this dangerous obedience, which others, perhaps wisely (otherwise it would have been criminal) decisively declined… Vladyko! Your firmness is yet able to correct everything and urgently put an end to every disturbance and indeterminateness. It is true, I am not free and cannot now serve my flock, but after all everybody understands this 'secret'… Now anyone who is to any degree firm and needed is unfree (and will hardly be free in the future)… You say: this is what the authorities want; they are giving back their freedom to exiled hierarchs on the condition that they change their former place of serving and residence. But what sense or benefit can we derive from the leap-frogging and shuffling of hierarchs that this has elicited, when according to the spirit of the Church canons they are in an indissoluble union with their flock as with a bride? Would it not be better to say: let it be, this false human mercy, which is simply a mockery of our human dignity, which strives for a cheap effect, a spectre of clemency. Let it be as it was before; it will be better like that. Somehow we'll get to the time when they finally understand that the eternal, universal Truth cannot be conquered by exiles and vain torments… One compromise might be permissible in the given case… Let them (the hierarchs) settle in other places as temporarily governing them, but let them unfailingly retain their former title… I cannot be reconciled in my conscience with any other scheme, I am absolutely unable to recognize as correct my disgustingly tsarist-rasputinite transfer to the Odessa diocese, which took place without any fault on my part or any agreement of mine, and even without my knowledge. And I demand that my case be immediately transferred from the competence of your Synod, in whose competence I am not the only one to doubt, for discussion by a larger Council of bishops, to which alone I consider myself bound to display my unquestioning obedience."
In November several parishes in Petrograd stopped commemorating Metropolitan Sergius. Part of the clergy turned to Archbishop Theodore (Pozdeyevsky), who did not commemorate Metropolitan Sergius, and who was in Petrograd, to make a protest in the name of all the clergy.
On November 24 an important meeting took place in the flat of Protopriests Theodore Andreyev, at which it was decided to write several letters to Sergius. A few days later one such letter, composed by Fr. Theodore and Bishop Mark (Novoselov), was read out in the flat of Bishop Demetrius. On December 12 a delegation headed by Bishop Demetrius went to Metropolitan Sergius in Moscow and handed him three letters, one of which was signed by six of the city's eight bishops. The petitions contained demands that Metropolitan Joseph be restored to the see of Petrograd and that the decree of October 21 be rescinded.
On December 23, in response to a report by his vicar-bishops, Metropolitan Joseph declared: "In order to condemn and render harmless the latest actions of Metropolitan Sergius, we have no other resort in the present circumstances than decisively to depart from him and ignore his directives."
On December 26, Bishops Demetrius, Sergius, Gregory, Gabriel and Stefan, together with the priests Veryuzhsky, Dobronravov, Rozhdestvensky, Nikitin, Andreyev, Venustov and thirty to forty others, signed an act breaking communion with Metropolitan Sergius, with the blessing of Metropolitan Joseph. Four days later some of these signatories were banned from serving by Metropolitan Sergius' synod.
On February 2, 1928, Archbishops Anatolius (Grisiuk) of Odessa, Silvester (Bratanovsky) of Vologda and Sebastian (Vesti) of Kostroma were sent by Metropolitan Sergius to Metropolitan Joseph in Rostov to ask him: a) whether it was with his knowledge and blessing that Bishop Demetrius of Gdov and Sergius of Narva were calling on people to break communion with Sergius, and b) whether he separated himself from those bishops. However, Metropolitan Joseph stood firm. He refused to re-enter communion with Sergius or submit to his Synod, and announced that he was taking upon himself the administration of the diocese.
Then, on February 6, 1928, he, together with the hierarchs of the Yaroslav diocese, signed a formal act of separation from Sergius. Two days later he announced to his Leningrad vicars, pastors and flock that he was taking upon himself the leadership of the Leningrad diocese. This persuaded the authorities to arrest him, on February 29, and send him again to the Modensky monastery. On March 11 Metropolitan Sergius and his Synod placed Metropolitan Joseph under ban.
As Metropolitan Joseph's supporters in Petrograd were continuing to grow, Metropolitan Sergius sent Metropolitan Seraphim (Chichagov) there on February 19. However, the new hierarch (who had laid down as a condition of his journey to Leningrad that Tuchkov "not admit Metropolitan Joseph there") was unsuccessful. And so, on March 27 Metropolitan Sergius and his Synod retired Metropolitan Joseph and his fellow-bishops and banned them from serving. On April 11 he was put on trial and retired. This was ignored by Metropolitan Joseph and his fellow-bishops.
On August 6, 1929 Metropolitan Sergius' synod declared: "The sacraments performed in separation from Church unity… by the followers of the former Metropolitan Joseph (Petrovykh) of Leningrad, the former Bishop Demetrius (Lyubimov) of Gdov, the former Bishop Alexis (Buj) of Urazov, as also of those who are under ban, are also invalid, and those who are converted from these schisms, if they have been baptized in schism, are to be received through Holy Chrismation." This decree was also ignored by the Josephites.
Metropolitan Joseph wrote to Bishop Demetrius "that we should each rule independently, directing our whole gaze and all our hopes to the only lawful locum tenens, Metropolitan Peter, and to the future Local Council of all our Hierarchs, and not of a chance selection of them by individual people. It is only this lawful Council that all the rulers and Synods must aim for now."
When the Sergianist Archimandrite Lev (Yegorov) accused him of being a schismatic, Metropolitan Joseph replied: "We can only marvel at the indifference and blindness of those others who still suppose that those who permit and carry out this iniquity are doing he work of God, 'saving' and ruling the Church, and not crudely offending and mocking it, inscribing themselves into the numbers of its enemies and removing themselves from it rather than cutting off who can no longer stand this baccanalia, crude violence and iniquitously blasphemous politics.
"… We will not give the Church as a sacrifice and victim of the traitors and disgusting intriguers and agents of atheism and destruction. And by this protest we do not ourselves cut ourselves off from it, but cut them off from ourselves and boldly say: not only have we not left, are not leaving and never will leave the depths of the true Orthodox Church, but we consider its enemies, betrayers and murderers to be those who are not with us and not for us, but against us. It is not we who depart into schism by not submitting to Metropolitan Sergius, but you who obediently follow him into the abyss of the Church's condemnation…
"1. I am not at all a schismatic, and I call not to a schism, but to the purification of the Church from those who sow real schism and provoke it.
"2. Indicating to another person his errors is not schism, but, to put it simply, putting an unbridled horse back into the shaft.
"3. Refusing to accept sound reproaches and exhortations is the real schism and a trampling on the truth.
"4. The participants in the construction of Church life are not only the people at the top, but the whole Church body, and the schismatic is he who takes to himself rights that exceed his prerogatives, and who dares to speak in the name of the Church that which his brothers do not share.
"5. Metropolitan Sergius has shown himself to be such a schismatic. He has far exceeded his prerogatives and rejected and despised the voice of many hierarchs who retained the pure truth among themselves.
"In passing you mention among the ways to the truth 'Christ indicated to us yet one more, new path: that you love one another', which way, it would seem, you consider that I have left out of sight in my actions. In reply I would remind you, Father, of the wonderful conclusion of Metropolitan Philaret in his sermon on love for one's enemies: 'Despise the enemies of God, strike the enemies of the fatherland, love your enemies'.
"The defenders of Sergius say that the canons allow one to separate oneself from a bishop only for heresy which has been condemned by a council. Against this one may reply that the deeds of Metropolitan Sergius may be sufficiently placed in this category as well, if one has in view such an open violation by him of the freedom and dignity of the Church, One, Holy, Catholic and Apostolic.
"But beyond this, the canons themselves could not foresee many things, and can one dispute that it is even worse and more harmful than any heresy when one plunges a knife into the Church's very heart - Her freedom and dignity?.. 'Lest imperceptibly and little by little we lose the freedom which our Lord Jesus Christ, the Liberator of all men, has given us as a free gift by His own Blood' (8th Canon of the Third Ecumenical Council)...
"Perhaps I do not dispute that 'there are more of you presently than of us'. And let it be that 'the great mass is not for me', as you say. But I will never consider myself a schismatic, even if I were to remain absolutely alone, as one of the holy confessors once was. The matter is not at all one of quantity, do not forget that for a minute: 'The Son of God when He cometh shall He find faith on the earth?' (Luke 18.8). And perhaps the last 'rebels' against the betrayers of the Church and the accomplices of her ruin will be not only bishops and not archpriests, but the simplest mortals, just as at the Cross of Christ His last gasp of suffering was heard by a few simple souls who were close to Him."
Metropolitan Joseph continued this theme in a letter "to a soul languishing amidst the adversities and storms of the sea of the present world": "The word of the Lord did not lie when He promised that He would be with us to the end of the world and preserve His Church not overcome by the gates of hell, that is, on the edge of destruction. Yes, we are now on the edge of destruction, and many, perhaps, will perish; the Church of Christ will become smaller, perhaps reduced again to the twelve, as at the beginning of her foundation. After all, these words of the Lord also cannot fail to be fulfilled: 'The Son of God when He cometh shall He find faith on the earth?'
"Everything happens in accordance with the foreknowledge of the Lord. People cannot add or take away one iota from it. Those who do not wish to perish are more insured against destruction and one can say: hell will be only for those who themselves want it. May this truth remain first of all as a comfort and encouragement for those who are despondent from the events of this world. Being deprived of the churches of God and the former magnificent services with their abundance of worshippers and glittering hosts of clergy, the angelic chanting of the choirs, etc. – this is, of course, sad and regrettable. But we have not been deprived of the inner service of God in quietness and compunction and concentration of the spirit within itself. Just as the well-known explorers who, deprived of the ship on which they were travelling, nevertheless did not perish but were able to create a tolerable life for themselves even on chunks of deceptive ice until they were raised from the abyss that was threatening to engulf them on the wings of aeroplanes, so we, after the pitiful fall of our spiritual ships, must not give in to panic and lose our self-control and hope of salvation, but must calmly begin our prayerful labour of serving the Lord and taking our delight in him 'in psalms and hymns and spiritual songs', as the Apostles and all the believers prayed at the beginning.
"Did our majestic churches, bell-towers and magnificent services exist then? And the absence of all this hinder them from being inflamed with such a love for the Lord as no succeeding age has attained?..."
In fact, fifteen out of the eighty-five churches of Petrograd declared in favour of Metropolitan Joseph. Of these only four later changed and joined Metropolitan Sergius under threat of liquidation, while eleven were closed by the authorities. Metropolitan Joseph ruled his flock through his vicar-bishops Demetrius of Gdov and Sergius of Narva; and his supporters could visit him in the Nikolo-Modensky monastery.
During his interrogation, Metropolitan Joseph said: "The matter in connection with which I have been charged is based on the opinion of me as the leader of a particular tendency in our Church, which arose four years ago in connection with the declaration of Metropolitan Sergius, who crudely violated, in the opinion of believers, the deepest foundations of the structure of Church life and administration,... and elicited, simultaneously and everywhere, independently of any personalities, a correspondingly strong reaction in Church circles without any participation or influence on my part...
"This tendency has been quite unjustly named 'Josephism', an injustice which Metropolitan Sergius himself has pointed to in his correspondence. It could with much more justice be called 'antisergianism'. Moreover, I myself was drawn into this tendency significantly later; it did not follow after me, but rather I was drawn in its wake, and I did not agree with many of its deviations to the right and to the left. And even if I and my participation in this movement were completely eliminated, it would go on without stopping and without the least possibility of its being completely eradicated....
"This movement could not be stopped even by the name and authority of our chief leader, Metropolitan Peter. Every attempt of this kind would be interpreted as a departure from sound reasoning, from the truth, and would unfailingly end only in the falling away of the believing masses from Metropolitan Peter himself."
Concerning the role of his deputy, Bishop Demetrius, Metropolitan Joseph said: "At first Bishop Demetrius was my deputy only in the Leningrad diocese, but later, when the antisergianist movement had spread far beyond the bounds of the Leningrad diocese, I could not forbid him, and myself agreed with him, to counsel all those who came to him for direction. Bishop Demetrius himself kept me informed with regard to all questions; he asked for advice and directions from me, as his metropolitan."
On July 24 / August 6, 1928, Metropolitan Joseph wrote to Archbishop Demetrius of Gdov with regard to the "capitulation" of the Yaroslavl hierarchs to Metropolitan Sergius: "There were also those who fell away from the Lord, going away from Him and leaving Him in the amazing minority of twelve. Then these twelve (however, even in this small number there later turned out to be a 'devil' (John 6.66-71)) then grew into what we now so carefully wish to preserve and protect from new traitors and destroyers, which these destroyers have again managed to reduce to an 'insignificant minority'. But let that not disturb us! Let us firmly remember that the Truth Himself was crucified by a majority (an overwhelming majority) of votes, and let those who now refer in their own justification to the majority rather read in this a terrible reproach and rebuke for themselves, that in their 'majority' Christ the Truth is again crucified!"
On September 12, 1930 Vladyka Joseph was arrested in the Modensky monastery as part of "The Case of the All-Union Centre of the True Orthodoxy, 1931". He was under interrogation in Petrograd and then (from December) in Moscow. On September 3, 1931 he was convicted of being "the leader of the church-administrative centre of the All-Union counter-revolutionary monarchist organization, 'The True Orthodox Church'". The indictment declared that "the leadership of the anti-Soviet activity was carried out on the orders of the participant in the church-political centre, M.A. Novoselov. The anti-Soviet activity was directed by his deputy in leading the organization, Bishop Demetrius (Lyubimov). He received and instructed the leaders of the branches and cells of the organization that came to him, giving them instructions on the direction and methods of counter-revolutionary activity and recommending them to prepare to support intervention". In accordance with article 58-11 Metropolitan Joseph was sentenced to five years in the camps commuted to exile to the desert of Kazakhstan for five years. He lived first in Dzhambul (now Aulie-Ata), and then, from 1935, in the Mirzoyane area near Chimkent in Southern Kazakhstan, working as an accountant.
Together with Metropolitan Joseph from about 1935 was Archimandrite Arsenius. He was born Boris Grigoryevich Kordi on June 21, 1907 in Ivanovo-Voznesensk into a family of Russianized Greeks. He lost his mother when he was young and lived with his father, an official on the railways, and his sisters in the city of Rostov, Yaroslavl province. In 1921, after the death of his father, he went to a special school with an agricultural bent in Pushkino, near Moscow. He was greatly influenced by his teacher of mathematics there, Oleg Pol (Burdanov), later Hieromartyr Onesimus. If in the beginning Boris wavered between theosophy, of which there were many followers among the teachers in the school, under the influence of Oleg his world-view became profoundly Orthodox. In 1924 the school closed, and Boris entered the Abramtsevo School of art, where he learned how to sculpt in wood. His friendship with Oleg, who had gone and settled in a secret skete in Abkhazia near Krasnaya Polyana, did not cease, and soon, after visiting him there, he decided to go there for good and become a monk there. And so from 1926 to 1929 he struggled in the Peus skete on Chugush in the Caucasus. He took part in the writing of the anti-sergianist book, "Near Sunset" (samizdat). He was arrested on October 8, 1929, and on February 27, 1930 was sentenced to eight years in one of the Siberian camps. From 1935 to 1937 he was in exile in Aktybinsk and then in Alma-Ata. He was raised to the rank of archimandrite by Metropolitan Joseph. On October 26, 1937 he was arrested and accused of participation in "an anti-Soviet organization of churchmen". On November 16 he was shot in Alma-Ata.
Protopresbyter Michael Polsky quotes an eyewitness account of Metropolitan Joseph's life in exile:- "In August, 1936, there lived in Alma-Ata a comparatively young archimandrite, Arsenius. From him I first heard that there existed a secret, underground Church led by Metropolitan Joseph of Petrograd and organized by him with the blessing of Metropolitan Peter of Krutitsa with whom he, living in exile in Chimkent, about 100 versts from Alma-Ata, had secret communications all the time. Arsenius was ordained by the metropolitan and had the happiness of supporting him materially, earning his living by the sale of models of various figurines and knick-knack for museums. He had a church deep under the earth and Metropolitan Joseph served in it. The metropolitan also consecrated it secretly on one of his occasional visit from Alma-Ata. Father Archimandrite dug out this church with great and lengthy labour.
"We greatly respected Archimandrite Arsenius, the more so that he was loved by Metropolitan Joseph and through him we could have a link with him. At that time the metropolitan lived in Chimkent. Before then, from the very beginning of his exile, he lived in the small town of Auliet, where he was not allowed to live in a room, but they put him up in a shed with cattle, partitioning off a hammock with poles.
"The church dug in the earth was in the room of Archimandrite Arsenius. In the ante-room there was a hatch covered with a carpet. The cover was taken away and underneath a stairway led to the church. In the cellar in a corner there was an opening in the earth filled with stones. When the stones were taken away one had to crawl, bent down, for three paces and there was the entrance to the temple. There were many icons, and oil-lamps burned. Metropolitan Joseph was very tall, and when I was there he went there twice altogether and entered the church. A special atmosphere was created, but I shall not conceal the fact that fear manifested itself during the time of the Divine service, especially at night - it was difficult to overcome this feeling. When a big watchdog began to bark, albeit at a distance, outside, everything was audible under the earth, and everyone expected the shouting and stamping of the GPU. Throughout 1936 and until September, 1937, everything worked out well. My son chanted there with a nun. On August 26 Metropolitan Joseph arrived and granted us a visit on the day of my angel. What a wonderful, humble, unshakeable man of prayer! This was expressed in his appearance and in his eyes as in a mirror. He was very tall, with a great white beard and an unusually fine face. One could not help being attracted to him, and would wish never to be parted from him. His monastic clothing was covered, as was his hair, otherwise they would have arrested him while he was still in the street; for they shadowed him and he did not have the right to leave... He said privately that Patriarch Tikhon had proposed, shortly after his election, to appoint him as his first deputy. For some reason this fact is nowhere mentioned in the history of the locum tenancy in the Church…
"He recognized Metropolitan Peter of Krutitsa as the lawful head of the Church, and right until his last arrest in September, 1937, he had secret relations with him at a time when rumours were spreading everywhere that Metropolitan Peter was dead. Concerning his 10-year exile, he said that up to that time it had been exceptionally hard. He lived on bread with pigs in a wattled shed, and slept on boards, separated from the pigs by a few poles. He bore cold and heat, every kind of bad weather and the oppressive atmosphere in these conditions. Once a snake, clinging onto a pole from the ceiling, fell on his head. These conditions were evidently the reason for his illness. At times he suffered very much from an ulcer in the bowels, or he had some kind of interior tumour, perhaps cancerous, and he was on a diet which Archimandrite Arsenius helped him to carry out. He bore everything as a righteous man and if he spoke about his difficult persecutions, it was only because we were all recalling the cruelties of the GPU.
"Father Archimandrite told us about one form of torment and humiliation. 'When they took us through Siberia, the frost was cruel. In the train there was a bath-compartment. They drove us completely naked through the compartments to the bath. Joyfully we poured the hot water over ourselves and warmed ourselves a little, since the compartments were almost unheated. Then they drove us back, not giving us anything to dry ourselves with, our heads wet. They deliberately kept us on the iron platform, and our wet feet, momentarily froze to the iron. At the command: "Forward!" we tore our frozen, bloody feet away'...
"The next day, having spent the night at the archimandrite's, the metropolitan departed to his own place. Now he lived in different conditions. After many years we had been allowed to find him a flat in Chimkent. Archimandrite Arsenius built him a room where he could live undisturbed and took care about his food, making sure not only that he got enough but also that he kept to the diet. First he got him a zither, then a harmonium, with which the metropolitan, a great musician, was very pleased. He set psalms to music and chanted.
"On September 23, 1937, in the neighbourhood of Alma-Ata and in Kazkhstan, all the clergy of the secret 'Josephite' churches were arrested. They left for voluntary exile for refusing to recognise the 'Soviet church'. All were sentenced to ten years without right of appeal, and, as I learned later, the metropolitan was also among them. He was arrested with Archimandrite Arsenius. After the arrest of my son, I ran distractedly to his house and, as I came up, saw a car and the GPU going in. Happily, they did not notice me. The catacomb church of Fr. Arsenius was opened. Once he had carelessly revealed its secret to what seemed to be an honourable elderly man, but who turned out to be a chekist.
"Returning to Moscow after my three-year voluntary exile with my son, I soon found about the existence of secret 'Josephite' churches here - that is, not churches, but services in hidden rooms where sometimes 20-25 people gathered. The service went on in a whisper, with strict control of the worshippers, because of the possibility of betrayal. They usually came to the meeting according to an agreed sign, knocking carefully at a water-pipe by the window, where someone was standing listening.
"One old priest monk, Fr. Alexander Gumanovsky, selflessly travelled everywhere that he was called, and the Lord even managed that he should give communion to the sick in hospitals. Sitting by them like a visitor, he confessed them and then, as if giving them some medicine or food, gave them Holy Communion."
Nun Maria, in the world Marina Stanislavovna Burdanova was born in 1878 in Kiev into a noble family that was half Russian and half Polish. In her first marriage she was married to the pianist and composer Vladimir Ivanovich Pol. Marina Stanislavovna, a very beautiful woman, was a singer. Two children were born to her: a son Oleg (born 1900) and a daughter Tamara. At the beginning of the 1900s her marriage collapsed. Soon she married the artist Burdanova and bore him three daughters. At that time Marina Stanislavovna and her husband were Tolstoyans. The family were strict vegetarians. Marina Stanislavovna taught music and singing. In 1914 the family was evacuated from Kiev to Moscow. Her son Oleg went to live with his father until the latter emigrated to Paris in 1917. In Moscow Marina Stanislavovna continued to teach music and singing. From 1921 to 1924 she and her son Oleg taught near Moscow in the Pushkinskaya Experimental colony-school. There they became close to Boris Grigoryevich Kordi, the future Hieromartyr Arsenius, who was a complete orphan. In 1926 Marina's dearly beloved son Oleg went to live an ascetic life in the mountains of Abkhazia, where he was soon followed by Boris Kordi. In 1927 Oleg was tonsured into monasticism with the name Onesimus, and in 1929 he was ordained to the priesthood. In 1929 Hieromonks Onesimus (Pol) and Arsenius (Kordi) were arrested. Fr. Arsenius was sentenced to five years in prison, while Hieromonk Onesimus was shot in 1930. After the death of her son Marina Stanislavovna lived for a while near Zvenigorod in the village of Dunino at the invitation of Valeria Liorko. She converted to Orthodoxy and in 1930 joined the choir of the church of St. Nicholas the Big Cross, while continuing to work as a teacher. In 1932 the church was closed, and Marina Stanislavovna moved to the last True Orthodox church in Moscow, that of the Serbian podvorye. On April 14, 1932 she was arrested, and on May 16 was convicted of being "a member of the church-monarchist counter-revolutionary organization 'The True Orthodox Church'". In accordance with article 58-11, she was exiled for three years to Kazakhstan. This was part of "the case of Ananin and others, Moscow, 1932". In 1935 Marina Stanislavovna was tonsured secretly into monasticism with the name Maria. She lived in Alma-Ata, and at the end of her sentence decided to stay there, working as a teacher in a music school. She was in canonical communion with Metropolitan Joseph (Petrovykh) with whom her son had been linked. After the release of Hieromonk Arsenius she adopted him and took him to Alma-Ata, where they lived together, organizing a secret church in her house. On October 26, 1937 they were both arrested together with other exiled clergy and laity. On November 16, she was convicted by the UNKVD of "participation in a counter-revolutionary church organization linked with Metropolitan Joseph (Petrovykh) under the direction of Arsenius (Kordi)". The sentence was imprisonment in Alma-Ata, where Nun Maria died during a convoy of prisoners from one place to another. The place and date of her death are unknown.
According to Nina Alexeyevna Kitayeva, Metropolitan Joseph lived on the outskirts of Chimkent, in Poltoratskaya street, near an irrigation canal beyond which stretched the untilled steppe. He had a room in a small Kazakh house with a light in the ceiling, a chair, a trestle bed on which he slept and a pair of chairs. He got up at six o'clock, served at his analoy behind which he placed a carved folding icon, went to the market to buy some things, had breakfast, rested a little and then sat down to read. The local exiles sent him books. Parcels and money came to him from Russia on occasion. Sometimes exiles would visit him, and he went out into the steppe to talk with them.
He was served by Nun Maria (Koronatova), a former teacher in Ustyuzhna who had known Vladyka since childhood. She was arrested in Ustuyzhna on January 7, 1931 and sent to prison. Three months later she was given "voluntary exile" to Western Siberia, first to Novosibirsk, and then to the transit camp in Tomsk. In 1933, probably through the intercession of E.P. Peshkova of the Political Red Cross, she was living in Kazakhstan, and was able to look after Vladyka. In 1937 she was arrested and sentenced to ten years in the camps. She served her term at colony no. 9, Chamolgan station, on the Turkestan-Siberian railway. She fell ill and probably died in 1942.
On June 24, 1937 Metropolitan Joseph was arrested on a charge of "counter-revolutionary activity". Metropolitan Cyril was arrested on the same day and on the same charge. The previous day the NKVD Administration for the Chimkent procurator had announced: "In South Kazakhstan province there exists a counter-revolutionary organization among the churchmen whose centre is in Chimkent. The task of the counter-revolutionary organization is to prepare counter-revolutionary cadres for the overthrow of Soviet power. Among the active members of the organization we find the names of Metropolitan Joseph, Metropolitan Cyril and Bishop Eugene (Kobranov)."
"During the search and arrest," writes A.V. Zhuravsky, "Metropolitans Cyril and Joseph behaved calmly and with dignity. Metropolitan Joseph even wrote in his own hand on the order presented to him: 'I have read the order and am perplexed why there are no sanctions from the procurator. I.S. Petrovykh.' The correspondence removed (121 pages from Metropolitan Joseph) was attached to the investigatory case initiated by the authorities."
On July 7 the three bishops were formally accused. Metropolitan Joseph refused to sign the accusation presented to him. Instead of his signature, the investigator wrote: "counter-revolutionary".
"The conditions of the prisoners' detention in Chimkent prison were unendurable. The prison guards, carrying out the commands of the investigators, did not allow the prisoners to sleep, trying to bring the arrestees to extreme exhaustion. The food was intolerable, the water smelt of clay. It was through these conditions that the prisoners were prepared for interrogation. It is known that some of them gave in at this stage and signed any 'confessions', just so as to be condemned as quickly as possible and thereby avoid the terrible conditions in the prison."
The first to be summoned for interrogation was Bishop Eugene. The next was Metropolitan Joseph. "The interrogation, which took place on July 14, brought the investigation only one result – Vladyka Joseph admitted his guilt in the leadership of 'an illegal religious organization'. He did not admit the political accusations (anti-Soviet or counter-revolutionary activity). To the question in what did his leadership of the illegal organization consist, Metropolitan Joseph replied: 'in leading the local religious organizations and in helping them; in relations with the leaders of these local organizations; in an underground form of carrying out religious rites'. Nine days later (on July 23) there appears in the investigatory case a document with the title 'Testimony of the accused Joseph Petrovykh', where there are neither questions nor replies. The document is presented as, supposedly, 'the heartfelt confession' by Metropolitan Joseph 'of counter-revolutionary activity' and his leadership 'of a counter-revolutionary organization'.
"From the bureaucratic style of the letter and its form, which was standard for such 'confessions', this testimony must without doubt be assigned to the creativity of the investigators themselves. The document contains not one new witness by comparison with Metropolitan Joseph's previous testimonies, and, consequently, anybody could have composed such a paper. The servile self-slander makes it in general impossible to recognize in it Metropolitan Joseph's authorship. In other words, we boldly assign the given document to the compartment 'spuria' (fabricated). The only question is: whose signature is under this falsified document? Was it that of Metropolitan Joseph, forced out of him (by various methods of 'investigatory inquiry')? Or is this signature just as fabricated as the authorship of 'the accused's testimony'? A final resolution of this problem will require, of course, a corresponding expertise, but even without expertise the signature below this 'testimony' elicits doubts with regards to its belonging to Metropolitan Joseph. The doubts intensify if were to remember that Metropolitan Joseph refused to put his signature under the accusation presented to him when he was brought in the capacity of accused."
For, as M.S. Sakharov and L.E. Sikorskaya comment: "We shall never know the whole truth about the last days in the lives of many new martyrs from the documents of the punitive organs. For, by contrast with the documents of the persecutions of the first ages of Christianity (Roman judicial acts became the basis for the composition of the martyrologies of the Church), the documents of the persecutions of the last times were founded from the beginning, as was the whole system of power that engendered them, on lies, and were thoroughly soaked in falsehood."
There is some evidence that in his last years Metropolitan Peter had appointed Metropolitan Joseph as "Extraordinary Locum Tenens", in accordance with a little-known decision of the Council of 1918 and with the approval and support of Metropolitan Cyril. If so, then Metropolitan Joseph became leader of the Russian Church for 42 days after the death of Metropolitan Peter and until his own death. For, as KGB archives confirm, Metropolitan Joseph was first sentenced on November 19, and then was shot at midnight on November 20-21, together with Metropolitan Cyril, Bishop Eugene (Kobranov) and about 150 other Christians.
As Fr. Epiphanius Chernov writes: "In Chimkent, Metropolitan Joseph met Metropolitan Cyril, lived together with him under arrest and received with him a martyric death… This fact was known in the Catacomb Church in Moscow. This detail was told to the author of these lines in prison by a Moscow priest. Every day, when they let Metropolitan Cyril and Joseph out for a walk, they walked side by side, pressed against each other. Now Metropolitan Joseph was tall, and by comparison with him the stocky Metropolitan Cyril was short. As they walked in a circle, they were always engaged in concentrated conversation. Evidently there, in the open air, no one could overhear them. And these two figures, as if fitting into each other, gave a touching demonstration of the 'two-in-one' nature of these hierarchs. And this walk of the metropolitans was watched by some catacomb nuns from a hill. This was not without danger. It was necessary to disguise it, so that the authorities should not notice this secret signalling. And it came to the point where the metropolitans gave them their blessing at the beginning and at the end of their walk. I heard this detail from inhabitants of Chimkent both in captivity and in freedom. So there can be no doubt about this sojourn of Metropolitan Cyril with Metropolitan Joseph in the autumn of 1937. Both 'Moscow' and 'Chimkent' witness to it. Now there are no traces left of the little house in which the hierarch-confessors were kept. They demolished it when they noticed that the place enjoyed special veneration from the believers..."
Metropolitan Joseph was shot on November 20, 1937 together with Metropolitan Cyril of Kazan and Bishop Eugene of Rostov in Lisij ovrag near Chimkent, and was buried there.
* * *
FROM A LETTER OF THE OPTINA ELDER
ST. ANATOLY THE YOUNGER (+1927)
Seraphim Larin
Looking through my archives recently in search of a particular article, I ran across this remarkable letter written by one of the many highly venerated monks of the famous Optina monastery. In re-reading it under the awareness that it was penned over 80 years ago – before the Moscow Patriarchate came into being – I was completely enthralled by the contents of his presage as they are so precise in definition and clear in discernment. It is as though the thoughts expressed by him as to the future of the true Church and Her faithful were written now – today, on the basis of what is transpiring before our very eyes! Obviously, his extraordinary predictions through his pen reflect a holy soul that has been touched by the Holy Spirit, and should serve as a guide – as well as a warning – for our actions and attitudes toward Christ and His True Church.
In order to achieve a maximum and true understanding of his letter, one has to read it with a completely open conceptual mind and apply it in the light of what has happened to ROCA (Metropolitan Vitaly), the actions of ROCA's betraying hierarchs and clergy, and the behaviour of the apostate Moscow Patriarchate.
It would be particularly beneficial to those followers of the MP who state that they are against this unity – "BUT"…..! In reality, these individuals (that include clergy as well as laity) can only be mercifully described as pitifully inadequate Christians, because they choose to ignore the fact that their palpable and conscious execution of their sin is an act of willful self-destruction… damnable and unintelligent. Yet they have assumed newly acquired pretensions of rightness and infallibility, rejecting the thought that they should reflect with profit on their betrayal and miscalculated unia.
They should be reminded by the Optina Starets' directives that any sin carries the heavy darkness of the grave, and that the betraying ROCA clergy, swollen with perverse sanctity, will soon become a desperate embarrassment to "pat" Kirill and will comply with any of his demands, because the MP has large resources of compulsion in various forms and methods.
The more than obvious and infamous turncoat ROCA betrayers like Protopopov, Lebedeff, Larin, Potapov, Makarov, 3 Chemodakovs, Morozov, Carles and others, have become predictable monotones in cassocks, whose dismissive, stereotyped intellectuality fails to measure up even to that of a barstool philosopher. While they may have seemingly escaped the prison of their betrayal into the basking limelight of the MP's temporary grateful attitude, they certainly took the architectural walls of their churches and their lies with them.
Hopefully, in reading the frightening predictions which are unfolding here and now, they may reflect with profit and realize that the hierarchs – headed by Goondaev – are modern-day false prophets and corruptors of Christ's truth, impoverished of manhood and sickly in conscience that specialize - with FSB (KGB) diligence – in shrouding Apostolic and Biblical truths with seductive doubts and whispered heresies.
This letter of warning can be related directly to what is transpiring today. Even a cursory, yet dispassionate examination of the Soviet "church" and its KGB businessman "Mikhailov" – aka "pat" Goondaev will reveal that he and his followers are corrupted with moral impotence and earthly comforts. It is an accepted and provable fact that the MP is rich with accumulated celebrations of betrayal and infidelity of Christ's Teachings, while "pat" Kirill is a devil's disciple that is intellectually contemptible and morally dishonouring, who has amassed riches beyond the realms of avarice. Since coming to power, his warnings bordering on menace to all Russian Orthodox Churches that have refused to join the MP, suggest calculated future violence against them (which in fact is happening right now in Russia), and reveal his true beliefs and spiritual barbarism. Yet ROCA (Laurus) has surrendered her moral and spiritual authority over her faithful through lies, and is now trying to exorcise Herself of Her kiss of Judas with further lies!
Notwithstanding the fact that anyone of the ROCA(MP) clergy that may find sufficient spiritual strength to speak the truth about the MP will be relegated to the tortured obscurity of a provincial dog-catcher, I sincerely pray that this profound letter of Saint Anatoly will overcome their curiously alarming inability to face indisputable facts, and detach them from the sea of acquiescing smiles of the MP clergy that are so adept at presenting images that are muddied with reality.
May Saint Anatoly's prayers enlighten each and every reader of his epistle with the truth!
Lowly and unworthy Seraphim.
"…From the heresies will spread everywhere and deceive many people. The enemy of the human race will act with cunning in order to draw into heresy, if possible, even the elect. He will not begin by crudely rejecting the dogmas of the Holy Trinity, the Divinity of Jesus Christ and the virtue of Theotokos, but he will begin imperceptibly to distort the teachings and statutes of the Church and their very spirit, handed down to us by the Holy Fathers through the Holy Spirit. Few will notice these wiles of the enemy, only those more experienced in the spiritual life. Heretics will seize power over the Church and will place their servants everywhere; the pious will be regarded with contempt. The Lord said: "By their fruits ye shall know them", and so, by their fruits, as well as by the actions of the heretics, strive to distinguish them from the true pastors. These are spiritual thieves, plundering the spiritual flock, and they will enter the sheepfold (the Church), climbing up some other way, as the Lord said that they will enter by an unlawful way, using force and trampling upon the Divine statutes. The Lord labels them as robbers. Indeed, their first task will be the persecution of the true pastors, their imprisonment and exile, for without this it will be impossible for them to plunder the sheep. Therefore my son, when you see the violation of patristic tradition and the Divine order in the church, the order established by God, know that the heretics have already appeared, although for the time being they may conceal their impiety, or they will distort the Divine Faith imperceptibly, in order to succeed better in seducing and enticing the inexperienced into the net. This persecution will be directed against not only pastors but against all servants of God, for all those ruled by heresy will not endure piety. Recognise these wolves in sheep's clothing by their proud dispositions and love of power. They will be slanderers, traitors, everywhere sowing enmity and malice; therefore the Lord said that by their fruits you will know them. True servants of God are humble, love their neighbour and are obedient to the Church. Monastics will be greatly oppressed by the heretics and monastic life will be scorned. Monasteries will become scarce, the number of monastics will decline, and those who remain will endure violence. However, these haters of monastic life, having only the appearance of piety, will strive to attract the monks to their side, promising them protection and worldly goods, and threatening those who oppose them with expulsion. These threats will cause great despair among the fainthearted, but you my son, rejoice that you have lived until that time, for then the faithful who have not shown any other virtues, will receive crowns merely for standing firm in the Faith, according to the word of the Lord (Matt. 10:32). Fear the Lord my son. Fear to lose the crown prepared for you, fear to be cast by Christ into the outer darkness and eternal torment. Stand bravely in the Faith, and if necessary, endure persecution and other sorrows, for the Lord will be with you… and the holy martyrs and confessors, they will look upon you and your struggle with joy. But woe to the monks in those days who will be bound with possessions and riches, who because of love of peace will be ready to submit to the heretics. They will lull to sleep their conscience, saying: "We are preserving and saving monastery and the Lord will forgive us". The unfortunate and blind ones do not at all consider that through heresy the demons will enter the monastery and then it will no longer be a holy monastery, but merely walls from which grace will depart. However, God is mightier than the enemy, and He will never leave His servants. True Christians will remain until the end of this age, only they will choose to live in secluded, deserted places. Do not fear sorrows, rather fear pernicious heresy, for it strips us of grace and separates us from Christ. This is why the Lord commanded us to consider the heretic as a pagan and a publican. And so my son, strengthen yourself in the grace of Jesus Christ. Hasten to confess the Faith, to endure suffering as a good soldier of Jesus Christ ( Tim. 2:1-3), Who has said: "Be faithful unto death, and I will give thee a crown of life (Rev. 2:10).
To Him, with the Father and the Holy Spirit, be honour, glory and dominion unto the ages of ages. Amen."
* * *
TWO YEARS DOWN THE TRACK…
Protodeacon Herman Ivanov-Trinadtsati
Translated by Seraphim Larin
Recollections of mordant arguments, upheavals, tumults that preceded the lethal and shameful signing of the unia with the MP, are still alive among many people… the voluntary self-liquidation of the Russian Orthodox Church Abroad! With the passing of 2 years, passions have cooled as though everything has become the norm.
In general, those who have fought against the surrender of the White stance, against the profanity levelled at the inheritance left by our Forefathers – have remained firm in their convictions and didn't join with the Sergianists. Unfortunately, they were also unable to unite as a single front with all the other MP antagonists, apparently regarding this as not being essential. Unfortunately, what can you call this other than spiritual blindness?...
Those who lagged behind their weak-willed and conniving pastors, believing – or at least pretending to believe – the calculatingly false pledges of unfit hierarchs, were initially calmed by them in stressing that there was no talk of unification, that these were all rumours spread by ill-intentioned people. This followed by assurances that their efforts will not go further than restoring good relations for the purpose of normalizing mutually-pastoral practices in traditionally non-Orthodox countries, while each time fabricating something new to tranquilise the consciences and perpetuate the trust of the people. In reality, it now seems so easy for everyone to have seen that the hierarchs knew exactly where they were heading, and who eventually plunged straight into the soviet-patriarchate cauldron. Now they are thrashing around, not knowing how to climb out of the situation – even if they wanted to.
Soon after the deaths of Alexis 11 and met.Laurus, "bulldozer" Goondaev didn't stand on ceremony to establish order – his own order. First order of the day was to unceremoniously deal with his "arch rival", who had the impertinence to declare his candidacy for "patriarchy". Although he was anointed with the same myrrh, wretched Clement was regarded as a more traditional, more Orthodox candidate. From the lofty and responsible position of Head of the MP activities, he was very quickly blown away like a leaf with the first gust of wind. Being a permanent member of the Synod, he was banished so that he wouldn't presume too much in future, and generally speaking, so that everybody should know their place. Following on and without pausing, the newly baked "patriarch" began to decompound his beloved Department of Foreign Relations, realizing full well that this power grabbing war machine – and indeed a "state within a state" – can be used against him. Having dismembered the DFR and appointed prosaic individuals to head it, Goondaev continues to be involved - with an iron hand in external relationships - especially with the Vatican. And this is far from being the last of the "cadre reforms" by this Church businessman.
As far as the Overseas acquisition is concerned, the courting days when there was always a red carpet before her, when the "patriarch himself" was involved, and when her hierarchs were continually admitted into presidential offices are over. Matters pertaining to the overseas part of the MP have now been consigned to the synodal prefecture, while her head (met.Hilarion)– contrary to his expectations of becoming a permanent member of the Moscow Synod – has been left out, languishing somewhere at the tail of the fabled inventory of more than 30 patriarchal "metropolitans"! If traditionally - that is, in a genuine and canonical Russian Church – there were, as a rule, 3 Metropolitans i.e. Moscow, St.Petersburg and Kiev, the current number suggests that the white klobuks (headwear worn only by Metropolitans) are being handed out as freely as antifascist badges were doled out in the past.
Among the "cadre reforms", there remains a necessity to resolve the question of existing "twin" churches. Of all the canonical indecencies perpetrated by the MP, the most glaring that captures the eye is shrouded in Germany, where two archbishops carrying the same title and being both subordinate to the Moscow "patriarch", occupy one and the same cathedra!! In recollecting that one of the cardinal arguments by Bishop Mark, stating that unification with the MP would allow ROCOR to rid herself of her uncanonical state, has now placed him in an unenviable canonical predicament. The same can be said about the situations that exist in the far-flung regions of the world, where there are existing dual church structures, which are subordinate to the MP. It's difficult to predict the outcome of Kirill Goondaev's resolution. However, it's highly unlikely that he will sacrifice his true subjects in order to please the overseas members, from whom he doesn't expect anything more than what he has secured already. The simplest thing to do - given the fact that both are de facto in the one territory and one and the other appear as nothing more than overseas parts of the MP - is to blend both structures into one.
Of course, to us, such a determination sounds outrageous and blasphemous, because our understanding of the word OVERSEAS carries a special significance, full of definitive meaning - the incarnation of the White Spirit and everything associated with it. However, to those that have renounced this conception by fraternizing with the unrepentant Bolshevik successors, this conveys a purely territorial meaning, which is nothing but a designation of an area in relation to which the merging of two structures becomes a natural conclusion that doesn't present any special difficulties.
But the other question is – WHO will be appointed heads of such amalgamated structures?...
Two years have elapsed and the honeymoon is over. Some of the overseas-betrayers are possibly sobering up – but is it too late? The last sitting of the Synod of hierarchs adopted a very risky resolution, allowing the main Overseas halidom – the miracle-working Kursk-Root icon of the Mother of God – to travel with a delegation to the Russian Federation. The post-soviet Russia regards herself as the rightful heir to the Russian Empire (even to the personal effects of the Tsar!), as can be seen through her continuous efforts to seize Russian churches overseas. Consequently, it's not difficult to imagine that what to us is a Hodigitria of Overseas Russia, to them it's nothing but a stolen icon by the "white bandits", which has to be returned to its legal heir!
The fears among some of the Synod members are becoming apparent through the reading of an excerpt of their issued – in many ways strange – protocol: "Remembering the deathbed directives of the ever memorable, his eminence Metropolitan Laurus (3/16 March 2009), the Synod of Hierarchs have approached G.C.Poltavchenko with a request to guarantee that all measures will be taken to safeguard the Kursk-Root icon of the Mother of God, and Her successful return to the USA".
Let us commence with the incorrect date, as Met.Laurus died exactly one year earlier i.e. 16th March 2008. If this is a typographical error, then did he die immediately after giving certain instructions regarding the icon? Or is it just the editor's illiteracy? In any case, many people would like to know the full contents of the "deathbed directives". Concerning the approach to Poltavchenko "with a request to guarantee that all measures will be taken to safeguard….. and successful return..", all sounds rather naïve and was ostensibly written to protect themselves from the potential distressing ramifications from this negligent decision. Have these Synodal personages already forgotten that the bald-headed "uncle" Lenin declared: "Promises are binding only on the recipients". And the naiveté` and hypocrisy is also evident in that everybody is fully aware that should the Icon be stolen, no amount of Poltavchenko will be of any help: the decision will be taken on a significantly higher level. It would then be totally useless to appeal to the Courts as they are under the directions of Putin and Goondaev – a fact clearly demonstrated in the case of bishop Diomedes and the recent shameless seizure of 10 churches in the Suzdal region.
Sadly, the hierarchs and the main creators of the unia with the MP, continue at every opportunity to hypocritically applaud and thank God for this achievement and the supposedly God-pleasing merger. However, what does the laity and majority of the clergy think? Could it be that that everybody is willing to sign off under the trite and ecstatic words of their leadership? We can only judge by the reports reaching us from the territory of the Western European Diocese. In Medon, a city close to Paris, there is a growing feeling of dissatisfaction with some parishioners abandoning their parish, forcing the Synod to hurriedly issue appeasing flower-decorated greetings on the occasion of the parish's 80th anniversary. But the most critical situation appears to be in Geneva where this has been brought about, not because of the unification with the MP, but because of the persona that serves there as its bishop – the not unknown "bishop" Michael Donskov. For the majority of the parishioners, it represents a real nightmare, which no one seems to be able to cope with. More and more parishioners are finding his uncouthness unacceptable. Before attending a church service, it has now become a practice among the parishioners to find out as to who will be officiating before making their decision. Two protodeacons have been hospitalized with depression. Altar-boys, long standing Genevans, who served for many years in the altar with the Memorable Archbishop Anthony, have been ejected from the altar. The Diakov family that have over three generations, created glory for the Geneva cathedral through their church choral endeavours, do not attend it anymore.
The loyal speechwriter that had formerly served Bishop Ambrose, has been suspended from his duties, which might explain why there was no Easter pastoral message. Many are complaining of the depleted coffers due to the bishop's continuous travels around the world. It should be remembered that this is the person who attempted physically to dispatch the elderly Metropolitan Vitaly to a psychiatric hospital. During this failed hoodlum abduction during a church service, he displayed blatant insolence in bringing into the altar an armed female police officer. Because of the above actions, this bishop was anathematised three times, suggesting that with him everything - even the most extraordinary - is possible!
We have also learned about the following occurrence from reliable people that can be believed: On Passion Thursday, during the reading of the 12 Gospels, a ringing noise sounded throughout the church. Standing on the cathedra, the "bishop" reached into his pocket, took out a mobile phone and entered the altar. Emerging a short time later, he continued to read the Passion of Christ… While we were not present to witness this unimaginable scene, it is the cathedral's parishioners themselves that are talking about it.
However, as mentioned earlier, everything becomes possible and there doesn't seem to be anyone, or anything that could curb these indecencies and blasphemies, whereas to the patriarchate and the new leadership, these may not seem so unusual as to warrant censure.
Naturally, while we are very sad for the innocent people that have fallen into the trap, set by unworthy pastors and hierarchs, it is difficult to understand them when they declare: "We didn't know it would be like this. We weren't warned!!..." Well, what's the point – let us stretch out our helping hand and state that there is no situation that one can't get out of, although it would have been simpler if it was avoided in the first place. However, this requires a definite determination and willpower.
While not privy to situations in other countries, France has established statutes, which decree that a given number of registered church members have the legal right to call an extraordinary parish meeting and hold a ballot to determine the future of their parish. For example, this is what was done in Cannes and Lyon in 2002.
How can one argue against the wise words of the Ever-Memorable Archbishop Nathanael: "It is much harder to break away from the control of demonic powers than not to submit to them (in the first place)".
However, it's better late than never.
* * *
ИДОЛОПОКЛОНСТВО.
В. Соколов
Ленин – так многообразен, скорей – единообразен, нет – однообразен, точнее – безобразен, так навязчив, что опять возвращаешься к нему. Каменный истукан, идол всех безбожников везде нас найдет. Путешествующих по стране, он как злой рок преследует по всюду: в деревнях, городах и селах подстерегает – не дает о себе забыть. Особенный «красавец» вспоминается стоящий в Болхове, на площади, рядом с чудом уцелевшим собором. Как говаривал герой советского бестселлера – «радикально-черного цвета». Он гигантский, на постаменте сверкает глянцем в лучах жаркого июльского солнца. Под безчисленными слоями краски, переливаются блики по всей поверхности угольно-гуталинового истукана. Апофеоз безцветия и непроглядной тьмы. Каждый день поднятой рукой он приветствует жителей красивейшего городка орловщины.
Изолгавшиеся правители нежно его берегут. Обижают и преследуют всех кто его не любит. Раз вы такие «великодержавнорусские» - должны наградить и признать Героями Отечества партизан взрывающих изваяния монстра коммунизма. Ведь эти борцы – настоящие Герои России. С каким остервенением бережете вы свое родное! Близкое – дорого. Но как же вы смеете в свое постсоветское название государства включать великое имя – Россия? Так магически всех заколдовали, усыпили, умертвили – все тихо, и живут, и живем «живыми трупами». Да что же при власти нет ни одного ЧЕЛОВЕКА способного вразумить наших доморощенных сермяжнолыковых «небожителей», о несовместимости: почитания Царя – мученика и существование станции метро «Войковская», собора расположенного рядом с идолом губителя отечества, православного креста и конгломерата «комсомолец», России и всего, что связано с ее разрушением, стояние на службе в христианском храме и в жизни утверждение антихристианской и антирусской политики. Раздвоение. Идеологическая несовместимость. Не Советский Союз, и не Россия. Смешение противоположностей. Хаос сознания. И мы, жители НЕПОНЯТНОЙ СТРАНЫ, пребываем в идиологическом хаосе навязанном горе-правителями.
Большевики и постбольшевики – тати по своей сути, они все крадут, и даже имя страны украли, присвоили и уверили в своем праве на это весь мiр, окружили себя зомбированной охраной, и временщикуют на истерзанном теле страны. Атеистам ничего не страшно. Все равно – прах. После меня – хоть потоп. Но прокляты ведь будут «из рода в род», не говоря уж о посмертной участи….
Где же Церковь? Усыпляет сознание паствы. «Наследники» Русской церкви вместе с власть придержащими, не ратуют за упразднение символов безбожия, не ратуют за подлинное, а не мнимое возрождение России….
Так и стоит один из многих обветшавший железобетонный идол на соседнем рынке, окупированном азиатами, где русские девушки торгуют их товаром. И тому рады.
У ног вождя почти всегда лежат скромные цветы. Ни чему не наученный народ, продолжает поклоняться идолу.
* * *
В СССР ПРЕСЛЕДОВАЛИ СОЛЖЕНИЦЫНА И ДРУГИХ ПИСАТЕЛЕЙ. В РФ ПРЕСЛЕДУЮТ И. МИРОНОВА И ДРУГИХ ПИСАТЕЛЕЙ. НИЧЕГО ПОЛИТИЧЕСКИ НА РОДИНЕ НЕ ИЗМЕНИЛОСЬ. В ПРАВИТЕЛЬСТВЕ НАХОДЯТСЯ ЛЮДИ НЕ ЗАИНТЕРЕСОВАННЫЕ СУДЬБОЙ РУССКОГО НАРОДА.
ЗАМУРОВАННЫЕ
Иван Миронов
Глава из новой книги
БОЛЕВОЙ ПРИЁМ
Если утро затянулось до обеда, то день безнадежно пропал.
11 декабря шестого года, в понедельник, полпервого дня я сидел на кухне на улице Дмитрия Ульянова, обретаясь в тяжелом настроении от позднего подъема, раздраженно посматривая на часы, светящиеся на электронном табло плиты. Черный циферблат размеренно выплевывал ядовито-красные цифры, безвозвратно съедая понедельник.
— Какие планы? — Наташка разлила источающий ароматную горечь кофе в тонкий фарфор.
— В институт надо отскочить. Передать завкафу окончательный вариант диссертации и обратно. За пару часов уложусь.
— Когда защищаться планируешь?

— По весне защититься, по осени жениться.

— Ха, — Наташка, сверкнув тонкими запястьями, распечатала пачку "Вог". — И всё это, будучи в федеральном розыске?

— Чушь. Какой розыск?! Ты же дело видела! Перед законом я чист, да и офицеров не сегодня-завтра оправдают. Вначале хотели жути поднагнать, на показания давануть…

Я подошел к окну, с одиннадцатого этажа отыскав слившуюся с асфальтом свою машину, припаркованную на стоянке, занимавшей почти всю территорию двора-колодца.
"Надо бы помыть", — мелькнула обрывочная мысль в не до конца проснувшемся сознании.

— Купи что-нибудь на ужин, — напомнила Наташа. — Кстати, как будем Новый год встречать?

Этот вопрос за два дня звучал уже раз пятый.

— Как скажешь, Наташенька, — попробовал я отмахнуться. — Кстати, я же вчера ухи наварил. Будешь?
Накануне, в воскресенье, я накупил на рынке рыбной всячины, за полночь провозившись с ушицей. Всё честь по чести: с процеживанием бульона и обязательной рюмкой водки, щедро опрокинутой в кастрюлю. Ночью сняв пробу, я оставил блюдо на завтра в предвкушении чревоугодных радостей.

— Собрался её сейчас есть? — искренне удивилась Наташа.

— Сейчас.

Наташка, недовольно фыркнув, ушла из кухни.

Уха действительно получилась настоящей. Бульон переливался перламутровой мозаикой, разряженной малахитовыми искорками укропа. А вкус! До сих пор кажется, что ничего не ел вкуснее той ухи.

Оделся, взял телефоны, бумаги, сунул в карман травмат, проверил документы на машину.

— Наташ, пока, — я щелкнул дверной задвижкой.

— Пока, — девушка дежурно мазнула помадой по моей щеке. — Не забудь про магазин. Ну и про Новый год.

Пересчитав этажи, лифт без остановок приземлился на первом. Я с усилием толкнул подъездную дверь.

В пяти метрах, наискосок от подъезда, стояла незнакомая красная "тойота". Она сразу бросалась в глаза: старая, тонированная, просевшая на колесах под тяжестью пассажиров.

— Всё! Приплыли! — пронеслось в голове.

Я сделал шаг назад. Медленно закрывавшаяся за мной на доводчиках дверь еще спасительно пищала, но в мгновение звук потух, металл лязгнул о металл
Движение началось. Из машины посыпались хмурые мужчины. Они бежали слева и справа, копошась в подмышках, отстегивая табельное.

— Стоять, сука! Руки в гору! На землю! — загудело в ушах.

В глазах запестрели вороненая сталь, жирные рожи, запаршивленные щетиной. Дальше пленочка в голове стала крутиться медленнее, обволакиваясь багровой дымкой. Голоса зазвучали то приглушенно до нежного шепота, то резко до боли в висках...

Я лежал на тротуаре, когда мне, выламывая руки, крепили наручники. Перед глазами топтались крепко замызганные ботинки. Первый удар пришёлся под ребра. Ощущение, как будто в тебе сломали карандаш. Это хрустнуло плавающее ребро. Из кармана куртки выдернули травмат, и кто-то остроносой туфлей пнул в голову, целя в челюсть, рот мгновенно наполнился кровавой кашей.

— Хорош, убьёте! — раздался визгливый окрик. — Нам его еще в прокуратуру сдавать. Поднимите.

Меня подняли.

— Полковник милиции… (свою фамилию милиционер опустил, махнув передо мной красными корками). Назовитесь.

— Да пошёл ты, — я вытер о плечо сочившуюся изо рта кровь.

— Иван Борисович, мы сейчас проследуем с вами в Генеральную прокуратуру для дачи показаний.

Меня закинули в машину, на пол, в проем между сиденьями. Две пары ног водрузились на обмякшее тело, а тяжелый каблук припечатал голову к резиновому коврику. На правом переднем, насколько я еще мог ориентироваться по голосам, восседал полковник.

— Всё в порядке! Мы его приняли! Встречайте! — радостно сообщил он кому-то по телефону.

На углу остановились, меня выволокли из "тойоты" и перекинули в жигулевскую "семерку". В "жигулях" посадили на заднее сиденье, по бокам подперев двумя мятыми, словно окурки, личностями в штатском.

— Ты, парень, не подумай — ничего личного, Чубайса сами ненавидим и замочить его — дело правое, но приказ есть приказ, людишки мы подневольные, не держи зла, — посочувствовал подпиравший меня справа мент с потухшим, немигающим взглядом. Сосед слева уже смачно жрал плов вприкуску с какой-то дрянью, пристроив пакет на моем плече.

Я судорожно засмеялся.

— Чего ты ржешь? — удивился он.

— И ухи поел, и с Новым годом порешали, — я сцедил густую кровавую жижу себе под ноги.

Голова плыла, браслеты жевали запястья, я чувствовал, что теряю сознание.

Из забытья был извлечен, когда подъехали к высотному, цвета незрелого баклажана строению, отороченному черным железным частоколом, — зданию Генеральной прокуратуры в Техническом переулке. Туда уже прибыли все участники героического захвата.

— Слышь, Иван, ты в какой квартире жил? Адрес свой нам подскажи, — как бы между прочим попросил полковник.

Его милицейская непосредственность заставила меня улыбнуться.

— Перетопчетесь, — зло бросил я.

— Мы же тебя по-хорошему спрашиваем, — оскалился полковник.

— Я тебе и по-плохому не скажу.

— Мы же всё равно найдем. Весь подъезд на уши поставим. Тебе оно надо? — не унимался правоохранитель.

— Ищите! Работа у вас такая — искать.

— Зря ты так, — в голосе милиционера прозвучали обидчивые нотки. — Мы к тебе по-человечески подошли. Тебя вообще СОБРом хотели брать.

Небольшой узкий кабинет следователя был заставлен четырьмя столами с компьютерами, завален толстыми подшивками уголовных дел и прочим хламом. В кабинете суетился молодой человек посыльного вида со взглядом кролика и хомячьими щечками, надутыми значимостью учреждения, где ему приходилось шустрить. Я принял его за курьера, но тут "курьер" начал по-хозяйски рассаживать моих захватчиков, обходительно приобнимая их за плечи, и я окончательно запутался. Ещё одной обитательницей кабинета оказалась бледная как моль женщина, настолько блеклая, что запомнилась лишь бельмообразная тень, снующая по комнате. Наконец, появился подлинный хозяин кабинета, чьё имя красовалось на входной двери: "следователь по особо важным делам Генеральной прокуратуры Краснов Игорь Викторович".

В глаза бросились бабья манерность и витринный лоск. Он походил не на следователя, скорее на дорогого адвоката или на финдиректора какой-нибудь добычи. Идеально подогнанный по фигуре костюм тянул явно не на одно месячное жалованье сотрудника Генпрокуратуры. Из пиджачных рукавов то и дело выныривали золотые запонки на белоснежных манжетах сорочки. На правой руке советника юстиции небрежно болтались золотые часы, нескромно отливая сапфировыми бликами.

— Поаккуратней не могли? — укоризненно бросил Краснов милиционерам, кидая на стол предназначенную явно мне коробку с салфетками, разукрашенную фиалками. — Это, что, по-вашему, больница?

— Оказание сопротивления при задержании, был вооружен, сами понимаете, — лениво отозвался кто-то из мусоров.

— Короче, пишите рапорта. Потом все свободны, кроме двоих для конвоирования гражданина Миронова на Петровку.

— Адвоката вызови, — голова болела и кружилась. Кровь, наполнявшую рот, приходилось сглатывать и от этого речь давалась мне с трудом.

— Набери его адвоката, пусть подъезжает, — приказал Краснов "курьеру", даже не поворачиваясь в его сторону.

Однако парень, прирученный к определенной интонации шефа, тут же бросился к телефону исполнять поручение.

— Иван, — размеренно и вкрадчиво зажурчал Краснов, профессионально отрабатывая на доверии, — я хочу, чтобы ты понял всю серьёзность своего положения. Тебе вменяются очень суровые вещи, которые по совокупности тянут минимум лет на двадцать, и то если тебя сочтут заслуживающим снисхождения. Как ни крути — "ван вэй тикет" (билет в один конец /англ./), или…

— Или что? — пейзаж расплывался, голос следователя звонко бил по перепонкам.

— Или расскажешь, как всё было. Если забудешь чего, мы напомним. Посидишь недельку на Петровке, пока будем оформлять твои показания. Пойдешь по делу свидетелем.

— Поцелуй меня в плечо, — я харкнул кровью на вишневый ламинат.

— В смысле? — поперхнулся следователь.
— Ну, ты тоже издалека начал.

— Иван, зря хорохоришься. Этого никто не оценит. Заживо себя хоронишь. Как всё хорошо складывалось: карьера, наука, невеста — красивая, умная девушка. Забудь! Уже через год наших тюрем ты станешь инвалидом. И это даже без нашей помощи. Ну а если ты нас еще разозлишь…

— Вот, возьмите, — Краснова прервал мент с отекшим лицом, в загаженной черными подтеками некогда красного цвета куртке. Он протянул следователю кипу разрисованной каракулями бумаги, мятой и заляпанной. — Рапорта.

— Хорошо, спасибо, — Краснов брезгливо перехватил ухоженными наманикюренными пальцами отчеты о моей поимке.

"Венским вальсом" Штрауса у Краснова зазвонил телефон. Следователь незамедлительно ответил:

— Слушаю, Дмитрий Палыч. Все отлично. Задержали, доставили, сейчас работаем. Хорошо, как сдадим на Петровку, я тебе сразу наберу.

— Иван, откровенно, — Краснов вновь взял доверительную ноту, — шансов у тебя нет. Видишь, какие люди тобой интересуются. Дмитрий Павлович Довгий.

— Кто это? — мотнул я головой.

— Тебе лучше и не знать, — покачал головой следователь. — А если у такого человека нет сомнений в твоей причастности к столь тяжкому преступлению, считай, что тебя уже не существует.

— А свое-то существование вы надолго с твоим Палычем намерили?

— Мы — это система, которая позволяет стране жить и развиваться.

— Лучше расскажи, сколько тебе с твоим другом, как его, Долбием, занес Чубайс.

— Иван, не усугубляй, — Краснов театрально провел рукой по волосам. — Хотя, терять, по-моему, тебе уже нечего.

Пришел адвокат. Предъявили обвинение. Мы заявили алиби и 51-ю статью Конституции. Что-то писали, о чем-то спорили. Адвокат ушел. Меня повезли в изолятор временного содержания на Петровку, 38. Час мариновали в узкой железной клетке, затем обыск: раздеться, присесть, встать, одеться. Выдав вонючую подушку и матрац, больше похожий на грязный мешок с комьями ваты, закинули в камеру. Трехместная хата — полтора на четыре, стены окрашены в унылый серо-голубой цвет, окно, по-местному — "решка", с обеих сторон занавешенное рядами решеток, почти не пропускало солнечного света, который с лихвой восполняли две лампы, включенные круглые сутки и светившие как автомобильные фары. От этого вскоре потерялось ощущение времени.

В Басманный суд везли одного, в клетке, оборудованной в "Газели". По ту сторону решетки — конвойный-автоматчик. Как только тронулись, сержант предложил сигарету.

— Знаешь, я не верю, что это вы организовали, — тяжело вздохнул мент, чиркнув спичкой. — Хотя, жалко, конечно, что гада этого не взорвали. Будь у меня руки подлиннее, лично бы его придавил.

В коридоре суда среди объективов телекамер и вспышек фотоаппаратов отыскал глаза матери. Тогда я еще не знал, что в один день со мной взяли отца, не знал, что ей пришлось пережить, разрываясь сердцем между московской и новосибирской тюрьмами...

По возвращении на Петровку первым делом из обуви выломали металлические супинаторы и срезали с одежды все металлические застежки — приговор суда вступил в силу. Еще через сутки — "с вещами на выход". Через полтора часа скитаний по запруженной машинами Москве воронок въехал в узкий шлюз тюремных ворот "Матросской тишины".
* * *
ПОЕЗДКА В ПРОВИНЦИЮ.
В. Соколов
На Светлую неделю отправились в Козельск. Впечатления от поездок всегда яркие. Но их контраст….
Дикие Древляне, коих встретили подвижники христианства в далеком 11 веке, еще не перевелись. Бродят и шалят до сих пор. Не устраивают, конечно, игрищ в честь Велеса и Хорса – предпочитают Бахуса. Одни из таких взломали дом. Щадяще разоренный, он нас встретил.
Не веселая прогулка по окрестностям. Живописнейшие места: горки, склоны, речушка Орденка, спуск к реке Жиздре – превращены в свалки. Весенняя оголенность земли еще не заросшей все скрывающей травой….
Склон в районе бывшей слободы гончаров не столь печален – усыпан осколками глиняных сосудов. Тоже сосуд, почерневший, неведомых времен, но на удивление целый, прошлым летом дети вытащили из реки. Знакомые нашли игрушку – глиняная свистулька в форме человечка. Подумалось: какая-то мрачная символика – мол, продули человека, продули население всей страны, выдули весь дух …. Да, попадаются всякие древности. В саду нашел царскую монету: 3 копейки 1895 год – приятно вспомнить о былом. Не могли тогда жившие, и в самом страшном сне увидеть, что станет с их отечеством….
Израненный город потихоньку «ремонтируют» - старые здания покрывают сайдингом. Одноразовая пластмасса закрыла пусть ветхие, но, все таки, дерево и камень. К счастью, не все только так. Краеведческий музей и восстанавливающиеся храмы выдержаны в традиционной архитектуре. Бродя по немногочисленным улицам, видя советскую антиэстетику, всегда любуешься дореволюционными строениями. Деревянные пилястры на обветшавшем доме впечатляют не меньше античных руин….
Волей случая, оказались на двух концертах. Первый – отчетный концерт городского Дома творчества. Очень напоминает советское мероприятие: грамоты, поздравления «хорошая учеба, примерное поведение» Но в наше пропащее время, оказывается есть еще дети обучающиеся и играющие народную и классическую музыку. Второй концерт – посвященный Светлому Христову Воскресению, проходил в «Д.К.» военного городка. Выступали дети творческого центра «Возрождение».Открыл концерт кратким словом о. М. Далее – небольшая пьеса «Радость Воскресения». Дети – но все интересно: игра актеров, декорации, задник сцены, костюмы. Потом – народные танцы, песни. В конце выступление местных «рок групп». Больше всего удручает то, что на обоих концертах практически не было зрителей. Родители и некоторые знакомые – весь состав публики. Жидкие хлопки. И ни одного военного. Спрашиваю о причине такой ситуации – «Здесь никому ничего не нужно.» Провинциальный город – он таков.
В Козельске пять действующих храмов - ремонтируют, восстанавливают. На сегодняшний день это даже много - храмы полупустые.
Оптина пустынь.. Попали на Крестный ход. Встретили знакомого В. – странника, бессеребренника. В прошлом, приезжая в Крым, останавливались у него в Симеизе. Теперь он перебрался в Оптину. Скитоначальник о.Т. удивительно похожий на скитоначальника столетней давности о. Варсанофия, подарил диск с фильмом о Сербском старце Тедее. Отец Т. из хиппи. Хиппи противопоставляли себя Совку, и кто не погиб от алкоголя и наркотиков пришли к Богу.
Воссоздание монастыря, востановленная и новопостроенная архитектура, фрески - радуют. Учитывая «мерзость запустения» недавнего прошлого, невозможно необнадежиться созиданию ….
* * *
EASTERN TEACHINGS IN THE LIGHT OF CHRISTIANITY
In these apocalyptic times where truth has become an abstract term and a source of entertaining debate that is determined by the side with the most potent resource of compulsion, the true Faith as contained in the Bible – more than ever - is under dire threat by the idolater and pseudo-Christian organizations. Among the most insidious of these teachings are those that are Eastern in origin, and satanic in content. This article attempts to explain in detail, the fallacious yet dangerous pronouncements of the main Eastern faiths that are slowly proliferating among the true Christian communities, and gaining misguided attention and ill-advised respect. Hopefully, the contents and decisive evaluations of these false and demonic teachings will earn the rejection and condemnation by those, contemplating to join the ranks of their followers.
Lowly and unworthy
Seraphim Larin
* * *
INTRODUCTION
Unlike animals, human beings cannot find complete contentment in earthly blessings alone. Sooner or later their lives cry out for something spiritual, prompting a series of initiatory questions.... why are they alive?.... what is the purpose of their existence?... is there something beyond the physical world?... etc.
Christianity not only answers these and other questions but assists to break through the constraints of everyday responsibilities, to realise the true meaning of life and develop the righteous attributes of the soul.
Unfortunately, beginning at the turn of the century and with an ever-increasing ferocity, the Western world has been inundated with a plethora of Indo-occult or "Eastern" teachings, promoting methods of spiritualising one's life.
Adapting themselves to the Western mentality and culture, these teachings freely use many Christian terminologies and pronouncements, creating an impression that they do not contradict but rather complete the "inadequate" Christian teachings. Unfortunately, few people are qualified to interpret the deceiving aspects of these promotions, particularly as they are interwoven into the Christian Word.
Consequently, these false instructions place people on the wrong spiritual path because in reality they are in direct conflict with the Christian edicts.
In the light of Christianity, we shall examine the main attitudes that exist in these Indo-occult or "Eastern" religions and explain why they are false and what is wrong with them. We shall also show why their promotions of psycho technical processes, aimed at "expanding awareness" and "opening of internal spheres" are harmful to the psyche and damaging to the soul.
The second part of this treatise will deal with historical datum and distinctive characteristics of the major and popular Eastern cults.
THE THREE TENETS
All Indo-occult teachings can be conditionally separated into three main arenas:
(1) Pseudo-scientific / philosophical and occult.
(2) Psycho physiological practices.
(3) Development of intuition and spontaneity.
(1) The main protagonists in this area, based on pseudo-science and intellectualism are Blavatsky (gnosticism & theosophy), Steiner (anthroposophy), Rarich (agni-yoga) and some others.
The outstanding characteristics of these convictions are reflected in the pseudo-scientific theories on: the organisational structure of the invisible world; the hierarchy of its spirits; the influence of the cosmos on the future of people, nations and continents; the evolution of Earth; the "arrangement" of a human being's essential qualities; the life hereafter.. etc.
All these muddled, confused and foggy dissertations are splashed across glossy pages, bound into many, many tomes that would require a lifetime to study, and are aimed at those inclined to contemplate and meditate, and though these individuals may have practical evaluative abilities, they keep them suppressed so as not to interrupt their meditations.
Strong emphasis is made toward the study of occult literature so that a person will develop an "intuition" about the supernatural, allowing the growth of an "awareness" of the mystical side of existence and the shrouded "understanding" of life.
Unfortunately, such studies usually produce damaging psychological side-effects including a tendency to become emotionally cold; cynical; contemptuous; spiritually void; - a feeling of bewilderment that evolves into despondency.
(2) In this psycho physiological movement, the emphasis is placed on reconstituting one's organism without regard to its dire consequences. The participant becomes a vulnerable object to the influence of evil spirits, resulting in the alteration of its biological process to such an extent that even a qualified physician is unable to explain the reason for the changed behaviour.
The main influences in this area are all forms of yoga (mantra, rahja & hatha), including the hari krishnas, the "transcendental meditation", Tibetan Buddhism, the methods of "White Brotherhood of the World", the C.Grofe "therapy" with narcotics, the P.Ivanov method and others.
While the list is not exhaustive, it embraces the main traditional Eastern pronouncements, as well as their "scientifically re-established modifications". This is further supported by psychotherapy and "homegrown" methods such as P.Ivanov's. If the original theories seem primitive, the modern approaches have been refined with "scientific" research, involving the world of phenomenon and illusion, unfolded through the use of narcotics or regimented breathing exercises.
The main argument these movements of psycho physiological mystique is that it "works", i.e. its practice gives palpable results. People attracted toward action rather than reflection are usually drawn to it. The usual methods used in providing a "breakthrough" into the invisible world are: movement of the body, fixed postures, regulated breathing, control of blood-flow and localisation of the energetical processes of the organism, repeated chanting of the mantra, visualisation (this method develops one's imagination by forcing it to create images in the dark or with eyes shut, so that with time that person will be able to see any imaginable thing with open eyes!), method of "sensory deprivation" (separation of one's self from all external irritations facilitating the "opening of feelings" into the invisible world) and the use of narcotics.
(3) The third tenet advocates intuitive mysticism and can be found in Zen-Buddhism, Jhana-Yoga, Krishna-mutra, writings of Rajneshi & Kastenedi and others.
As a rule, this movement promulgates: the rejection of the rational-logical approach to things; approval of all paradoxical and contradictory situations that surround us; necessity to develop the ability to react other than by reason alone; spontaneity; intuition; releasing all your desires and subconscious reactions. The motto of this teaching is "total internal emancipation". Consequently, religious Daosism permits unbridled orgies, while the followers of Zen-Buddhism are permitted to do anything that their hearts desire.
While these Indo-occult teachings have been headed into three groupings, further examinations will show that their respective intellect, practices and intuitions correspond with one another. The ebb and flow of their proclamations overlap and criss-cross one another, giving them much in common. What really brings them together is their particular understanding of God as an "impersonal world principle" and their universal utilisation of the methods of Meditation and Yoga.
INDO - OCCULT TEACHINGS IN THE LIGHT OF CHRISTIANITY
In broad characteristics, all religions and religious-philosophical studies can be grouped into two identities. The first belongs to the teachings that recognise God as an Individual that is a perfect, transcendental Being, Creator of all things visible and invisible. The other pertains to the impersonal beginning. One names it as Absolute while the other as "eternal world principle", "a cosmic power" or some such thing.
Christian and Muslim faiths as well as Judaism belong to the first category as all share the fundamental belief of God-Person and are focused on Him. In direct contrast, the second group of Indo-occult adherents has their faith pivoted on the human being.
An uninformed reader without any theological exposure may well think that the question of God being personal or not is purely a philosophically abstract one, considering that God's nature is incomprehensible. The main thing is to be kind and honest - traits that are taught by all religions, irrespective of their fundamentals. However, as we will see, the question of personality of, and self-conscious belief in God is far from abstract, and in fact determines the ideals and constitutive doctrines of any given religion or teaching.
All religions and philosophies try to answer the fundamental question as to why we exist. The difference to be found in the many answers emanate from the teachings as to whether God is personal or impersonal, i.e. does He possess reason, will, self consciousness , or is He some sort of power or energy? These two fundamental understandings not only highlight the deep chasm that separates the two teachings but will show their diametrically-opposed conclusions on moral issues.
If Judaism was to remove the many layers of flawed teachings of Talmud, and Islam its false pronouncements by Mohammed, then they would both come closer to Christianity. On the other hand, no amount of "pruning" or editing of the Indo-occult creed could achieve the same result because their quintessential beliefs are totally different.
By substituting the personal of God with a diffusive understanding of an all-encompassing energy, they place the individual in the centre of their belief and concentrate to teach it the use of this energy for self-development and prosperity.
As they allow their adherents full freedom to seek out the truth about the mystery of being, they criticise the Christian faith for having a system of dogmas and regimenting free thought.
"There is only one truth - it is people that understand it differently" is one of their famous proclamations. However, as we will see, all Eastern religions lean on one dogmatic cornerstone - belief in the impersonal beginning, which is the Alpha and Omega of everything.
Actually, if there is no God as a Being, then there is no Reason and all-directing Will, no absolute Authority, no righteous Judge - everything moves and functions "by itself" under the influence of some blind cosmic powers.
All religious "truths" and moral principles in which a person believes are determined by his knowledge, ability and intellectual sagacity and are therefore conditional and subject to re-examination. Because of these factors, the Eastern doctrines are outstanding in being contradictory and amorphous.
Now we can commence to examine the most important aspects of the Indo-occult teachings, beginning with the most fundamental question.
GOD and EARTH
Every science, including the most strictly logical and consequential one e.g. mathematics, is obliged to depend on a series of "self-evident truths" (axioms), which in principle cannot be proven and have to be taken ON FAITH. If axioms could be proven, they would have to be renamed theorems. Accordingly, it is unremarkable that the lesser obvious branches of knowledge such as religion and philosophy, depend on their own axioms and dogmas, which remain improvable and are subject to faith. The most fundamental axiom pertaining to all religious-philosophical teachings is the idea of God. While God-reaching religions depend on their faith in God as a Being, the Eastern cults build their conclusions on an impersonal global principle.
Christianity believes in one God-Being, Almighty, and Creator of all things visible and invisible. The Christian understanding of God is that He is ethereal and a totally perfect Being that is endlessly wise and almighty. God does not live within the constraints of time or space. Everything that exists on Earth is the result of His will & not an emanation from Him, but created from nothing.
At the beginning, there was nothing - no angels, no spirits, no cosmos, not even elementary fragments that make it up, nor any energy or force, no time or space. Only God existed - as eternal, life-giving and unapproachable Light. In creating Earth, God implanted into it certain laws governing its development according to His direction.
The nature of Earth differs completely to the nature of God, who is the purest and omnipresent Spirit. God can pass through anything without touching or mixing with it. As Earth was created from nothing, so can it return to nothing. Its fate relies totally on the will of God Who dwells in unapproachable light - not in time or space - is found everywhere and controls everything.
Having created Earth and the human race with specific aims, God cares about us like a father would for His children. All Indo-occult teachings emerge from the idea of an impersonal God.
If to a Christian, God is Who, to the Eastern beliefs, God is What; "God" and "Earth" flow into one meaning: "God is everything, and everything is God." This contemplation of the world is called Pantheism from the Greek "pan" - meaning "all" and "theos" - meaning "God." One doctrine speaks of Brahma or Absolutism, another of the common principle found in the basis of our existence, another about the all enveloping energy, mystical force of "soul of the world", yet another of Primary Reality etc... However, in all this variety of names (inseparable from Earth) lies the impersonal and seemingly incomprehensible side of the Universe, which with Earth, evolves according to the laws of Genesis. It is interesting to note that while these teachings reject God as a Person, they are forced to endow some of their matter with divine properties e.g: eternity, eternal dimension, reasoning powers (in the expediency laws of nature) and justice (in the laws of Karma).
A characteristic of these propositions appears in the conception of a cyclical cosmos in which Earth periodically passes through various phases of regeneration, development, depletion and devastation. Appearing in a temporary form (as a model) of absolute, the cosmos passes through cycles of being and not being in which worlds arise from the depths of the absolute and then disappear in this chasm. That's why the beginning is equated to the end and time is turned back. In this way, "Absolute" Eastern teachings do not regard God as an all-encompassing Architect and Lawgiver (as He is in Christianity), but as matter that is subject to the laws of evolution and is therefore, dependent upon them.
Another distinguishing trait in their thesis is the emphasis on illusory aspects of the world (maya). As, in the main, everything flows from the initial energy, it is visional and unreal. Everything that we see around us is an illusion and consequently, all our conceptions are conditional and erroneous.
The Hypothesis of an impersonal God is central to the Eastern cults because it allows them to reject: awareness of one's immortality; God's Revelations; Christ as the Saviour of mankind; God's Judgment and eternal life; relative understanding of truth and solecism; good and evil; virtue and vice and others. Instead, they bow before destiny as the determinant of one's future, believe in Karma and resettlement of spirits.
Albeit their beliefs may seem "spiritual" and have some similarities with the Christian faith, these cults are at worst atheistic and at best, a "spiritualised" form of materialism.
TRUTH -- ABSOLUTE or RELATIVE UNDERSTANDING ?
In their own understanding of "truth", the Eastern or pantheist teachings are very consequential: if there is no God-Being that cares for His people, there cannot be one Source of Revelations. People, attempting to understand the reason for their existence, are not only constrained by their own intellect but as to how they accept the given answers. Naturally, as a consequence, their conclusions are incomplete, invariably diverse and subject to examination. As their illustration, they imagine that 4 blind men are requested to feel an elephant and state what they think it is. The first touched the leg and declared that it was a pole, the second felt its tail and thought it was a snake, the third came into contact with the elephant's belly and concluded it was a large barrel, while the last person stroked its ears and was of the opinion that it was a basket. Who was correct? Obviously, they were all right... and, all wrong!
Similarly, the occult beliefs conclude, all religions in their own way are true. Religion of mankind is made up of different levels of understanding of the same truth. In this design, Christ, Buddha, Confucius, Zoroastra, Mohammed, Krishna and other "avatars" are accepted as teachers, preaching the same principles, only in different words. That is why Eastern faiths regard there is no heresy or errors in understanding the truth - only different levels of understanding of Realities.
Basing themselves on the relativity of religious teachings, these occults encourage the comparative study of religions in order to broaden one's intellectual horizons. Those that claim exclusiveness to the true faith, e.g. Christians, are branded as fanatics. The idea that, in principle truth is unattainable, lies in the writings of Zen-Buddhism. While Earth is deceptive and illusory, truth shall remain unrealizable. To teach anyone something is regarded as impossible, just as it is impossible to learn anything from anyone. To achieve anything, one must in the first instance, expunge all prejudices and opinions preached by various religions. Reality does not have any objective substance, only subjective acceptance exists. "Truth" must be obtained instantly, intuitively when the seeker and that which is sought flow into one.
Books can be beneficial to a beginner so long as they encourage meditation. In rejecting reason and logic, Zen-Buddhism believes in the infallibility of the human intuition and calls for its development through increased practice of meditation in the Yoga sense. In meditating, one should weaken oneself totally and expunge the mind of all external impressions. Everything a person may learn will come from within unexpectedly. The main thing is to feel that one is organically part of the "Whole". Having achieved this, that person will be immersed in total bliss and understanding that he or she is - "god". Zen-Buddhism calls this spontaneous enlightenment as the achievement of truth.
The Christian understanding of the absoluteness and immutability of truth is based on the conception of God as a Person. In creating the human being, He endowed him with god-like powers of reasoning, capable of communicating with Him and discerning the truth. God is like the sun, with the human eye being reason, capable of accepting His light, though not its full intensity. Yet even through this limited enlightenment, a person is granted the ability to comprehend the nature of spiritual and material elements.
The original man, in his sin-free state, could communicate and even converse with God freely (Genesis chp. 2-3). Having sinned, Man fell away from God. His powers of reasoning dimmed, resulting in the appearance of a multitude of false religions. Despite man's transgression, God did not turn away from him. Like a loving Father, He did not cease to care for the salvation of the human race and sent them many of His prophets-teachers.
Eventually, the total truth was brought into the world by Christ, the only Son or God. He fulfilled the prophesies which were present in the Old Testament and gave a more complete understanding of God and many other spiritual topics. He clearly explained what is right and what is wrong, how to live and what to aim for in order to gain eternal life. He did not attempt to satiate the human thirst for knowledge, nor open the answers to complex questions as to our existence. Instead, He concentrated His teachings that are important to us - how to acquire the Kingdom of Heaven. The teachings of Christ are contained in its undiluted purity in the New Testament, recorded by the four Evangelists and propagated throughout the world by His Apostles. It remains as the true unadulterated Revelations of God. Under the guidance of our Church, our immediate task in our earthly existence is to perceive God-revealing truths as contained in the Holy Scriptures and structure our earthly outlook and Christian life according to its directions. Notwithstanding the fact that not every individual is capable of understanding its total depth of God's truth, every person is competent enough to believe in that which it confirms.
Devoid of a singular Source of Revelations - GOD, the Indo-occult teachings often rely on the revelations of occult spirits - "white brothers" or on the "authoritative" pronouncements of other Gurus. For example, E.Blavatsky (founder of the theosophical society) asserted that she was in a constant state of telepathic communication with Tibetan mahatmas; receives instructions; poses them questions and hears their answers. She regarded her life and theosophical teachings as the fulfillment of the will of mysterious teachers that dwelled in the shrouded cliffs of Tibet.
Ergo, Christianity differentiates quite clearly between God-given truth and human opinion and believes there is only one Truth, and not the many misguided enunciations promoted by the Eastern cults. Everything that runs contrary to the Truth is a product of fantasy.
MAN -- HIS NATURE and HIS DESTINY
In Christian understanding, Man is the creation of God and bears the seal of His image. He differs from the angels - being spirit only, and animals - being only physical, because of his duality, i.e. he is composed of an intelligent soul and a perishable body.
Although the nature of a soul and its "appearance" to the world remains one of God's mysteries, Christianity teaches quite clearly that the soul of the newborn is not a spirit that dwelled elsewhere, but a new creation that came into being in the mother's womb, at the time of conception. Just as a baby will inherit many of the parent's physical traits, so will it receive some of their spiritual qualities - both positive and negative ones. Notwithstanding the similarities with its parents that the infant may display, it remains a completely new "I", a unique and separate being that can never be duplicated; a self-sufficient personality with its own conscience and free will.
The soul of an infant does not enter the body as one enters a room. It fulfills God's plan by uniting itself with the body in a most intimate and mysterious way for all eternity. Death, which materialised because of sin, is an abnormal and an unnatural reality. Although after death, the body loses its purpose and reverts back into the elements from which it was created, its bond with the soul is maintained. Having left the body, the soul retains the individuality of that person, - its spiritual experiences, accumulated knowledge and spiritual state that had developed during its lifetime. After physical death, its individuality, its unique "I", continues to comprehend, think, remember, feel and want. At the same time, the soul feels its separation from the body is unnatural even though the feeling is temporary. Its original purpose was not to be an angel or a ghost but a specific part of a human's constitution, the spiritual side of its nature. That is why people cannot reconcile themselves with death - it is an unnatural event.
The purpose for Jesus Christ's appearance in this world was to rectify the anomaly of death and re-establish the duality in the human being. This reinstatement will be realised on Final Judgment Day when the soul of every deceased person will return to its restored and spiritually renewed body, to commence eternal life. It is equally important to remember that on the final Day of Resurrection, each soul will return to its own body, to commence eternal life and not to some other new flesh.
This will be the restoration of the human being to its original dual nature, just as God had created. Indo-occult sects have a completely different understanding of Man's nature. For them, the soul is a coagulation, "materialisation" of a faceless energy that fills the world: it is like a drop of condensed water or a wave of sound, frozen on a known firmament. The human body is a substantive covering of a coagulum of energy, somewhat like its clothes. Therefore, death is regarded as a normal process when the soul, a temporarily condensed form of energy, dissolves and returns to the sea of energy that fills the cosmos. And just like the molecules of steam can consolidate into a drop of water, or a sound wave synchronise with a specific tune, so can the "pieces" of global energy descend to form a soul and settle into a new body. This process is known as "reincarnation" or "transmigration". While the various different Eastern cults contain some differences in the terminology and explanations of this process, its essence is common to all. They all agree that after death, the individual's personality and consciousness are spent.
THE PROBLEMS OF PERSONALITY
By the word "personality" or "I" it is necessary to understand the non-material core of the consciousness and psychic processes of intelligent beings. Every person's consciousness is subject to a continuous flow of thoughts, feelings, emotions, impressions and wants. However, the "I" is not a passive channel for this current but rather an active manager that freely controls its own spiritual activity. Notwithstanding the many varying responses or the inconstant circumstances that a person experiences during his tenure on Earth, he will regard himself as the same personality, master of his own decisions and actions. A person's personality concentrates within itself to incorporate all its congenital and acquired individual qualities, which include memory, knowledge, abilities, creative talent, intuition, sensitivity, experience, religious feelings, moral level, willpower, character, temperament, interests, ambitions etc... All this forms the whole and unique "I", distinguishing it from the outside world and other "I's" of other people.
While all religions that acknowledge God as a Personality accept the human personality as eternal, those teachings that do not believe in a personal God, reject the concept of individuality.
Christianity teaches that it is not the physical elements that go to make up the human body that is important, but its personality, its "I". It is this "I" that is the most precious and stable part. While the cells of an organism age, die and are replaced by new cells, the personality accumulates and retains all its knowledge and experiences. An infant is born like a clean and blank sheet of paper. Over the ensuing years, all its impressions - specific traces of everything it feels, thinks and does - are left in the conscious and the subconscious. Accumulated living experiences, educate the character and form the personality of every individual. Through concentrated endeavours, the individual may become educated or remain illiterate, may ennoble or lower itself spiritually.
So long as "I" carries within itself the seal of its Creator, Who is eternal, the personality appears as the most stable "substance" in Nature - more stable than any molecule or atom. Indeed, with proper equipment, any physical element may be changed into another by "reorganising" its sub-atomic particles (electrons, protons and neutrons) from which it is made. Difficult as it may be, theoretically, it is possible to turn lead into gold. The personality of an individual cannot be changed: it is possible to kill a person physically, but quite impossible to destroy its knowledge, its living experiences nor its eternal soul.
Every individual is given the opportunity to develop its own "I" in any way it wants. However, once it is acquired internally, neither the individual nor anybody else can annul it. In infancy, all babies look alike. It is quite possible that when Moses and Jack the Ripper were born, there was very little difference between them. Nevertheless, with the passing of time, one became a prophet of world-wide importance, revered by most of the human race, while the other, an infamous monster. Each was free to choose his own path. Consequently, after their deaths, everything that each acquired internally, remains forever, either as a priceless spiritual wealth or a repugnant, moral encumbrance. After death, each one will be able to bring to account as to what he has earned. This inflexible firmness of one's inner self would be an enormous tragedy if it wasn't for God's benevolence in granting every human being an opportunity to regenerate. This very important theme will be discussed more fully at a later stage.
Eastern pronouncements reject self consciousness in the Absolute, contending that this element is insubstantial and ephemeral. Personality is a brief phenomenon - nothing but foam washed onto the sandy shore and then swept back into the ocean without a trace. The modern-day statements from these cults refer vaguely to the Absolute as "extra-sensory", without any explanation of this word. Possibly this may be a play on words and that the "extra-sensory" power of the Absolute, as with transcendental meditation, is without consciousness.
SIN AND KARMA
Christianity understands sin as a moral violation of God's law. Sinning can occur not only through action but through thought, feeling, word or intent - anything that distances a human away from God. Intentional alienation from Jesus Christ and an unwillingness to believe in Him, the God-sent Saviour of the world, is the ultimate sin (John 16:9). In accordance with Apostle Jacob's teachings, not doing a good act when an opportunity arises is also a sin. A sinful act or directing one's mind towards a sinful deed leaves a definite black mark on a human conscience. Repetition of these sinful activities makes the individual morally ill and drags the soul into an evil abyss. While every person's mission is to fight its wicked tendencies, sometimes sin is stronger than one's spiritual strength, necessitating Divine help. The infection released from the Original Sin into the human race is so potent that every human being requires regenerating powers that can only be obtained from the Almighty's benevolence.
At the same time, God had implanted seeds of goodness into every soul, creating the desire for it to perform good deeds. When the individual commits an evil act, it is plagued with a heavy and unpleasant feeling. This is because God had equipped us with a very sensitive and true device called conscience. Consequently, it is not surprising that even heathens, Muslims and people of various religious persuasions have a common designation for good and evil, for sin and a benevolent act. This does not even exclude the followers of the Eastern cults. While theoretically they don't distinguish between good and evil, regarding them as "different sides of one and the same medal", in practice they do have something closely akin to sin - Karma.
Karma - meaning "act" in Hindu - is the accumulated total of one's actions, both bad and good, which attach themselves to the soul as it transmigrates (reincarnates). All future occurrences experienced by the new bodies are determined with surgical accuracy by the previous karma.
As the Hindu teachings are devoid of God, His forgiving benevolence and cleansing of the human soul, karma takes on a purely formal and mechanical character. Under karma, the Eastern cults suppose it to be an immutable law of rewarding justice; a law that is independent of any higher, conscious will. The fortunate, healthy and wealthy people are those that have accrued righteous karma. Less fortunate and suffering people are those that have received their just rewards for their previous mistakes and sins. Simply put, under karma, sin and punishment have a precise mathematical correlation. There is no merciful, forgiving God or Saviour, Who would redeem the person's sins. The implacable law of karma collects all the infractions committed by a person and over the next transmigrations - which could number hundreds, thousands or even millions! - compels it to lament them.
Apparently the edicts of karma arose through the need to explain the reason for suffering. By applying its principles, it can be said that the suffering of an innocent child is the result of transgressions committed in a previous life. However, if this principle is examined in detail, one would find that it invariably legitimises injustice. As the Eastern philosophy states that after death the personality of the deceased disintegrates into cosmic energy and consequently, after reincarnation, comes into being again, how is this new person to know for what he is being punished? His suffering will not realise any moral lesson, but rather leave him with a dull feeling of life's injustice.
LIFE BEYOND the GRAVE and the TRANSMIGRATION of SOULS
In accordance with the Christian faith, suffering and death are closely connected to the tragic Original Sin. Without it happening, Man would have eternal life, but because of it, he must die. No amount of personal suffering, good deeds or great exploits will erase his spoiled moral nature and restore him to his original immortal state, as created by God. The tragedy of the Original Sin was repaired by Jesus Christ. His sufferings and death on the Cross redeemed Mankind's sins, destroyed the power of death and restored Man's immortality. Although the mystery of redemption is not understood by our limited mentality, the belief in resurrected Christ's power of regeneration gives the faithful great comfort, convincing him that after death, he too will be resurrected by the Destroyer of death.
God loves us and pities us as His own children. When we weaken morally and even sin, He doesn't seek revenge or even chastises us. Instead He waits patiently for us to reflect on our actions and then assists us to return to the path of righteousness. When He allows grief or sorrow to enter our lives, it is not done as punishment for our transgressions, but rather applied as a healing agent for our own good. When we do not oppose God, He directs everything toward our spiritual welfare and salvation. Our object in life is to attain eternal blessed life in the Kingdom of Heaven.
In contrast to the bright Christian embroidery of hope for a full rehabilitation and restoration of the soul, the alternative beliefs of the Eastern cults appear gloomy and fatalistic. Everything that occurs on Earth is subordinate to destiny and the merciless karma. "Salvation" is acquired not by way of faith and conscious pursuit toward virtue but through the mechanical and cyclical progress of reincarnation. To restrain a person from committing good or bad deeds, his fate is predetermined just like the movement of wheels inside a clock. Finally, after all its ineffectual wandering from body to body, instead of gaining eternal life, the soul is doomed to disappear into the cosmic Absolute, wasting all its accumulated experiences. While a Christian awaits the resurrection of his singular earthly body, the Eastern adherent regards his body as a prison-like temporary shell from which he will eventually escape. In Hinduism, the impersonal spiritual being is obliged to improve his karma through a series of reincarnations - from one person to another, or to a monkey, or even a plant.
Attempting to explain the existence of evil on Earth, the teachings of karma and reincarnation contain grave injustices, because every human being is predestined for the same end. Neither the righteous that had performed countless good deeds will receive any reward, nor the most monstrous criminal receive any punishment. People like the great Saint Nicholas and the infamous butcher of millions of innocent human beings, Joseph Stalin, will inherit the same end and merge together into a faceless Absolute. What can be a more grotesque and profane perspective than this?
The paradox of this system lies in its absence of self-justification. If every person lived many lives, expended his karma and achieved spiritual completeness, it would be logical to expect that eventually the whole human race would acquire perfection. Unfortunately, in reality, we are witnessing an acceleration of moral degradation in our society: increase in crime and depravity; expansion of hatreds, even among the young... All this conforms precisely to the predictions of the Bible regarding mankind's spiritual degeneracy before Christ's Second Coming.
Teachings on reincarnation have never been confirmed with any objective proof. Under the assertion of having lived previously, recollections of some "familiar" places by people can easily be proven as figments of imagination. Our brain is continually accumulating in our subconscious all manner of audio-visual impressions. Then, at a specific moment, these fragmented impressions can combine into a mental picture, inducing that person to "recognise" that which in reality he is seeing for the first time. These "recollections" are used as proof by the Eastern cults to promote their reincarnation. It needs to be stated that all examples of "recollections" have contained no substantive information. These persons were unable to "remember": any languages that they had spoken; any specific events in their "past" lives; any literary or scientific information; no names of people that they had come into contact at that time. In other words there is no recall of activities which our senses accumulate and experiences that formulate our intellect during our lifetime. All these aspects inexplicably " evaporate ", leaving " reincarnation " an empty word.
However, the many examples found in the lives of the Holy fathers, spiritual literature and indeed numerous contemporary narratives concerning life after death, disprove the occult teachings of reincarnation. Indeed, there are many instances where the appearing souls of the dead were able to share their experiences and knowledge gathered during their singular life on Earth. Their individuality was not erased with death. When Moses and Elijah appeared to Christ on the high mountain of Tabor ( hundreds of years after their departure from Earth ) they retained a total understanding of what they were during their earthly life.
All instances recorded by doctors and para-medics, show that the soul was left un-changed after its exit from the body. In cases where the soul desired to return to its body, it was for the purpose of completing its unfinished mission and not for the commencement of a new life. Apart from this, meetings of newly departed souls with previously deceased relatives, prove that individual identities remain intact. All major religions recognise that " I ", with all its earthly experiences, continues after death. Therefore, the unalterable spiritual state of the individual survives, diametrically opposing the Hindu notion of reincarnation and the dissolution of the soul into Nirvana.
From the above we can see that the Eastern belief in reincarnation conflicts directly with the Christian teachings of redemption. This is highlighted by the example in the Bible where the wise robber on the cross inherited the Kingdom of Heaven in an instant by turning to God and bypassing karma and the cyclical reincarnation through the cosmic corridors.
Consequently, God's redemption of our sins frees us from the power of cosmic processes and blind destiny.
CONCEPTION OF SALVATION, GOOD and EVIL.
Strictly speaking, " salvation " is a purely Christian idea that is central to its faith and is certainly unknown to the Eastern cults. Christianity teaches that God created Man for eternal life. Had there been no original sin, there would have been no need to save him. The original sin, apart from morally flawing Man's nature, introduced decay into his internal life thereby denying him a living communion with God. Its consequences were so great that God had to send His only Son to become a human and redeem the sins of mankind.
Sin, with its infectious and deadly consequences is inherited by every human being, and purely personal endeavours will not get rid of it. For this we need God's help.....a Saviour!
If Christ had not redeemed our sins on the cross, humanity would have been doomed to eternal death - not in the destruction of the soul but to eternal darkness and torment.
Because of Jesus Christ, the path to salvation is open to everyone. His innocent blood spilled on the cross cleansed us of our sins and regenerated our souls. However, this process is not automatic. It is essential to voluntarily apply oneself and believe in Him, accept His teachings and live a Christian life.
Fasting, prayer, study of God's Word, contemplations on God, good deeds, Mysteries of the Church are all important means toward obtaining spiritual renovation. Accordingly, there are two cardinal conditions governing the salvation of one's soul; personal effort toward reaching God, and His help granted through His benevolence.
Salvation means the restoration of the person's " duality " and the erasure of all sins and their consequences. This condition would be greater than that enjoyed by Adam because it will transform and spiritualise both mankind and the physical world. Decomposition will be replaced with incorruptibility and the righteous will glow like the sun in their Father's Kingdom. The degree of bliss and joy one receives will be commensurate with the moral level that one attained during its lifetime. As a result, Christianity calls for us to multiply our God-given talents and increase our spiritual treasures through pious living. If you sow generously, so shall you reap a bountiful harvest.
Hindu beliefs have a completely different understanding of life. In rejecting the Original Sin and the everlasting soul, they repudiate the need for salvation. Their whole attention is centered on self-development using diverse methods of yoga and meditation, with the highest achievers of these exercises, perceiving their " divinity ". In effect, the sooner one attains perfection in these fields, the sooner that individual will receive the ultimate happiness i.e. dissolvement into Nirvana. From a Christian standpoint this begs a question - what is the " ultimate happiness " when a person doesn't feel it, and how does it differ from death ?
Obviously all these pronouncements are a play on words.
While in the area of morality, Christian teachings make clear and precise distinctions be- tween good and evil, Eastern cults promote them on conditional understandings. The moral relativity of these tenets flow logically from their fundamental belief in monism – everything is one. It is true to say that with Indo-theosophical writings ( as with writings of any religion ) one can find many remarkable thoughts on pious living, outstanding thoughts and inspirational advices. This cannot be attributed to their doctrines but rather to God's gift of moral sense and innate desire for good. Consequently, every person - including those that have never read the Bible or believe in God - feel a natural repulsion toward iniquity and an impulsive gravitation toward piety.
However, if a person delves deeply into Hindu philosophy it will become apparent that their understanding of good and evil is relative and subjective. While what some might regard as evil, in another plan this might lead to goodness. This philosophy teaches that " good " and " evil " are needed just like light and darkness; like positive and negative charges in an atom or North and South in a magnetic field. Although they are different, they are individually competent sides of the Primary Reality and are indispensable for the harmonious balance of life in the universe. Therefore, strictly speaking, there is no sin or vices. Neither are there any substantial differences between piety and iniquity, saint or criminal - all this is a temporary karma that will be ground by the millstone of reincarnation and dissolved into a boundless sea of Primary Reality. Consequently, a person is not responsible for his actions as he is only a small cog in a universal machine. Personal acceptance of one's actions as being good or evil is just an illusion while Buddhism has developed a method to do away with such illusions.
Obviously, such beliefs run contrary to the Christian understanding of the purpose and aims of life. Instead of having a real communion with God through prayer, the Hindu tenets advocate; the establishment of mental telepathy with mahatmas ( spirits ) and gurus, leaving into the astral body, repeating the mantra, to summon the spirits etc...Rejecting repentance before God and regeneration, these cults instill into their adherents the need to rely on ones own personal strength and to develop a feeling of " divinity " and superiority over the un-enlightened.
CHRIST and THE HINDU AVATARS
Just as the idea of salvation occupies the central position in the Christian faith, so does the First coming of Christ regarded as a unique and unrepeatable event. The Only Son of God, appeared on Earth as a human with the intention to regenerate us, and indeed more than this - to join us to His divine nature. He ascended into Heaven with His transfigured body in order to remain forever - Man-God. His redemptory sufferings on the Cross and His glorious Resurrection from the dead- all indefeasible aspects of the great purpose of Man's salvation.
These acts were performed only once and contain within themselves, inexhaustible spiritual power that will continue to save the faithful till the end of Earth's existence. The Second Coming of Christ our Lord will not be to instruct or save but to judge the world and mete out just rewards to every human being, according to his deeds.
Eastern-occult teachings acknowledge Christ as one of their " avatars ", a materialised
Vishnu and Primary Reality. Although the Hindu god is impersonal, at times it assumes human form and this " god-human " figure is called Avatar. While Christ appeared on Earth only once in order to redeem Mankind, the Krishnas regard their Bhagavad - Gita as one of many sequential and divine incarnations, which number 21. For example, the divinity of Vishnu incarnates in the form of Narayana and acts as a prototype of all avatars. Other avatars include Buddha, Rama, Krishna, Confucius, Zaraostra, Mohammed, King George V, Mahatma Ghandi etc... " Like the countless numbers of rivers that are created by the ocean, ( through evaporation and rain ) which never runs dry, so are the countless incarnations of our Lords " exhorts the Hindu writings. These avatars appeared at critical times in human history in order to reveal certain truths.
Every avatar in the Hindu cults receives total respect from their believers. Being divine and possessing supernatural powers (siddhis) places it above the laws of karma. Its arrival is looked upon as an act of love. Residing in a human body, it can uncover human emotion, although its spiritual state transcends both time and space (maya). Chapter 10 of the Bhagavad - Gita Krishna declares that " I am the prince of demons ". This acknowledgment certainly demonstrates the evil side of the Hindu avatar.
In his Epistle to the Thessalonians, Apostle Paul writes of the last avatar (antichrist) that is " ....coming of the lawless one...according to the working of Satan, with all power, signs, and lying wonders, ".( Chp 2:9 )
FATE and GOD'S PROVIDENCE
Christianity teaches that irrespective of our stubbornness & continual sinning, God continues to care for us like a most loving father would about his children. Not only are our total lives under His control, but every minute experience is directed toward our benefit. If we did not oppose Him and lived our lives like obedient children, there would be no evil on Earth, and our existence on it would conclude in the eternal joys of Heaven. People perish because God does not interfere with their free will, nor does He force them to believe in Him, or live righteously. When we entreat God for guidance and help, His unlimited power is capable of changing the natural course of events, even those which our minds imagine are impossible. In a word, our lives are determined not so much by external factors, as by our free will and God's providence.
On the other hand, followers of Hinduism believe in the blind subordination to the cosmic processes. As there is no higher Reason and Will and our freedom is an illusion, then the world is governed by destiny. That is why these followers believe in fate and astrology. In determining their future, they turn to the horoscope, fortune tellers, cards and believe in omens and signs. In an effort to justify their belief in the stars, they quote the controlling influence of the moon on the ocean tides; the germination of seeds and the inner sensations of individuals.
There is no denying that the stars and the moon have some influence on us, as well as the seasonal weather, humidity, cold and a million other internal and external factors. But they only have an influence, while God controls everything. Consequently, Christianity teaches its faithful to constantly turn to God our Saviour, for assistance and guidance. There are many examples of prayer achieving the impossible.
ESCHATOLOGY - DOCTRINE ON THE END OF THE WORLD
Christianity prepares the believer for the Second Coming of Christ, which will occur with the end of the physical world. Coming to Earth, Christ will pass judgment on all humans and demons, meting out His just rewards according to one's deeds. Earth and everything in it will be incinerated and God will replace it with a new world and new heavens " where truth will dwell ". Then the righteous will enter eternal life, while the others will inherit eternal damnation with the devil and his demons.
The Holy Scripture tells us that the period before the end of the world will witness a temporary apostasy from Christianity with a corresponding expansion of evil. Many false prophets will appear, seducing people with their destructive teachings. Mankind's faith in God will weaken and the majority will be captivated by the occult, submitting themselves to every imaginable vice and worshipping demons. This apostasy will be controlled by the " great " ruler, named by the Bible as the Beast or Antichrist. Apparently, he will not only be the head of a world government in a political sense but also an innovator of religious ideas.
His rule will be extremely effective due to his vigilance. Christianity will be regarded as outmoded, fanatical and bankrupt while its followers will face martyrdom.
Mankind's accelerated immorality will be accompanied by a general social and physical degeneracy; all-destructive conflicts between nations will erupt; deadly bacterial epidemics, starvation, earthquakes will increase, the oceans will " churn " and even the " heavenly powers will agitate ". Fortunately Antichrist's rule will be a short one as the Lord Jesus Christ " .....will consume with the breath of His mouth and destroy with the brightness of His coming. " (2 Thessalonians 2 : 8)
On the other hand, the Hindu revelations are totally different. They paint a very rosy picture of the coming of the great Avatar. This great " teacher-messiah " will bring to humanity, tolerance, happiness, world-wide peace and order. With his arrival, an era of prosperity will reign, creating heaven on Earth.
As can be seen from the above analysis, every specific element in the Christian teachings is covered by the Eastern-occult ones - appearing similar on the surface, yet in essence, completely different. Any person not versed in theology will find it difficult to ascertain what is fact and what is fiction. To " prove " the religious truth of one or the other side is an impossibility, because this belongs to the spiritual world and inaccessible for laboratorial determinations. However, if a person prays to the Heavenly Father with all his might, that person will feel God's living presence and the warmth of His love. This internal experience will convince that person that God is a live Being with whom you can communicate, One that accepts our prayers, enlightens our minds and helps us through difficult moments. With this type of perception of God, the Indo-occult conceptions fall apart like a house of cards.
MAJOR DIFFERENCES BETWEEN CHRISTIAN and EASTERN TEACHINGS
Christian Teachings Occult Teachings
*God is a real Identity; Creator, Law-Giver Faceless energy, primary reality
and Judge that exists neither in time or progressing through the stages of
space. He is perfect in every way and is reincarnation, development and
not subject to any processes of evolution ultimate dissolution
or changes.
*Earth as well as time, space and energy Earth and "God" are one and the same.
that fills it was created by God out of nothing. Eternal Earth is traveling through
cycles of germination, evolution and
finally, disintegration.
*God controls the world & the lives of every Fate, destiny and the movements of
human being. If we do not oppose His will & blind cosmic forces determine a
be obedient to Him, our Heavenly Father person's future. A human is a speck
will bring us to eternal life. in the cosmic mechanism.
*Time is rectilinear: creation of Earth & Man, Time is not straight but cyclical; the
incarnation of Christ & His sacrifice for our method of Earth's emergence, its evo-
redemption, resurrection of the dead, Final lution & disintegration is continually
Judgment & eternal life are all singular repeated. Earths appear for the sake of
& unique events that can never be repeated. being destroyed.
*A person is a dual being in which the body The soul is a passing condition. After
& the soul is united in an eternal bond, many reincarnations it & its indivi-
interrupted briefly through death. The person, duality will dissolve into Nirvana.
the individuality & the conscious self are
unique and eternal .
*Sin is a frightful, immoral evil that has dam- Sin does not exist, only evil karma. A
aged our nature. We can rehabilitate our- person is liberated from it through a
selves only with God's help. series of reincarnations.
*Good and evil, virtue and vice, truth and Good and evil are relative understand-
apostasy are absolute conceptions. ings, depending upon one's point of
view and intellect
*God is the sole source of spiritual truth. There are no divine revelations. Indo-
Through His prophets and apostles, He has occult tenets are based on "intuition"
taught us what to believe in and how to live and the authority of "spirits".
rightly. These Divine Revelations are con-
tained in the Holy Scriptures.
*Christ is the incarnate Son of God, the only Christ is only one of many avatars,
Saviour that will eternally remain as God- coequal with Krishna, Buddha, Zara-
Human. ostra, Confucius, Mohammed etc..
*A person acquires eternal life through the Idea of salvation does not exist.
belief in our Lord Jesus Christ, and by lead- Sole purpose in life is for "self-
ing a righteous life. "improvement" i.e. self-perfecting
to the recipes of yoga and medi-
tation.
*At the end of Earth's existence, resurrection In the end, the many reincarnations
of the dead will be accomplished by Jesus of the soul will terminate by
deliquescing into the ocean of
Christ, after which every human being will Primary Reality (Nirvana).
receive either eternal glory or eternal con-
demnation.
*Spiritual fathers are called upon to teach the Guru is a self-sufficient
word of God just as Christ's Apostles did & to divinity, that demands absolute
invent something new is not permissible. and unconditional sub-
The teachings of a pastor deserves attention ordination.
only when it is in harmony with the Church.
PRAYER and MYSTICAL ENLIGHTENMENT
" If therefore the light that is in you is darkness, how great is that darkness ! " Mat. 6:23
Its not important what it's called - extrasensory acquirements or expanded consciousness, cosmic feeling or mysterious enlightenment, a feeling of one's divinity or some such similar impression - its source is the same. The teachings that offer this state may be yoga, Zen-Buddhism, transcendental meditation, scientology, "New age" or some other occult groups.
If we were to eliminate the outer inconsequential semantics of these words, we would be left with the core of such a feeling - a trance. This is developed with the assistance of dark spirits, and eventually leads to self-aggrandizement.
All Eastern cults promote mystical enlightenment. In order to achieve this, they advise the rejection of all criterion of reason. Paradoxically enough, those cults that aspire to reveal the eternal mysteries of life, are the ones that brand reason and logic as enemies of internal experiences and are retardants for spiritual enlightenment. They also repudiate all spiritual authorities, including the Holy Bible and experiences of Christian ascetic Saints.
The denial of objective criteria by these cults is self-delusory, and is a by-product of self- induced changes to one's persuasions. This shift is assisted by the subjective principle;
" If it works, it means good ". Adherents that have attained mysterious enlightenment, respond to the question as to how they achieved such a state by rolling their eyes & going into a trance. After a short while and upon awakening, instead of articulating a sensible answer, they give a sweet smile and exclaim " Try it yourselves and you will be convinced." When feelings replace reason and all objective criterion are discarded, then all attempts to differentiate between reality and illusion are lost in the sea of subjectivity.
In Christian teachings, every subjective perception is prone to examination in the light of the Bible's witness and spiritual experiences of the Church. Reason must be on guard against emotions and not allow them to break out into reverie, otherwise this will place that person in a vulnerable position where he can be easily seduced by the devil.
Spiritual enlightenment is a state known to many righteous people. It has been experienced by prophets of the Old Testament, by Christ's Apostles and by many desert-dwellers. They all, in one voice, warn about the dangers of actively endeavouring to obtain some mysterious enlightenment & evoking it by any means within one's disposal. It is imperative for a human being to cleanse one's self from sin, reform one's heart spoiled by illicit desires and humbly aspire to reach God - these are the first and foremost tasks for every Christian. Legitimate spiritual edification comes only from God and is granted when He sees fit. It is a reflection of God's mercy and not the result of personal endeavours or reward for some great exploit or deed.
To a person in possession of authentic spiritual enlightenment, the world & everything ar-ond him ceases to exist as he perceives the power of God and his own pitiable state.
In this situation, a person experiences an indescribable inner peace and humility.... reason, senses and will - blend into a miraculous harmony, and the heart is inflamed with a son's love for God. There are no feelings of "sweet ecstasy, superiority or divinity", which are usually experienced by people indulging in the mysterious occult of "enlightenment."
When one is truly enlightened by God, all the revelations in the Holy Scripture become more lucid and compelling. Reason does not reject them but is rather enriched by these disclosures.
However, in order to restrain us from developing self-reliance and pride, God in a sense, withholds from us the conscious feeling of His presence. Nevertheless, a soft, yet unwavering and barely distinguishable light will filter into a person's soul during sincere prayer, heartfelt atonement, contemplative reading of the Bible, spiritual meditation, attendance of a church service and partaking of Holy Communion. Only in the next world will be able to experience the full joy from God's life-giving Light.
Eastern cults not only do not caution its followers about demons and their seductive powers, but actually encourage and recommend methods to the faithful so that they may come into contact with them. Varying forms of yoga and meditation promise the release of the soul from the constraints of its body and blending into the Primary Reality. As the human body, with its physical sensations, impedes the soul's efforts to receive spiritual illumination, one must turn to the mystics for its " release " through the " astral projection." In this self-induced trance, the person loses all sense of time or space. The ability for rational and critical observation is crushed and all defenses invalidated. Without realising it, this poor wretch has cleared the path for the multi-faceted demons to enter his sub-conscious. Having created a loop-hole into the innermost core of his soul, the mystic has allowed the demons to continue their influence long after awakening from the trance.
While it is true that having attained mystical enlightenment through occult means, these people experience extraordinary feelings of ecstasy and divinity, this condition is unhealthy and fraught with danger. Their behaviour can be likened to those that are under the influence of narcotics. In their senseless self-delusion, their reverence before the Almighty is replaced with an arrogant feeling that I am god. All feelings of moral responsibilities and realisation of the Final Judgment Day are evaporated. The subjective feeling of " enlightenment " becomes the criteria for truth and the arbiter of one's behaviour.
The following summary shows the distinctions between Christian and Eastern teachings on spirituality.
CHRISTIAN OCCULT
*Although humans were created to enjoy This is rejected while sin is regarded as a
eternal happiness, are in need of restor- delusion of the mind.
ation because of their damaged state
caused by sin.
*Main objective is to believe in God and Neither faith nor atonement are needed. A
lead a Christian lifestyle in order to earn person can become ecstatic whenever he
eternal bliss through our association with wants.
Him in the next world.
* The Mysteries of Christening, atonement All this is regarded unnecessary.
and partaking of the Holy Sacrament clean-
ses the soul of its sins and renovates its
nature, eventually allowing the Holy
Spirit to enter it.
*Prayer is a dialogue with God and its Meditation consists of repetitive chanting
main ingredients should be, sincerity and of a single occult word (mantra)
concentration( emanating from both mind
and heart ) toward God.
*In prayer, one should not seek to obtain Aim of meditation and yoga is to achieve
inspirational emotions but rather a clean- the realisation of one's " divinity."
sing of the soul and seeking help to
improve one's spiritual life.
*During prayer, one must not indulge in One must concentrate on the visualised
wishful thinking or visualise any forms object in order to fuse with it.
or images.
*Prayer and thoughts about God always Mystical enlightenment, being a product
enlightens the soul, even though this of trances and demons' illusions, generates
feeling is experienced in a limited sense, a feeling of power and superiority.
as He doesn't want us to develop a false
sense of pride.
*Conscious feeling of spiritual enlighten- By applying psychotechnology, one can
ment is granted by God in exceptional always achieve mystical enlightenment.
cases.
*Reason must at all times be vigilant, Reason is regarded as an enemy of
guarding the heart against the demons' mystical enlightenment.
seductive powers.
*With true enlightenment, a person Achieves " cosmic awareness "
experiences an animate feeling of and merges with nature.
God's greatness and his own part in
divinity. His heart is filled with inde-
scribable serenity and love for God,
while the material world, seems to
cease to exist.
*True enlightenment gives a clearer Person convinces himself that God does
understanding of Christian tenets & not exist & he doesn't need any
their importance. revelations as he is God.
*As prayer always requires internal effort Yoga meditations teaches enfeeblement
and concentration, it is associated with and to think of nothing. In comparison to
exertion - even for those who lead pure- Christian prayer, it can be called the
ly spiritual lives. That is why prayer, like wide path which carries our Saviour's
a Christian lifestyle, appear as the warning.
" narrow path to eternal life."
Consequently, Christian prayers and thoughts about God on the one hand, and the Eastern yoga practices and meditations leading to mystical enlightenment on the other, lead to diametrically opposed directions and result in totally different conclusions.
" HEALING " through CODIFICATION
" Many will say to Me in that day, ' Lord, Lord, have we not prophesied in your name, cast out demons in Your name, and done many wonders in Your name? and then I will declare to them ' I never knew you; depart from Me, you practise lawlessness." Matt. 7 : 22-23
Christ appeared on Earth to release us from the devil's authority and our slavery to sin.
"....whoever commits sin is a slave of sin, and a slave does not abide in the house forever, but a son abides forever." John 8:34-35. Through Christening, an individual throws off his chains of vice and receives strength from Christ to struggle with his wicked inclinations. There is no known passion or vice that cannot be conquered with God's help. All one has to do is to enter positively into battle against sin by adopting a Christian lifestyle through prayer, sincere confession, partaking of Holy Communion and seeking God's assistance. The remarkable thing about this is that by struggling with one's deficiencies, the soul strengthens and grows, and it is this inner expansion that is the purpose for our living.
In place of these Christian benevolent therapies of the soul, a raft of contemporary cults ( Krishna etc. ), individual occult " healers " and extrasensory promoters offer their healing methods. They all offer complete and total cures of such serious ailments as alcoholism, obesity, smoking, drug addiction, unbridled lust and others. With minor differences in their approaches, all these cults and individuals use the system of codification whereby the codifier sends an occult effect on the patient's psyche through the use of concentrated energy. As with other magian performances, codification requires the patient to be completely open, maintain passive attention and have unconditional faith in the " healer ". There are cases where individuals were cured of their ailments either through occult procedures or by a codifier.
However, it must be pointed out that these "cures" may turn out to be far worse than the actual ailment. The methods employed by the extrasensors, magians and codifiers, ruin the protective system guarding the human soul from the demonic world. This occurs when the patient's attention is concentrated exclusively on the " healer ", who as a medium allows the demonic effect to transpire. This can be likened to controlling aggressive behaviour through a surgical operation called lobotomy, where the prefrontal lobe of the cortex of the brain in a patient is removed. While this surgical procedure removes that part of the brain that controls violent behaviour in psychiatric patients, it also excises irretrievably other higher abilities like: sharpness of intellect; emotions; creative aptitudes, and in particular, the ability to believe in God, pray and lead a Christian life. Incidentally, if that person did not lead a spiritual life, the waste of spiritual abilities through such an operation would not be noticed .
In one way or another, for receiving an occult "healing ", that person pays for it with the loss of spiritual health because invariably, part of the spiritual qualities atrophy. (Refer to works by D. Fortune "Contemporary psychotic defense "on occult pathology ).
The most evil of all occult practices has recently been developed by Y. Krivonogov. Through his technique of " psychotropnogical " hypnotism, he managed to transform a number of his " White Brotherhood " followers into living zombies. Despite attempts by very many hypnotists & extrasensors summoned from all the corners of former USSR, the psychical damage inflicted on these poor creatures could not be " uncodified ". These tragic events were extensively publicised in the newspapers in Russia and the Ukraine, during 1993 - 1995.
Lately, many people have been worried about " spells " and " charms ". This of course is a great boon to the professional wizards and extrasensors. While one inflicts a spell, the other removes it......all for a fee. Although these charlatan activities promote business for the occult practitioners, there is a real danger in the entry of demonic influences. A Christian has nothing to fear if that person seeks and entreats God's help and the benevolence of the Holy Spirit. By carrying out Christian acts of sincere prayer, attending Church services, confessing genuinely and partaking of the Holy Sacraments, that person will be protected by Christ from all and any "spells ".
MAIN EASTERN CULTS
HINDUISM
Hinduism came into being with the invasion of India in circa 1500 B.C. by Aryan tribes from Central Asia. Since then, it has progressed through many stages of evolution and fragmentation. The Aryan tribes brought with them Vedism - belief in all types of gods, the number of which is constantly increasing. They believed in transmigration, cremated their dead and practised fire-cleansing rituals. For the first 500 years, the Aryan conquerors' beliefs were handed down orally. Around the year 1000 B.C., these instructions were formalised in written formats of poems and prayers called Ved or Vedanta, meaning " wise pronouncements " or " knowledge ". This collection proved an enormous influence on the religious-philosophical development of the following Hinduism. Many gods of dubious moral characteristics became patrons of different types of sadism and sexual aberration. On the basis of transmigration, the caste system came into being.
From the 6th. century B.C. and up to the Birth of Christ, Hinduism found itself in a declining period, with its Indo-religious outlook on the world adopting a very pessimistic character. In this period, Indian asceticism emerged and the guru came forth as a religious teacher. Fundamental principles of modern Hinduism started to evolve, while the coarse pagan belief in many gods began to lean toward Monism where God and the world are one and the same.
This Pantheistic concept found a receptive home in the foundations of Hinduism, becoming the cornerstone for all its dogmas. Life on Earth was accepted as a continuous transmigration of the soul (sansara) in its efforts to escape the punishing law of Karma. Full freedom (moska/mukti) from life's cycles is attained only when the soul (atman) fully dissolves and merges with the universal soul of Brahma. This notion is one of the branches of Brahmanism on which Hinduism is based. At approximately the same time, Buddhism was born as a counter-reaction to the abuse of the Brahmin caste system.
Hinduism's last stage of development occurred ( after Christianity was born ) when the literary work, Veda, was confirmed as its holy writings. Their religious philosopher Shankara, floated the idea that everything we see - objects or events - are illusions. Asceticism became more extreme, while dharma - consciousness of moral obligations - assumed the path of liberation from illusions of the world, toward merging with " One ". God-Brahma assumed the senior position among the gods while " lord " Krishna ( tenth reincarnation of the god-Vishnu ) became the object of universal reverence.
Although for over 3000 years Hinduism did not seek converts, in 1890 Swami Vivekananda ( former pupil of the reformer Ramakrishna ) arrived in USA and opened the Vedanta Society in New York. From then on, many Indian-oriented societies had sprung up: Transcendental meditation; World Society of Self-consciousness of Krishna; Divine Light Mission; Society of Eckankar. Many contemporary sects, cults and " eastern " denominations are imbued with Hindu ideas: Theosophy, Christian Science, Anthroposophy, Freemasonry, Bahai'I Faith, Church of Scientology.........Simultaneously with these teachings, numerous self-appointed gurus materialised, promoting various methods of securing self-awareness and unearthing internal potential.
ITS TEACHINGS
Vedic literature presents itself as a compilation of a very heterogeneous religious-philosophical material and national epos. The first part ( Rig Veda ) contains hymns, formulae for performing sacrifices, legends, prayers - all saturated with polytheistic and heathen ideas. The second part ( Vedanta - a later creation ) comprises Hindu religious-philosophical outlook on the world. Although ancient Hinduism included innumerable gods of every conceivable nature, with time, this understanding changed . They are now seen as different manifestations of the same principal.
The Indian saying " Brahma is one - there is no other " smacks of Monism. It is not a transcendental identity but a principle found in the hypothesis on existence. In Hinduism, three of their many ancient heathen gods acquired special significance. Consequently, Brahma became god-creator, Vishnu, god-protector with the ability to incarnate, and Shiva god destroyer. Obviously, this belief has nothing to do with the Christian Holy Trinity. These three Hindu gods are a reflection of the same impersonal primary principle of being.
In their understanding, because our world is made up of pure energy, the substance of all objects does not exist and is purely an illusion. Just as dreams exist in our imaginations during sleep, our world in its own way is just a divine dream. God is the soul of the world (Mahatman) and every other " separate " soul (Atman) appears as his reflection. Hinduism attaches great meaning to the transmigration of souls. This belief has permeated into many Eastern cults, including Theosophy and the " New Age " movement. Having no singular system for salvation, it embraces the philosophy of Yoga (mystical enlightenment & merging with the universal soul) which offers different paths to salvation, depending upon one's abilities and proclivities. The purpose of all these faces of Yoga is to uncover one's divinity. While these diverse approaches achieve the same conclusions, these experiences range in time from short to very lengthy. The unenlightened soul is obliged to reincarnate a thousand times or more before securing tranquility in Nirvana. While the existence of heaven and hell is not denied, they are not viewed as final destinations but rather as transitory situations in the cycle of reincarnation. Inasmuch as a person is regarded as part of the world soul and therefore, a "god", sin is regarded as an illusion and feelings of moral blame and responsibility before the Judge, as superstitious mob-mentality. Accordingly, ignoring the Christian Ten Commandments, the Hindu follower doesn't feel the slightest need to atone for his misdemeanors or improve one's self. The purpose in life is to filtrate through as many reincarnations as necessary in order to achieve Nirvana.
This dissolution and merger with Brahma acquires nothing but eternal death through the annihilation of one's individual existence. Hindus regard that as the ultimate blessing.
While every religion has its own system of hierarchy and government, in Hinduism anarchy reigns supreme. Hinduism can be expressed in a great variety of rituals, ranging from the lofty and inspirational to the lowest and the cruelest. While one branch may preach total rejection of blood-letting, another may advocate blood-thirsty sacrifices and indulgence in the lowest form of dissolute depravity. Hinduism has no central church nor any moral codes.
" Truth is one. It's people that interpret it in different ways." trumpets the Hindu writings. It is this pronouncement that truly exposes Hinduism for what it really is...the most inconsistent and flexible false religion ever invented by man. It doesn't reject other faiths because it regards them as parts of one belief. Over its lengthy existence, it had absorbed many tenets of other religions, saturating itself with contradictions which the followers don't seem to mind. Notwithstanding its metamorphosis, absence of moral norms and inconsistencies, it cannot be said that dogmas are non-existent in Hinduism. Its cornerstone principle that " all is " one "qualifies it to be tolerant and universal.
BUDDHISM and ZEN BUDDHISM
Being a by-product of Hinduism, Buddhism inherited many of its major traits. Like Hinduism it lacks organisation and definitive doctrines. The question whether Buddhism is a religion or a philosophy is an arguable one. Buddha himself did not regard his reflections as a religion. He recognised neither gods, doctrines or faiths. In his " Buddhist Catechism ", the founder of the Theosophical movement Alcott, defines it as ".....of all religions, Buddha is the only one that teaches: ultimate joy without God, continuation of life without a soul, ecstasy without Heaven, sanctity without Christ, redemption through one's own effort without - religious rites, prayer, atonement and without assistance from the Saints and the clergy. Finally he teaches perfection in an earthly life.
If you called Buddhism atheistic, you will get no argument from its followers. Everything in it - its rituals and espousals, its nature and philosophy are arranged to create the illusion that a person does not exist.........and indeed everything in the universe has no specific substance and therefore is an illusion. That is why many given situations are expressed by Buddhism in negative terms, qualifying it as a philosophy of pessimism.
ITS HISTORY
Buddhism was established by Siddhartha Gautama ( 563-483 BC ) details of which are clothed with legend. Allegedly, he was an Indian prince who was surrounded since birth, with everything pleasing and beautiful. Upon attaining manhood, his first venture into the outside world left him shocked from the stark poverty and suffering he encountered. Soon after, he left his wife, children, home and wealth to roam as a beggar throughout the land, in search of the truth. One day, while deep in meditation, his mind was illuminated with the thought that all suffering was brought about by the individual's thirst for life. It then stood to reason that if you destroy all desires within yourself, you destroy suffering. After this " illumination ", he was proclaimed Buddha, meaning " the enlightened one ".
He preached against the caste system in his own country, maintaining that all people are equal before God, and encouraged mercy and compassion. He called for everyone to become monks as only their regimented lifestyles of self-denial could secure "enlightenment ".
Any activity that attaches a person to material things will result in suffering. Buddha never commented on the life hereafter because he regarded it as having no bearing on reality. He considered the ultimate aim for existence was Nirvana - state of total contentment, free of all thoughts, feelings and desires. He called this situation as blessedness.
In the year 236 B.C., a council of 500 Buddhist monks collected and recorded the oral teachings of Buddha. This collection was named Tunumaka. Thanks to the labours of Asoka (274-236 B.C.) and his active missionary efforts, Buddhism started to spread through Burma, Syria, Ceylon, Egypt and Macedonia. Upon his death, Buddhism began to fragment into different sects.
ITS TEACHINGS
Questions about God, creation of the world and Man, and other " diversionary " themes never attracted Buddha's attention. The principle issue of his meditations appear in his analysis of practical problems - cause of suffering and its eradication. The cornerstone of Buddhism contains 4 " cardinal truths "; (1) Suffering fills all aspects of one's life - from conception to death leading to further rebirth, (2) All suffering lies in the thirst for life and efforts in obtaining pleasure, (3) Suffering can be ended by overcoming desires and attachments, (4) The correct approach toward the suppression of suffering lies in the Noble Eightfold Path, consisting of right views, right action, right speech, right effort, right livelihood, right ambitions, right contemplation and right-mindedness.
If one follows these 8 paths then that person will be able to avoid the law of Karma and the fruitless cycles of reincarnation. Having achieved liberation from all desires and attachments, that person then immerses into the " blissful " feeling of Nirvana. Although the original idea of Buddhism is expressed with contrived simplicity, its very numerous laws governing the many " paths " are extremely complicated i.e. it takes a lifetime to study them.
This makes it the most convoluted and paradoxical teaching in the world.
SELF - MASTERING
This is the central theme of Buddhism. Every event is seen as a result of " restlessness ", " worry " or " ignorance " in the transcendental awareness of the Absolute beginning. These aspects of life are entirely negative and are completely unnecessary. A person that believes individuality does not exist ( as this would contradict the concept of Absolute beginning ) and has " known enlightenment ", has commenced on the path to tranquillity and ultimate peace in Nirvana. Buddhism preaches the total rejection of the world. Its ideal - the obliteration of the personal being runs contrary to the Christian tenets, which consider individuality as the most important feature of a human being.
All the endeavours of a Buddhist sage are aimed not at the positive aspects of our being or the accretion of truth, but toward exposing the delusions and falsities of life. Throughout this complicated half-philosophical, half-mystical work, there is a constantly emerging push to minimise and indeed obliterate the vitality of existence. Unlike Christian teachings, here the goal is not to expand and enrich the soul, but to obliterate it.
Buddhism looks upon virtue as being transitory, which becomes an obstacle at the higher levels of perfection, because all acts committed in this life, invariably follow you into the next through reincarnation. Bad deeds are worse still because they increase the suffering in the next life. Transgressions and the problems of evil are not acknowledged in its writings.
Buddha deliberated that " evil must exist with virtue like darkness and light, pain and joy - because order loses its meaning without chaos just as higher cannot be without a lower."
" Irrespective how great the needs and wants of others, nobody should sacrifice their sal- vation on their behalf " reads another part in the conglomerate of Buddhist morality.
Rejecting the idea of a Creator and promoting the notion that the world is evil, its philosophy actually injects corruption into the very Absolute where " restlessness " and " worry " is engendered. These in turn are born into our " insignificant " world, thereby qualifying it to obliteration. It offers meditation and mystical enlightenment instead of prayer and communion with God.
GROWTH of BUDDHISM
With time Buddhism developed two fundamental branches: the liberal Mahayana - big wheel or wide path to salvation or The Great Vehicle, and, the conservative Theravada - path for the old and the few, The Lesser Vehicle. These branches are so dissimilar to one another that they can be examined as two different religions.
MAHAYANA
Spread northwards into China, Japan, Korea, Tibet, Indonesia and Vietnam. This belief is underscored by the occult aspects of Buddhism with its followers indulging in incense burning, magical practices, occult rituals, statues of Buddha are revered as those of a god as well as honoring many other gods. The Tibetan form of Mahayana is the most occult of them all.
Here, there is a ruling class in the form of " priests " (lamas) that study and interpret the philosophical aspects of Buddhism. They encourage a meditative and a slow-tempo life as well as pacifism. Every person is called to enter into harmony with nature.
THERAVADA
Spread southwards into Ceylon, Burma, Cambodia and Thailand. Its fundamental beliefs lie in the writings of Tipitaka, which encourages a monastic lifestyle in order to devote your life to Buddhism. Nirvana is the purpose for living and the major virtue is wisdom. The school of Theravada avoids rituals and promotes meditation. Understanding of God as a real Being is non-existent.
Apart from these two branches, there exists a Zen-Buddhism, or simply Zen, which is a Japanese form of Buddhism. Its major doctrines announce that logical analysis is taboo....it is impossible to teach anyone anything or to learn anything from anyone....everyone must rid themselves of all prejudices and foreign opinions. Zen rejects all teachings and religions; it declares that all miracles and supernatural occurrences are illusions and mirages. It teaches that reality does not contain any objective substance and that only subjective absorption of the mind exists. " Truth " is comprehended instantly through intuition when the seeker and what is sought flow into one.
Writings initially may be beneficial, like those encouraging meditation. Enlightenment, while being worthy is pointless because Zen says it has no objective. Future is not important, only what is happening now is important. It believes in the infallibility of a person's intuition and rejection of all and every authority. For one's self-development, Zen urges increasing doses of concentrated meditation - a few hours per day. In meditation, one must free the mind from all earthly attachments and think of nothing good or bad. It is important to focus on one thought and assimilate its substance. Everything that a person can learn, comes from within.
More importantly, one must feel as being part of the Whole. It is at this moment that the person will receive spontaneous " enlightenment " termed ultimate ecstasy. Actually, what really is achieved through this Zen recipe of meditation are hallucinations and confrontation with demons.
The doctrines of Zen are chaotic ( apart from showing the " path " ) as they neither confirm or deny anything. Similar to Hinduism, Zen teaches that God and humans are one and therefore, all objects of worship or veneration must be excluded, including holy writings, ceremonies and rites. Zen concentrates completely on making its follower feel good and treat everything around him as unimportant. Teachings of Zen are mainly and easily imposed on those that are opposed to dogmas and authority. Apparently, the majority of these converts are made up of contemporary intellectuals, whose minds are overflowing with temporal knowledge.
Having over 300 million members makes it the 4th. largest religion in the world. Although its novices must adhere to a strict moral code, those achieving a "master" status are allowed to do everything. In the USA during the sixties, Zen's philosophy of " free love " gave birth to the "hippie " movement. Contemporary Bhuddism is saturated with occult practices, sorcery and spiritualism. Being adogmatic and easily adaptable to any religion makes it an attractive alternative. Esoteric Buddhism urges its adepts to progress beyond love or hate, good and evil. For its follower, love is as dangerous as hate because it binds a person to the turning wheel of creation, and the only worthy condition to be in is that of estrangement and indifference.
Higher levels of Buddhism teach that good and evil, as generas, do not exist as they refer to the state of being - a feeling that must be excised by every follower.
Christianity on the other hand, does not view desire as evil. God Himself implanted in us the thirst to create, improve ourselves and be joyful of life. The tragedy lies in the fact that sin had violated the balance between physical and spiritual desires, and the soul, instead of being master of its body, became its slave. As a consequence, our senses of value had been warped, permitting us to strive for things we don't really need or that could even be harmful to us. Simultaneously, we neglect our true valuable blessings - communion with God and internal peace. The purpose of the Christian faith is to help us restore this balance by guiding our thoughts and desires into proper order, so that we may attain eternal life.
THEOSOPHY
This philosophy founded by Elena Blavatsky presents itself as a mélange of occult teachings, both ancient and more contemporary - Gnosticism, Neoplatonism, Cabala, Middle Age mysticism with a mixture of Buddhism and its founder's own imaginings. While the majority of its erratic and confused declarations are as old as Hinduism, Blavatsky's " achievement " lies in that she presented these half-forgotten occult ideas in such a format, as to invoke a great deal of interest from those, disposed toward the mystical and thirsting for answers to the many mysteries of existence. Theosophy entices people with its magniloquent catchphrases: to create a universal brotherhood with people of all races and with the most diverse outlooks on life; encourage the study of religions, philosophical directions and the latest scientific discoveries; penetrate into the mysterious power of nature and the supernatural occurrences.
Regardless of its use of Christian phraseology, Theosophy is saturated through and through with Pantheistic teachings. All her confirmations regarding the spiritual development of a person and uniting with the divine beginning is based on occult metaphysics and contrived psychology. Her ethics repudiate the absoluteness of the principles of good and evil as well as free will, and as in Hindus, she subordinates her followers to the laws of Karma. She has no substantive proof for her quasi-scientific declarations, only unfounded assertions of her leaders, who themselves were imbrued with unhealthy mysticism, charlatanism and deceit.
Although the number of Theosophical lodges were never large, its ideas had a strong influence on the high society of pre-revolutionary Russia, and today it has an established position in the occult society, including the " New Age ".
ITS HISTORY
The founder of this movement, Elena Blavatsky, was born in Russia in 1831 to an aristocratic family of German extraction ( Hahn ). In her youth, she displayed mediumistic abilities which predisposed her toward spiritism. Her marriage at the age of 17 to an old general, Nicholas Blavatsky, lasted just three months. After her divorce, she commenced to travel extensively, visiting India and Tibet. Later, she was to recall in her books on Theosophy, that during her travels, she had come into contact with discarnate beings - mahatmas - which opened the mysteries of existence to her. Among these spirits, she revered one above all else calling him "Lord" ( apparently "...ruler of this world..." John 12 : 31. )
Arriving in New York in 1872, she immediately plunged herself into spiritism. In 1875, with the assistance of Colonel Henry Alcott she established her Theosophical Society, which endures to this day. Two years later, she revisited India and in 1882, with Alcott, established her world headquarters there. Publicly accused of chicanery and plagiarism, she was compelled to leave India and begin her travels through Europe, tirelessly enunciating her occult ideas.
Eventually, Blavatsky settled in London. In 1884, her pretensions to miracles and miraculous acquisitions of notes from " spiritual lords " was investigated by the Society of Physical Research and found to be unauthenticated. The Society publicly accused her of employing artifices of sorcery, utilisation of hypnosis and especially, of charlatanism. Once again her authority was undermined. Nevertheless Blavatsky was not discouraged and continued with increasing fervor to write and disseminate her views. An attentive reading of her writings will reveal many plagiaristic borrowings from ancient occult literature, especially from Cabala. Among her " works " are "Mysterious Document" and "The Voice of Silence". The renowned author and close friend of Blavatsky, Soloviev, accused her of trickery and fraud.
Blavatsky was a stout woman of medium height, bulging eyes with an agitating nature.
Having turned her back on the Russian Orthodox faith into which she was christened, she developed a burning hate for Christianity and focused all her life for its replacement with occult teachings. She based her authority on, her ability to perform " miracles " by materialising items from thin air, and "notes" thrown up to her by spiritual lords, unlocking the mysteries of existence. In her younger years, she was the editor of a magazine called " Lucifer ", its task being the rehabilitation of the fallen spirit. This " old love " remained with her throughout her entire life. She married several times, had numerous lovers and bore an illegitimate child. While vulgarity and swearing came easily to her, she was coarse , a heavy smoker and a user of hashish. From a psychological point of view, she presented herself as a complex example of a split-personality. Upon reading her biography, Christ's words come to mind invariably, when He spoke of false prophets " By their fruit will you recognize them ".This guru-woman died in London, in 1891.
After her death, the Society started to weaken under the leadership of Colonel Alcott. His successor, William Judge ( 1851-1929 ) was able to somewhat lift it from its doldrums. Concurrently with Blavatsky's death, a new theosophical society was formed by one of her devoted students, Annie Besant ( 1847-1933 ) whose aim was to consolidate and explain many of Blavatsky's ideas. She also directed the efforts of the Esoteric branch of Theosophy, whose activities were concentrated on sorcery and spiritism.
Though few in number, theosophical lodges currently do exist in the various cities of Europe and USA. Blavatsky's occult preaching assisted the egression from the Church of the intelligentsia in Russia and the subsequent penetration and spreading of Communism in that country. Many theosophical ideas had been grasped by the " New Age " while the Liberal Catholic church is crammed with them.
ITS TEACHINGS
It is very difficult to refute theosophical theses, point by point, due to their bewildering perplexity. In essence, theosophy is built on a mixture of fantastic and unsupported assertions, boldness and a host of predications, limited only by the fantasies of their occult " prophets ".
Similar to the Neo-Platonists and Gnostics in the first centuries of Christianity, Theosophy asserts that the holy writings of every religion embody a unique secret teaching that is common to all. This would become apparent once this hidden teaching is uncovered. Naturally, this assertion is without proof. The Christian Bible holds no such hidden doctrines and instead, every written word in it is enunciated in a most lucid way so that even the simplest and least educated people could comprehend the words of God and thereby structure their lives accordingly.
As in Hinduism, Theosophy claims there exists an omnipotent, limitless and immutable Principle ( Absolute or " world soul " ) which cannot be comprehended by the human mind. The world is eternal, periodically going through cyclical phases of reincarnation, development and demise so that it can re-emerge in an altered form. Human souls are part of the all-filling soul of the universe. The world contains a large number of gods, spirits (devas) with a complicated hierarchy, based on the Cabalist numerical correlations.
In line with Hinduism, Theosophy proclaims " God " as an abstract character. He is impersonal and is wholly indifferent to mankind's fate. Following in the footsteps of ancient gnostics, Theosophy subscribes to the hypothesis that the material universe was created by an evil god (demiurge) who was born because a lesser divinity named Sophia (meaning " wisdom " ) conceived an illegitimate desire to know the unknowable Supreme Being.
Adding to the concepts of Hinduism, Theosophy goes on to expound upon an inconstant day and night Brahman. When day enters into the Brahman, the universe appears and so do little particles of Brahman, i.e. "I" people that incarnate into various bodies - physical, astral, mental etc.. This is life ! With the exit of day from the Brahman i.e. night, everything is destroyed and the human "I" dissolves back into it......and so on into eternity.....materialisation and destruction of worlds in a permanently locked circle. From eternal, incomprehensible Reality emanates divinity, various spirits and human souls (Gnostic zones). The world and its people must pass through 7 (?!) stages of evolution .....which makes this creed outstanding for its arbitrary declarations.
While Theosophy doesn't take up arms against Christianity, it does regard it as a lower form of religious awareness. Just as " Freemasonry " permits its lower-ranked adherents to remain in the Christian faith, Theosophy allows its followers on the lower levels of knowledge, to attend church and retain their Christian customs. However, in both organisations, when members reach a certain level of knowledge, they are obliged to unreservedly embrace the " true " religion. With a voice filled with pathos, Blavatsky would declare " Truth is higher than religion." She regarded religion as a path leading to the one centre. She encouraged the studying of, and coming into contact with, all religions so that the individual can be enriched through these experiences.
Theosophy by-passes asceticism, replacing it with theoretical mysticism and independent perusals of religious-philosophical ideas. Every convert is instilled with the idea that upon acquiring the knowledge of Theosophical methods, that person will be able to penetrate into the mysteries of Egyptian priests, into the mysteries of astrology and drink the cup of wisdom of all ages. She promises the individual supernatural powers; clairvoyance, telepathic contact, ability to influence people and bring them to your subordination.
As can be seen, Blavatsky's Theosophy presents itself as a confused mixture of occult teachings, built on pantheistic understanding of the world.
YOGA
Together with the spread of Indo-occult ideas throughout the West, an ancient creation of
Hinduism - Yoga appears to be very popular. It is astonishing to find that a significant number of physicians defend Yoga as a " safe and effective " method for achieving physical and psychological well-being. In the broadest sense, Yoga is imagined as an activity that leads to the merging into the universal soul. This is achieved through different paths - some fast and easy, while others are lengthy and difficult. For example, Bhakti Yoga, the most popular one in India, is the path of revering gods through the continuous chanting of an occult name, " mantra ." Karma Yoga is the path of serving and attracts those people inclined toward practical activity. Another is Jnana Yoga, the path of knowledge which impels the disciple to seek guidance from a guru and study Hindu letters. Finally, Raja Yoga is the path of contemplation, which includes different applications of meditation, through which the devotee learns to discipline his mind and body in order to secure Samadhi - merger with Absolute.
Under the everyday understanding of Yoga, one envisages it as embracing certain exercises that require particular poses, regulation of breathing and meditation. This also offers techniques to procure clairvoyance with the " opening of a third eye." This ability allows the procurer to see incidents occurring at a distance as well as past and future events. Upon reaching a definite level in his exercises, the student discovers the shining face of none other than his " teacher ", who becomes his guide.
Depending upon the measure of one's success in achieving higher levels of exercise in Yoga, the devotee achieves commensurately greater revelations of his own feelings. For example, according to the recipe of Agni-Yoga, the student at a certain stage attains a " vision of stars of the soul " in space.... a psychedelic scene of exploding coloured dots...... a state that can be achieved from just reading the occult books. Following this is " reflection on fires of cleansing centres " i.e. Chark, which allegedly receives the invisible world and through which, this invisible world wields its effect on humans. The next plane of "enlightenment " sees the follower hearing " the voice of his invisible teacher " revealing to him occult mysteries.( Blavatsky wrote many books dictated to her by these voices. ) The highest level of accomplishment transpires through the development of an " internal flame " that unites the consciousness of the individual with that of space. This final stage engenders the complete " revelation " of feelings in their attachment to the spirit world. Hinduism sees in this, a mystical enlightenment.
Mantra-Yoga ( practiced by Krishnas, Tibetan Buddhists and Transcendental mediators ) pursues the immediate visualisation and communion with the " divine " world, and with it joy, prosperity and supernatural abilities. Every aspect of Yoga is dangerous, because it forcibly and prematurely opens the green bud of a person's spiritual entity. Their exercises devastate that core of a person's spiritual life.... the spiritual centre God preordained for development in the next world, once the person is rid of the cancerous disease of sin. There are a number of noted authorities that have issued warnings about Yoga exercises, after seeing their disastrous effects.
For example, Gopi Krishna notes " All systems of Yoga are aimed at producing psychophysical changes in a person, which are essential for the transformation of one's consciousness.
These changes are achieved through specific physical positions and controlled breathing, awakening in the person occult driven energy and psychic powers. This in turn produces such dramatic changes in the person's consciousness, that the majority of them remain permanently psychologically mutated.
Although people of our time practice yoga as a form of exercise and regulated motion, they are ignorant of the frightful reality where this may lead them. There are documented cases where the most innocent yoga exercises had led to some becoming insane or demonically possessed. However, the most tragically evil aspect of these activities is that some individuals regard that these yoga-inspired psychological alterations - including fits of insanity – as positive, spiritual experiences, capable of leading a person to mystical enlightenment. The fact that the practice of yoga can destroy both body and mind is not so inconceivable. Its aim is after all, the destruction of one's own individuality (this "false illusion") in order to experience the "real I"of the faceless Brahman. Moti Lal Pandit confirmed that the "aim of yoga is to liberate a person from the ordinary condition. In order to achieve this, one has to utilise various means : psychological, physical, mental and mystical. All these methods appear supernatural and anti-social in the light of its promulgated way of life, which tacitly declares ' My mortal existence does not deserve life. ' "
Given that Yoga is based on occultism, its not all that remarkable that its application brings about irreparable psychological shifts and illnesses.....not because of misuse, but because of its source.
Many people - including doctors - incorrectly suppose that Yoga is harmless. However, facts prove that many psychological illnesses and even deaths were caused through Yoga. In support of this, Swami Prabhananda writes: " Permit me to warn you that these breathing exercises can become very dangerous. There is a big chance that the mind will be injured, especially if they are carried out incorrectly. Those who undertake these exercises without any requisite supervision can become that ill, that neither science nor doctors would be able to cure them. More than that : they wouldn't be able to diagnose their illness."
Commenting on the Pantanjali Yoga Sutras, Shree Purohit Swami has this warning : " In India and Europe, I met nearly 300 people that have suffered through incorrect practices.
The doctors' examinations revealed no physical damage so no remedial prescription could be issued. "
Hans-Ulrich Rieker, noted Yoga authority and author of "The Yoga and Spiritual Life" exhorts: " Yoga - is not an empty pastime, if we consider that its application can bring about death or insanity, while in Kundalini Yoga, if the breathing ( prana ) is prematurely stopped, there is an immediate threat to that person's life."
The previously mentioned authority, Gopi Krishna, cautions about the dangers of Yoga exercises as they could produce strong reactions in the central nervous system, causing death.
Chapter two, of the classical manual in the field of Hatha Yoga, " The Hatha Yoga Pradipika " alerts :" Just as one must fear lions, elephants and tigers, so should prana ( a 'divine' breathing energy ) be under control. Otherwise it could kill the user."
Swami Prabhavananda ( Yoga and Mysticism ) includes mental illnesses, incurable diseases and insanity as likely effects of incorrect application of Yoga, as well as depressed and in a state of trance feelings.........all this from a ' minor error.' "
If the teachers of Yoga were more open regarding " underwater stones " that is connected to their beliefs, many people would have been forewarned of these catastrophes.
TRANSCENDENTAL MEDITATION
This movement appeared during the middle of the twentieth century, in the USA. This was promoted in the form of a simple and openly accessible self-therapy, bringing relief from internal stress and promoting internal concentration. Initially, the results of TM seemed so successful that it was adopted by the armed forces, schools, jails, hospitals and even some Christian parishes.
TM in fact is a simplified version of Mantra-Yoga. Its technique consist in a person sitting down on the floor in a particular position, closing his eyes, trying to breathe slowly but rhythmically while mentally concentrating on repeating and chanting the word " mantra." It is recommended that this exercise of 20 minutes duration, be repeated twice a day. Its immediate purpose is to assist the individual to alleviate the build-up of internal stress, relax and convoke his internal strength - an undisputed necessity for every person, living in this fast tempo of modern life. The advocates of TM are not only mute on the religious-philosophical side of their belief but intentionally hide from their novices the fact that through their exercises, the adherent is allied to the Hinduistic-Pantheistic occultism. In order to popularise this movement in the USA, Maharishi Yogi, its chief " apostle ", replaced much of its Hindu terminology with scientific-psychological words.....although its essence still remains the same.
Indeed, upon being accepted into the fold, the convert is drawn into a new responsibility of having to provide three types of sweet fruit, a bunch of fresh flowers and a clean handkerchief. A basket holding these items are then placed in front of the guru's portrait, in the initiation room, a candle and incense sticks are lit, accompanied by soft singing in Sanskrit.
In conclusion, the newly-initiated is given a " mantra "( Sanskrit word ), its meaning being withheld from him and which has to be repeated during periods of " meditation."
One might ask " What is this Mantra?" The word " mantra " is made up of 2 words i.e. "man" meaning think, and " tra " meaning defence or freedom from " slavery of phenomenal life - samsari." Simply put, it is a Sanskrit phrase, word or even a formed sound. Mantras are predominantly taken from the Ved. Any name of a god taken from the Hindu Pantheon is regarded as a mantra. Consequently, frequent and persistent chanting of this name may be rewarded with a visit from, and communion with this god. Mantras can be " concrete " ( containing names of " gods " - Krishna, Shivu, Sarasvati etc.. ), or " abstract " ( impersonal Absolute - giver of freedom and entry into 'samadhi'- " merger with the Absolute.")
A well-known yogi, Shivananda, points out in his book "Japa-Yoga" (repeating of mantras), that every mantra is distinct through its particular rhythm and numbers (code) and its frequent chanting opens the path of vision to the chantor, of the mantra's divinity. In other words, the removal of one's spiritual self-defence and association with fallen spirits. Shivananda goes on to say that every mantra has a distinctive feature of its divinity - davata - which determines it as a " supernatural being - higher or lower ", as well as its source of power. This admission does not attempt to hide the fact that mantras can also evoke lower, evil beings - the dark side of the Force !
To learn Transcendental Meditation is easy. By simply meditating 20 minutes twice-daily, a person arrives quickly at a half-sleepy and weakened state - a trance. This condition of "total satisfaction " can be likened to that of a person affected by narcotics. TM's faithful enthusiastically proclaim the simplicity and success of its methods, carefully avoiding any reference to the spiritual aspect of these exercises, and their tragic consequences.
Although TM members are not asked to change their religion nor accept some new moral principles, the very heathenish initiation and ritualistic chanting of an occult name during the ensuing exercises, places a person in communion with Hinduism. The nature of TM's rudiments lies in the Pantheistic understanding of Primary Reality, with which every believer tries to merge. In TM, success lies in being able to climb the "ladder of consciousness" so that upon reaching the seventh and final step, the achiever will be able to dissolve into the sea of cosmic "super consciousness ", discover total tranquillity and perceive one's own divinity. At best, this condition can be regarded as hallucinatory, while more than likely, it is a demonic illusion. This is the ultimate aim of these meditative exercises.
TM is the antithesis of Christian meditation & reverent reflections on God. Christianity advises its faithful to think about God so that their perception of their faith grows deeper & stronger.
By contemplating on the truths of his faith, a Christian begins to get a better understanding of them - just as Christ promised His followers " and you shall know the truth, and the truth shall make you free." In TM, the opposite is true. Here, the very word meditation does not correspond to its proper meaning, because with meditation there is an assumption of an animated, mental activity, during which time a person attempts to think....to better understand.
In contrast, TM dictates that a person must crush within oneself, all mental activity and keep chanting a foreign word - a routine that overloads the neuro-psychic system, forcing the brain to shut down. Contemporary studies have proved that continuous repetition of any phrase e.g. " apple pie ", is capable of invoking a significant change in a person's psycho-physiological condition.
Exercises in TM leads to the shedding of one's self-defences, allowing the fallen spirits entry into the subconscious. This had been warned against by St.Paul - Ephesians 6 : 10-17 Ergo, one must agree that TM is a harmful and dangerous occupation. It produces the same type of fruit as occult pursuits: numbing one's faith, increasing pride and even derangement.
Christianity has far better methods for relieving internal stress and securing tranquillity.
Firstly, a genuine and heart-felt prayer. Morning prayer promotes the internal preparation & gathering of one's self, which preserves a person from excessive anxieties during the day..... while an evening prayer unwinds a person, giving him internal relaxation and tranquility before sleep. It is very advisable to learn how to retain a prayerful mood during the day, and "Christ's Prayer" is of great help..."Lord Jesus Christ, Son of God, have mercy on this sinner," for it reminds an individual of God's presence.
Our nervous tensions and feelings of dissatisfaction are mainly caused through our con- sciences being burdened with sin and the internal warring of our vices. That is why it is imperative that we cleanse our conscience with atonement, confession and Holy Sacraments. After morning prayers, it is very important to spend some time contemplating about God & various other topics of faith.....to read an excerpt from the Holy Writings, understand its meaning and how it relates to our lives. This type of Christian meditation, strengthened by prayer, does indeed bring peace, self-awareness and internal enlightenment.
NEW AGE MOVEMENT
This movement, NAM, is occult based and has increased in popularity over the last decade. Some look upon it as a new religion while others, as a new understanding of life. It must be noted that the wording "new" in its name is a misnomer, because the religious-philosophical ideas of this movement contains nothing new. NAM presents itself as an amorphous mixture of very diverse, ancient yet well-known occult conceptions. The only thing new about it is its mercantile approach in marketing its wide range of occult material, ensured to appeal to people with every possible diversity in taste and interest. In its contexture, NAM presents itself as a spiritual universe or a shopping centre, where anybody can find something interesting and beneficial.
ITS HISTORY
From the 1970's, in place of the short-lived existence of " Secular Humanism ", NAM came into being and began to flourish boisterously in the USA. By organising & creating a number of Indo-theosophical societies, as well as Transcendental Meditation movements, NAM positioned itself to adopt occult teachings. Its promises appealed to those that were, on the one hand, disillusioned in the " outdated " Christian truths, and on the other, the flat materialism of " Secular Humanism."
NAM never had any pretensions to be a unified and organised establishment. On the contrary it evolved into an ever-growing net of independent groups, sharing different occult interests.
NAM's success is greatly attributed to its ability to quickly digest and assimilate in its huge cauldron, all the heterogeneous teachings and learnings, promising improvement in the well-being of individuals as well as mankind, as a whole. In principle, NAM rejects nothing, but absorbs into itself everything that may appear mystically interesting or practically beneficial.
Notwithstanding its recent birth in the '70s, by virtue of this flexibility, NAM has been able to assert its influence in the individual, family and societal spheres throughout USA, Russia, Europe and other countries. NAM is deceptive in that it doesn't openly declare itself against Christianity, but rather attempts to " complement " it with " fresh ideas." When in 1992, the religious centre at Princeton University completed a nation-wide survey of Christians, asking them what influence did NAM have on their faith, one quarter of the respondents stated that they saw no conflict between the two. This pales into insignificance when you consider that 60% of respondents belonging to the Roman Catholic Church, acknowledged that NAM and Catholicism are in full harmony ! These individuals obviously know less about their own faith than they do about NAM. Sadly, this is understandable when you see Catholic book-stores, awash with occult publications such as - Joshua, No Other Name?, Turning Point, Nizam Ad-Din Awliya, The Web of the Universe, The Unity of Reality, Beyond Patching..etc. Even some ecclesiasts and monastic figures have shown an unhealthy interest in the " New Age."
There is a popular book titled A Course In Miracles,( which is studied extensively by groups of Christian youth) that outlines plainly and understandably, the teachings of Christ with practical applications to modern day living. This book, by its external appearance and internal division of 1200 pages into chapters, resembles the Holy Bible. Some Catholic parishes offer study courses on this book. Meanwhile, in the American classrooms, students are being offered recipes from the flawed teachings of the " New Age " on how to attain increased concentrative powers in studies, how to strengthen your potential energy, how to be more successful in life, open your creative possibilities and find a new meaning to life.
ITS TEACHINGS
NAM is a confused gremlin of unrelated ideas & philosophies. Here we find death & birth, mediums & healers, para-normal & metaphysical, reality & illusion, Holy Scripture & legends past lives & future incarnations. There is also the usual Pantheism, Karma, Transmigration & the whole complex of occult mysticism - all sufficiently re-massaged to make it more adaptable to the contemporary " user."
In NAM, pride of place is occupied by present-day holistic ideas and unconventional methods of healing. Scientific medicine is censured as ineffective. The fundamental idea is to treat the whole person and not just the affected organ. This proffered holistic (whole) method of treatment includes: acupuncture, crystals, biofeedback, massages aimed at rearranging the energising fields in the organism, vegetarian (Hindu) diets, medicinal plants, techniques for acquiring physical & spiritual self-completeness. Of course one cannot deny that some these "prescriptions" are effective, given the fact that they are well-known in folk-lore medicine.
However, adapting crystals to thicken cosmic energy deserves to be relegated to charlatanism. Unfortunately, the main problem is that in all of NAM's unorthodox methods for treatment, there is a poisonous element of the occult. Equally, with the use of beneficial plants and minerals, NAM proposes yoga breathing exercises, methods to develop one's self-confidence, exposing one's internal potential and to prime one's bioenergy. Also on offer is astrological predictions and lessons in fortune-telling with cards.
For people with occult proclivities, NAM presents a wide variety of occult activities that include: meditation (in the Hindu sense), psychological training, spiritism, yoga exercises, mediumism (channeling) & astral travel. Its ideology admits any faiths or religious practices, irrespective how weird or extraordinary they may be. Its tenets embrace Eastern philosophies of an existence of an invisible active energy, located within and without the human organism, called - " CH'I " (Chinese), " KI " (Japanese), " ILI PRAHNA " ( Yoga). Throughout the holistic centres of the world, seances are held where the participants emerge themselves into a deep trance and experience an intimate unity with Nature. Within its complex, there are popular beliefs in the mysterious life of plants and mystical meanings of numerals.
It has also assimilated a range of conceptions from parapsychology, anthroposophy, rosicrucianism, astrology and psychology. It invites everyone to the " altered states of consciousness. The aim of developing a spiritual self-awareness is to erase the line of demarcation separating the material and spiritual world, thereby experiencing the 'wholeness of the cosmos'".
An important idea occupied by NAM is that of "enlightenment." In order to obtain this, it is imperative in the first instance to rebuild one self psychologically and reassess one's values. Old outlooks on life must be replaced with ones that are compatible to the coming new era of Vodol. This occurs through a personal mystical experience, when the adherent suddenly is enveloped in a sensation of merging with the cosmic spirit......of becoming one with Earth.
Renowned promoter of NAM, Shirley MacLaine, had this description of her " enlightenment " while having a bath: " I unexpectedly felt that my whole body was vaporising in space.
Slowly, slowly I became water....I felt an internal unity with my breathing and the energy surrounding me. In fact I became the air, water, darkness of the sky, walls of the building, soap bubbles, candles, wet marble under water and even the sound of the running stream, next to the house." This feeling of unity with Nature and one's own " divinity ", fills a person with elation because it appears as if he is filled with an inexhaustible " divine " energy.
In order to secure this " enlightenment ", NAM extends a path of 4 stages: (1) " entry", when a person destroys all his impressions of Earth; (2) " examination", during which, with the help of psychotechnics, the subject attempts to reach new heights of awareness; (3) " integration ", when through an intuitive process, the rational visual acceptance of sequential scenes are weakened; (4) on the level of " conspiracy ", a person discovers matters other than " I " - sources of energy and ways of realising them for the " benefit of mankind."
This mystical " enlightenment " is clandestinely served by meditation, yoga exercises, spiritual seances, hypnotism, magical talismans, crystals, sorcerer's aids and even narcotics. A person in this state of mystical edification is deluded into feeling that he is the absolute master of his spirit and body, and because of his contact with the " divine energy ", that he is " god-man."
Idea of Universal Religion. Typical of the Indo-occult teachings, NAM conforms to the principle that in essence, all religions teach the same thing only that it is presented in different ways. It is essential that a person rises above one's prejudices. Being devoid of its own religious teachings, NAM has absorbed a wide variety of Eastern cults and occult ideas, facilitating its spread throughout the world like a net. With all its all-encompassing pluralism, there is a dominance of anti-Christian traits, even though it doesn't reject Christ or the New Testament. The "apostles" of NAM speak out openly about the out datedness of Christianity & its irrelevance to the contemporary spiritual needs. They see Christ as one of the reincarnations of Vishnu. A person has no need of Christ because he too has a divine beginning and can perfect his awareness and unite with the cosmic Absolute.
One of the multifaceted activities of NAM is of a global character, preaching the: rejuvenation of the ecology, solving of social problems, seeking ways towards political unity of all governments and establishing unity of all peoples. Through its trained seminarists, NAM is endeavouring to direct the activities of organisations, as well as individuals, toward the dissemination of its ideas and implantation into business, the arts, philosophy and culture. Beyond the transformation of individuals, NAM is seeking a planetary restoration because everything is but one. The hypothesis of Gaia confirms that Earth has its own life... mother - earth. It further asserts the necessity for political changes so that a mutually arrived action can be taken to restore Earth's environment. " Because we are citizens of one world, we need a united world, we need a universal spirituality. Before this century passes, spiritual leaders must convene & work out universal laws that will be applicable to all religions. They must then advise all the political leaders, so that they will know what God, gods or cosmos expects of humanity. Only a sole, united political world system, will be able to bring common harmony. Our planet is currently steeped in delusion. It is imperative we start acting."
The hierarchy of NAM act through international banks and financial institutions, committed to the establishment of a sole world authority. This establishment would incorporate all political, economic and religious groups, for the purpose of halting wars, averting ecological disasters, avoiding economic crises and preventing political instability. NAM preaches the coming of the bright era of Vodol - something similar to the Kingdom of God, only without God or Christ. The coming epoch is thought as a new stage of society's development, when humanity acquires a planetary awareness. Interesting reading on this subject, can be found in Robert Muller's " New Genesis: The Shaping of a Global Spirituality ", and Peter Russell's " The Global Brain: Speculation on the Evolutionary Leap to Planetary Consciousness."
Consequently, the " New Age Movement " presents itself as a very dangerous organisation.
Through its cunning and mercantile approach it camouflages its appropriated ancient occult ideas in recipes for strengthening one's health, improving one's well-being and achieving success. Should a pan-religion ever emerge incorporating all races and cultures, it would certainly be akin to NAM.
OTHER OCCULT MOVEMENTS - CABALA
This group, meaning in Hebrew - " received tradition "- came into being at the dawning of Christianity. With time, it absorbed many occult ideas from Pythagorean, Gnostic and Neo-Platonist cults. Apparently, it sprung up as a reaction to the soulless ritualism and formalism of Judaism.
Its initial aim was to reveal the secret teachings allegedly held in the Torah - first 5 books of the Bible, written by the prophet Moses - and the supplementary mystical ideas, passed down orally, from generation to generation. In order to obtain these secrets, Cabala devised a complicated method of numerical calculations that displaced the Biblical text.
Cabala is enunciated in books written by various authors from different eras. The two main books are the " Sefer Ietsira" (Book of Creation) and Sefer ha-zohar, or just Zohar(The Book of Splendor), written sometime in the 7/8th. centuries. The first book delves into the nature of god, " eternal nothing " that reveals himself through emanation, and through this process creates worlds. This process corresponds to 10 fundamental figures ( sefirots - realms or planes )and 22 letters of the Jewish alphabet, which together form the 32 secret " paths of wisdom." These Sefirots are regarded as " living beings " or angels, which were described by the prophet Ezekiel (chp. 10). The letters of the alphabet correspond to three parallel worlds of humanity, planetary spheres and times of the year. Details of this occult teaching, where numbers and letters are looked upon as a mystical reflection of the super-feeling of reality, are extremely confusing and contradictory. Like every occult teaching, Cabala maintains a Pantheistic understanding of divinity.
Applied Cabala cultivates methods of " white " magic, foretelling the future, summoning dead spirits, exorcism, chiromancy, wearing of amulets and attaining mystical edification.
Cabalists of old were considered specialists in the fields of alchemy and astrology. Cabala attaches great importance to the mystical meanings of numbers and letters, as well as the magical powers of God's names, contained in the Bible.
The enthusiasm shown during the 16th century to the practice of Cabala, expanded its influence on a wide range of occult philosophies, including Freemasonry, Theosophy and Anthroposophy. The more famous thinkers that indulged in this doctrine were Peko de la Mirandola, Reichen and Paratsells. Cabala spawned a number of sects, the more well- known being Sabbatai Zevi and Hasidism.
GNOSTICISM
This word comes from the Greek - "gnosis", meaning knowledge - and was used by sects, appearing with the dawning of Christianity. In the first 3 centuries, the ideologies of Gnosticism became a great hindrance to the Christian Church. The Gnostics attempted to "elevate" Christianity by supplementing it with " gems " from heathen cultures, Eastern occultism and Greek philosophy. This created a fantastic distortion of Christian truths.
Gnosticism is divided into two main bodies, the Eastern or Syrian ( which includes Ophites, Basilides, Kerdops and Markians ) and the Western or Alexandrine ( comprising of Carpocrat and Valentinians.) The former reflects a distinct influence of Persian dualism belief, where there are two beginnings - a good God that created the spiritual world, and an evil god that created the material world.
In Western Gnosticism, there is a strong presence of Platonism and Neopythagoreanism with its numerous stages of emanating divinity. At the head of every Gnostic sect, there is the highest being, which carries different names to express its absoluteness; special highness, omnipotence, incomparable, infinite & self-enclosed. However, because the world was in a state of chaos, it was necessary to explain its beginning. Gnosticism could not acknowledge that the world was created by God because it would then have to seek out the source of its evil. Consequently, the substratum of Earth is only served by matter which the Eastern body imagined it in a form of independent, live, evil being, while its Western counterpart accepted it as an emanation or shadow of the Absolute, having only an imaginary existence. However, inert matter could not of itself, create Earth where without a doubt there is a particle of a higher divinity. The creation of an Earth, made up of flashes of light & immersed in the darkness of matter, posed a serious problem to the Gnostics & their labours to unravel this mystery.
In their determinations, they were compelled to invent a convoluted system of "zones"- "beings" that emanated (flowed) from the Absolute, much like steps of a waterfall. Some gnostics regard the number of "zones" or intercessors between the Great Unknowable and the material world as 32 - a magic number borrowed from the Cabala. The intensity of the influences of the divine beginning or the darkness of matter was determined by the numerical distance of the "zone" from the Absolute. The first zone emanating from the Absolute is Demiurge. It was he that created the world by mixing matter with spiritual beginnings. The lowest zone is matter and is regarded as evil. Spiritually predisposed people, caught in the nether world against their will and fretting in the confines of darkness, can elevate themselves into a higher zone & merge with the Absolute. This merger can be achieved through the knowledge of the mysteries of creation i.e. Gnosis.
Accepting matter as evil, the gnostics could not acknowledge the reality of the incarnate Messiah. A pneumatological being, which Christ was, could not be placed in the immediate vicinity of evil matter. Consequently, Docetism came into being, from the word doceo - apparition - proclaiming that Christ only "appeared" to be human, but was in fact a spirit.
While Gnostic teachings waned into virtual obscurity after the third century, they carried a profound influence on subsequent occult movements - Masonry, Theosophy, Anthroposophy, along with schools of philosophy from Swedenborg, Schopenhauer, Schelling and others. In summary, Gnosticism places 32 "zonal" beings between God-Absolute & the lower world.
Some regard this as Demiurge, while others Logos, Sophia, "world soul" or "female beginning". While these teachings are quite confusing and self-contradictory, they do sustain a mutual principle of " divine emanation ", or the usual occult Pantheism.
It has to be sadly noted that the allure of bridging the gap between God & the lower life, has affected some Russian theologians, thanks to the efforts of the philosopher Vladimir Soloviev. Religious thinkers like Archpriests Paul Florensky & Sergei Bulkakov, Prof. N. Berdaev and some theologians from the Paris Institute of Theology, embraced the gnostic impressions of Soloviev, and in dedication to the concepts of Sophia, world soul & " female beginnings in God ", published many works.
CONCLUSION
And so, we have been destined to live in times of the turbulent re-emergence of every kind of Indo-occult philosophies, which are forcibly crowding out traditional Christian teachings from the public's consciousness. The writer of the Book of Revelations, wrote the following, pertaining to the last days of humanity, "....I saw a beast rising out of the sea, having seven heads and ten horns, and on his horns ten crowns, and on his heads a blasphemous name... Then he opened his mouth in blasphemy against God, to blaspheme His name, His tabernacle, and those who dwell in heaven.......All who dwell on earth will worship him , whose names have not been written in the Book of Life......" Rev. 13: 1- 8. This is about a modern-day Babylon - world government that after uniting all the nations of the world, imposes a strict and vigilant control over all aspects of our private and societal life.
The political aspects and the possible detailed composition in the nature of a future world government is outside the parameters of this discourse. The important thing is to touch upon the spiritual side of this theme, and initially focus on the fact that the apocalyptic dragon will have many heads. If the head symbolises wisdom and knowledge, then the numerous heads signify a many-faceted and diverse ideological foundation of the future Babylon.
Neither Christianity nor any other singular existing religion would be able to satisfy the needs and tastes of everybody.
Not unlike the easily saleable New Age Movement, the universal pan-religion will be able to unite all the people through its embodiment and assimilation of the " best " aspects of all the world's religions. Though the fine details of this universal religion is not known, it is certain that as in all Indo-occult teachings, its basis will be set on an impersonal divinity, structured into the head, body and tail of a hellish monster.
The expression in the Apocalypse " worship the beast " has no political connotations and plainly means the acceptance of an antichristian ideology. This doesn't mean that the personal God will be rejected, rather He will be ignored as non-existent. Christ will be relegated to the modest category as one of mankind's " teachers."
In ancient Greek mythology, there is a story where Hercules destroys the monster Hydra, by lopping off its 9 heads. In reality, to decapitate the multi-headed apocalyptic hydra would not be as easy. In the spiritual sense, this multi-headed hydra is the Indo-occult teachings and ideas that are destroying millions of human souls. In the Apocalypse, this monster is portrayed as cruel and blood-thirsty. However, to be attractive to people, it's outward appearance will be harmless, sympathetic & even smiling, beguiling its unsuspecting victims. Otherwise, how could such a monster from the depths of hell destroy so many souls ?
However, for the faithful, there is no need to battle with each individual head i.e. to disprove every Indo-theosophical idea. It can be destroyed through the heart - its rejection of God as a Being. Therefore, it is sufficient for the Christian to believe with all his heart that there is a personal God, Creator of Earth Who loves us, and as a caring Father, is concerned for our salvation and expects loyalty from us, similar to that of a child's... then all the cunning webs spun by occult ideas would dissipate like smoke. This is not an open global confrontation, but an individual and internal battle against the temptations of occult mysticism.
Those who conquer this " beast ", will earn the crown of eternal life ( Rev. 15:2 ) Fortunately, we are not alone in this battle. We have Jesus Christ on our side and His promise that no one will be seized from His hands ( John 10:28 )
Lord Jesus Christ, Son of God, save us from the beast from hell, so that we may forever praise You with Your eternal Father and life-giving Spirit, Amen.
THE NICENE CREED
I believe in one God, the Father Almighty, Maker of heaven and earth, and of all things visible and invisible; And in one Lord Jesus Christ, the Son of God, the Only-Begotten, begotten of the Father before all worlds. Light of Light, Very God of Very God, begotten, not made; of one essence with the Father; by Whom all things were made: Who for us men and for our salvation came down from heaven and was incarnate of the Holy Spirit and the Virgin Mary, and was made man; And was crucified also for us under Pontius Pilate; and suffered and was buried; The third day He rose again, according to the Scriptures; And ascended into heaven, and sits at the right hand of the Father; And He shall come again with glory to judge the living and the dead; Whose kingdom shall have no end. And I believe in the Holy Spirit, the Lord and Giver of Life, Who proceeds from the Father, Who with the Father and the Son together is worshiped and glorified, Who spoke by the prophets. And I believe in One Holy Catholic and Apostolic Church. I acknowledge one Baptism for the remission of sins. I look for the Resurrection of the dead and Life of the world to come. Amen.
* * *
ПСАЛОМ
П. Котлов-Бондаренко
Я друга верного нашел,
И есть ли в Мире равный?
Меня Он Сам к Себе привлек
Своей любовью славной.
Ему я верю всей душой
И жду Его с надеждой.
Он вступил в завет со мной
И так любит меня нежно!
Есть ли в мире кто иной,
Чтобы Друга земенил он?
Нет такого в целом мире,
Кто бы с Ним был равен!
Ему служу я всей душой
И всем сердцем уповаю
На Его благость и любовь,-
Его я имя прославляю!
То Господь мой Искупитель –
Его я другом называю,
Кто за грехи мои страдал, -
Его я жертву прославляю!
* * *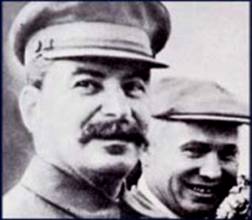 ВСПОМИНАЯ ТОВАРИЩА СТАЛИНА.*
Вадим Винoградов
17 декабря 1941 год. В кремлёвский кабинет, где работает товарищ Сталин, влетает запыхавшийся Хрущёв.
- Товарищ Сталин, - с порога выкрикивает он, - через час немцы будут здесь! Просим немедленно покинуть Москву. У самолёта запущенны двигатели.
- Смирно! –непривычно командным голосом прерывает его товарищ Сталина.
Хрущёв в недоумении вытягивается.
- Кругом! – продолжает командовать товарищ Сталин.
Хрущёв поворачивается на 180 градусов.
- Шагом, марш! – приказывает товарищ Сталин.
Хрущёв делает несколько шагов и упирается в стену.
Товарищ Сталин садится за свой стол и продолжает работать.
………………………………………………………………………
Проходит час. Товарищ Сталин подходит к упершемуся носом в стену Хрущёву, берёт его за ухо и подводит к
окну.
- Гдэ нэмцы? – спрашивает он Хрущёва.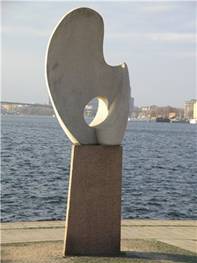 Памятникъ уху, слышащему съ трудомъ (Мф. 13,15)**
Вот, и сегодня на православном поле появилось множество возрожденцев России. И жутко хотят сии патриоты возродить Россию через придание ей православного царя. «Если Бог даст нам православного Царя, то и все остальные вопросы с Божией помощью будут разрешены. Тогда и РФ вновь станет Россией, Российской Империей, Русью. Это, на сегодняшний день, вопрос №1». Правда возрожденцы этого толка признаются, что «это произойдет только тогда, когда народ сам будет горячо этого чаять». И поэтому воспользуемся мысленно сталинским методом, который он применил для вразумления Никиты Хрущёва, упёртого кукурузника. Для этого схватим возрожденцев за ухо, непременно за ухо, с трудом слышащее, ибо иначе они не вразумятся, и упрём их в телевизор, пусть смотрят его 24 часа. И поскольку кроме мертвечины в полноте отра-жающей состояние народа, которого они хотят заставить чаять, они не увидят, то мы снова встряхнём их за ухо и спросим: увидели ли они, как горячо чает народ наш себе православного царя? Конечно, ответят они, что никакого такого чаяния в народе нашем, давно отступившем от Бога, нет даже и в помине. И тогда мы ещё раз тряхнем их за ухо и вопросим: Тогда зачем же выпендриваться, брехая о необходимости придать не православному народу*** православного царя? И изгоним сию прелесть маниловщины ХХI-ого века с порога православной истории, чтобы не баламутили они Малое русское Христово стадо, для которого вопросом №1 остаётся указание святаго преподобнаго Серафима Саровскаго: Стяжи духъ мирен, и тысячи вокруг тебя спасутся.

Ведь, почему такую обидную экзекуцию решаемся мы применить к столь почтенным монархистам? Уж не противники ли мы монархического правления? Никак! – скажем мы словом апостола Павла. Монархическое сознание было, есть и будет сознанием православного русского человека. Именно, русского, потому что русские, как и византийцы, испытали на себе реальную защиту Христовой Веры Самодержавными Царями. Но Веры народа, как народа Церкви, не стало! Чего же будет защищать Русский самодержавный Царь? Русский народ имел Царя, но разучился его иметь, - вот, данность. Огрубело сердце людей сихъ, и ушами съ трудомъ слышатъ, и глаза свои сомкнули, да не увидятъ глазами, и не услышатъ ушами, и не уразумеютъ сердцемъ, и да не обратятся, чтобы Я исцелилъ ихъ. (Мф. 13, 15) Народ разучился иметь Царя, а возрожденцы требуют, чтобы мы требовали от Бога поставить нам Царя, которого народ не желает. Что это такое? А то, что нашим домом вместо Царствия Небесного, куда только и должны быть устремлены сегодня все наши помыслы и дела, возрожденцы желают сделать Россию, которую в сущности сделали своим идолом. Христосъ Спаситель своей искупительной жертвой открыл зелёный свет в Царство Небесное, ободрив: Не бойся, малое стадо! ибо Отецъ вашъ благоволилъ дать вамъ Царство. (Лк. 12, 32)
- Нет, мы хотим православным царством видеть Россию, чтобы все спаслись! - - упираются возрожденцы.
- Но, ведь, не вы спасаете людей, а только Господь Христосъ!
Или уже забытъ великий советъ:
Остерегись, желая спасти ближняго, чтобъ онъ не увлекъ тебя въ погибельную пропасть. Последнее случается ежечастно. Отступленiе попущено Богомъ: не покусись остановить его немощною рукою твоею. Устанись, охранись отъ него самъ: и этого съ тебя достаточно. Ознакомься съ духомъ времени, изучи его, чтобъ по возможности избегнуть влиянiя его. (Свят. Игнатiй)?
****
* Имя Сталина здесь используется не как имя личности, от упоминания которой заходится православное сердце, а как образ притчи, наподобие неверного управителя (Лк.16,1-8), или неправедного судьи (Лк.18,1-8), использованием коих извлекается определённый урок.
** Огрубело сердце людей сихъ, и ушами съ трудомъ слышатъ, и глаза свои сомкнули, да не увидятъ глазами, и не услышатъ ушами, и не уразумеютъ сердцемъ, и да не обратятся, чтобы Я исцелилъ ихъ. (Мф. 13, 15)
Повтор этого евангельского стиха делаем сугубо для возрожденцев, зная их презрение к инакомыслящим с ними. Но, может быть, евангельский текст, всё-таки, заставит, хотя бы положить начало переходу их душ от православного высокомерия к кротости и смирению.
*** "100 лет назад, в 1899 году, Владыка Антоний (Храповицкий), имея в виду РАСЦЕРКОВЛЁННУЮ ЧАСТЬ русского общества своего времени, написал: «Это уже не народ, но гниющий труп, который гниение своё принимает за жизнь, а живут на нём и в нём лишь кроты, черви и поганые насекомые... ибо в живом теле не было бы удовлетворения их жадности, не было бы для них жизни» (Тальберг, История Русской Церкви. Джорданвилль, 1959, с.831). В конце прошлого - начале нынешнего ХХ века эта гниющая часть русского населения составила примерно всего 5-6%. Ныне, в конце ХХ века, она составляет в России 94-95%. «Гниющим трупом» является в целом вся Российская Федерация". Протоиерей Левъ Лебедевъ
И вот, этому гниющему трупу патриоты – возрожденцы жаждут приладить православного царя. Такая вот их игра в православие. (В.В) .
* * *
РОКОВАЯ СДЕЛКА
Как продавали Аляску
Иван Миронов
( Начало см. Верность №125)
ГЛАВА 2.
УНИЧТОЖЕНИЕ РОССИЙСКО-АМЕРИКАНСКОЙ КОМПАНИИ КАК ИСКУССТВЕННОЕ СОЗДАНИЕ ПРЕДПОСЫЛОК ПРОДАЖИ СЕВЕРО-АМЕРИКАНСКИХ КОЛОНИЙ РОССИИ
§1 Проект продажи русских колоний во время Крымской войны
Для исследователей продажи Аляски (С. Б. Окунь, А. Л. Нарочницкий, Т. М. Батуева, А. И. Алексеев), придерживающихся позиции, что отказом от своих колоний Россия теряла стратегический приоритет в Тихоокеанском регионе, сложное экономическое и административное положение русских поселений на Американском континенте накануне продажи не вызывало сомнений. Тем самым признавалась экономическая мотивация при заключении сделки российским Правительством , выдвигаемая на первый план историками Н. Н. Болховитиновым, Г. П. Куропятником и др., объясняющими сделку вынужденной необходимостью, созданной историческими обстоятельствами 60-х гг. XIX в.. Однако ключ к раскрытию подлинной сути сделки следует искать, начиная с правления Николая I.
Для русских колоний в Америке Крымская война явилась самым серьезным испытанием на прочность за всю историю существования наших заокеанских владений, ведь эти отделенные российские владения могли стать легкой военной добычей европейских держав.
Чтобы избежать возможных разорительных для Компании последствий, Главным правлением было принято решение о заключении конвенции между Российско-Американской и Гудзонбайской компаниями о взаимном нейтралитете на все время войны. С этой целью Главное правление после согласования с Российским правительством обратилось к дирекции Гудзонбайской компании с предложением о заключении условий, которыми бы взаимно обеспечивались:
1) неприкосновенность территорий обеих компаний,
2) безопасность судов и имуществ в своих портах,
3) безопасность судов и грузов в открытом море.
Предложение это было принято и утверждено Английским правительством во всей силе для двух первых пунктов, последний же, т.е. безопасность судов и грузов в открытом море, как предмет народного права, не мог быть отменен иначе, как актом парламента, и потому остался неутвержденным. К этому лишь прибавилось соглашение, что гавани и берега колоний могут быть блокированы.
На этих основаниях заключена была данная конвенция, принятая и обеспеченная со стороны обоих правительств, для владений и судов той и другой компании. Благодаря этой конвенции колониальные владения и имущество России и Англии сохранились в целости[1].
Заслуги РАК перед Правительством во время Крымской войны были подробно отражены в предыдущей главе.
Казалось, что подобная дипломатическая практика сохранения русских земель в одной из самых неудачных для России войн являлась наиболее последовательной и эффективной в отстаивании интересов государства. Однако в российских властных кругах присутствовало и другое мнение. Под предлогом военной угрозы безопасности русских колоний в Америке была предпринята первая попытка продажи наших владений на Аляске Соединенным Штатам.
В работе Н.Н. Болховитинова «Русско-американские отношения и продажа Аляски, 1834-1867» приводится отрывок из воспоминаний У.М. Гвина, продиктованный им в 1878 г. для библиотеки Бэнкрофта в Беркли (штат Калифорния), где этот документ находится и поныне: «Во время Крымской войны, когда английские и французские суда отправились на север для нападения на русские владения на Тихом океане и когда стало очевидным, что Петропавловск будет захвачен, барон Стекль, русский посланник в США, пришел к г-ну Гвину и просил его быть посредником между ним и американским правительством при открытии переговоров по продаже русских владений на тихоокеанском побережье Америки Соединенным Штатам. Г-н Гвин пришел к президенту Пирсу и сообщил о цели своей миссии. Президент сразу же стал горячим сторонником покупки; но его государственным секретарем был г-н Марси, и президент уже имел некоторый опыт в отношении упрямства этого джентльмена… Было известно, что он решительно против присоединения территории к США. Беседа между государственным секретарем и г-ном Гвином была бурной. Ничто не могло произвести какого-либо впечатления на г-на Марси. Он пригрозил выйти из кабинета, если любое подобное предложение будет благоприятно принято президентом и остальными его конституционными советниками. Г-н президент не был тверд в своей позиции в отношении данной или любой другой меры, если в его кабинете имелось расхождение во мнениях, и поэтому отклонил предложение русского посланника. Впоследствии Соединенные Штаты приобрели ту же территорию и заплатили за нее семь с половиной миллионов»[2].
Предложение о продаже русских колоний американцам было сделало российским посланником в Вашингтоне Э.А. Стеклем совместно с российским вице-консулом в Сан-Франциско П.С. Костромитиновым. И буквально через месяц после начала войны - 19(31) мая 1854 года П.С. Костромитинов подписывает с представителем Американо-русской торговой компании в Сан-Франциско Ангусом Маркферзоном акт о продаже, в соответствии с которым Российско-американская компания за 7600 тыс. долларов уступала своему партнеру в Сан-Франциско на три года все имущество, промыслы и привилегии на территории в Северной Америке[3], что означало потерю русских владений на Аляске фактически навсегда.
Однако уже в начале июля 1854 г. вице-консул в Сан-Франциско получил депешу Главного правления РАК от 16(28) апреля о заключении соглашения с компанией Гудзонова залива. И тогда 1(13) июля 1854 г. П.С. Костромитинов доносит Главному правлению РАК: «Я решился остановить все распоряжения колониального начальства по сему предмету, и акт, заключенный в колониях, оставить без всякого движения». Соответствующий отчет вице-консул направляет и Э.А. Стеклю: «По сим так счастливо изменившимся обстоятельствам препровожденному из колоний акту я не дал дальнейшего движения, о чем будет сообщено колониальному начальству при первом случае»[4].
Попытка реальной сдачи русских колоний американцам в 1854 г., именно так она была воспринята последними, была представлена в России как мнимая продажа, которая имела бы юридическую силу только в случае военных притязаний со стороны Англии, обеспечив тем самым неприкосновенность русских земель как собственности Соединенных Штатов. Официальную версию о якобы фиктивной продаже Аляски в 1854 г., поддерживает Н.Н. Болховитинов, вступая в противоречие с логикой им же цитируемых документов. В указанной выше работе Болховитинов приводит следующие доводы: «Понимая неизбежность войны с Англией и Францией, Э.А. Стекль, ставший в марте 1854 г. поверенным в делах в Вашингтоне (А.А. Бодиско умер 23 января 1854 г.), предложил российскому вице-консулу П.С. Костромитинову сделать фиктивную продажу кораблей, принадлежавших РАК, «обществу, учрежденному в Сан-Франциско г-ном Сандерсом», а также в случае возможности организовать действия каперов в Тихом океане. Русский дипломат имел для этого известные основания. Отношения с Соединенными Штатами складывались в то время весьма благоприятно. Беседуя со Стеклем, Президент США Ф.Пирс не скрыл от него, что Соединенным Штатам возможно не удастся быть нейтральными, а присутствовавший на беседе госсекретарь У.Л. Марси даже заметил, что действия Англии и Франции (особенно лорда Кларендона) «в сильной мере русифицировали нас»[5].
Рискованная затея с якобы фиктивной продажей русских владений в начале Крымской войны поставила ее вдохновителей с российской стороны в крайне сложное положение. Контракт, признанный сторонами фиктивным на основе устных договоренностей,в любой момент мог обрести юридическую силу по требованию США, наиболее в этом заинтересованных. Подобные дипломатические «ходы» в эпоху правления Николая I да еще в условиях военного времени могли быть расценены как государственная измена. Горе-продавцам оставалась одно – оправдываться. Вот о чем впоследствии свидетельствовал П.С. Костромитинов: «При обсуждении «предложения» Стекля о спасении от неприятеля русских кораблей возник вопрос, «нельзя ли посредством мнимой продажи спасти другие имущества компании и даже самые колонии». Мне предлагали, - сообщал вице-консул Э.А. Стеклю 18(30) апреля 1854 г., - составить акт на мнимую уступку кораблей, мехов, товаров и прочей движимости нашей компании, а также земель со всеми угодьями с тем, чтобы акт этот хранился у меня и предъявлен был только в случае надобности. Если бы по несчастию мы потеряли колонии, тогда посредством сего акта американцы объявили бы на оные свои права, а чрез это был бы повод к вмешательству в это дело правительства Соединенных Штатов»[6]. Болховитинов справедливо отмечает: «Трудно поверить, чтобы скромный консульский чиновник самостоятельно мог придумать столь хитроумный и смелый план. Из текста донесения можно заключить, что идея исходила от его партнеров, у которых не было недостатка ни в инициативе, ни в практическом опыте»[7]. «Дело это было столь великой важности, - писал П.С. Костромитинов, - что я ужаснулся последствий в случае какой-либо неосторожности, и поэтому предложил американцам действовать по сему предмету в Вашингтоне… Самое важное затруднение при составлении сих актов будет в том, чтобы они имели законную форму»[8].
Однако за чистую монету Болховитинов выдает откровенную попытку Стекля сложить с себя ответственность за неудавшуюся аферу, при этом исследователь ставит под сомнение воспоминания У.М. Гвина, и поскольку последнего сложно обвинить в необъективности, Болховитинов сетует на провалы его памяти: «Вряд ли надо подробно доказывать, что спустя почти четверть века У.М. Гвин весьма вольно изложил действительное содержание своих бесед… В отличие от калифорнийского сенатора, Э.А. Стекль написал о своих конфиденциальных беседах с Марси и Гвином по свежим следам событий, и у него не было оснований искажать их содержание в официальном отчете управляющему МИД России. Сообщая о том, что он дал указание П.С. Костромитинову и С.В. Воеводскому аннулировать фиктивный контракт с американской компанией в Сан-Франциско, Э.А. Стекль продолжал[9] : «Этот проект контракта и слухи, распространяемые английской прессой о намерении императорского правительства продать свои владения, подали американцам идею, что мы могли бы их уступить им. Г-н Гвин спрашивал меня, действительно ли мы серьезно расположены уступить им наши колонии, за которые Соединенные Штаты были бы готовы хорошо нам заплатить. Г-н Марси, с которым об этом говорил Гвин, обратился ко мне с таким же вопросом. Я им ответил, что мы никогда не имели подобного намерения. Наши владения, которые вскоре должны достигнуть большего процветания, уже возбуждают страстное желание американцев. Они являются опасными соседями, и мы должны избегать того, чтобы дать им малейший повод»[10]. Вполне очевидно, сколь неискренни эти слова Стекля, ведь спустя десять с небольшим лет именно он вновь станет проводником и деятельным исполнителем все той же идеи продажи Русской Америки США, той самой продажи, для которой он призывает здесь не давать и малейшего повода.
Выкрутиться дипломатам в 1854 г. все-таки удалось, они списали инициативу продажи Аляски на колониальный совет, который «получил выговор за излишнюю самостоятельность»[11]. То есть Правительство признало исключительную рискованность данной договоренности и продемонстрировало неверие в филантропию американской стороны.
Но почему сегодня в нашей историографии, например, в трудах Болховитинова, США предстают этакой доброй покровительницей, готовой отвести от России беды и напасти, не преследующей своего интереса, готовой забрать и по первому же требованию безвозмездно вернуть пограничные с ней богатейшие земли. Почему мы должны поверить в это сегодня, если в это никто не верил и тогда?
В роли собрания щедрых сумасшедших предстает в этой трактовке событий Американо-русская торговая компания, представляющая частный американский капитал и якобы готовая стать на время войны временным управляющим РАК. При этом интересы американской стороны Н.Н. Болховитиновым не уточняются. Однако он успевает обмолвиться о том, что уже в 1853 году откровенно обозначились территориальные претензии США к русским колониям, а именно: весной 1853 г. генерал-губернатор Восточной Сибири Н. Н. Муравьев-Амурский представил Николаю I записку, в которой подробно изложил свои взгляды об укреплении позиций России на Дальнем Востоке, важности тесных отношений с Соединенными Штатами и неизбежности их распространения по всей территории Северной Америки. Он, в частности, отмечал, что «с изобретением и развитием железных дорог» теперь более, чем прежде, стало очевидно, что Соединенные Штаты «неминуемо распространятся по всей Северной Америке». «Нам нельзя не иметь в виду, — продолжал автор записки, — что рано или поздно придется им уступить североамериканские владения наши. Нельзя было однако ж при этом соображении не иметь в виду и другого: что весьма натурально и России, если не владеть всей восточной Азией, то господствовать на всем азиатском прибрежьи Восточного океана. По обстоятельствам мы допустили вторгнуться в эту часть Азии англичанам... но дело это еще может поправиться тесной связью нашей с Северо-Американскими Штатами»[12].
В этом рассуждении генерал-губернатора Восточной Сибири отчетливо просматривается нарастающее в правящей элите мнение о неизбежности уступки США наших Северо-Американских владений на основе взаимного сотрудничества с этим государством. Мнение это, не имевшее под собой никаких фактических оснований, тем не менее активно внедрялось в умы, если успело занять мысли правителя Восточной Сибири, даже позволившего себе донести его до Государя Императора. Так что убежденность исследователей в правдивости оправданий Стекля и Костромитинова в том, что проект продажи Русской Америки был фиктивной сделкой, не выдерживает критики.
Если следовать логике Н.Н. Болховитинова, с таким же успехом могли быть «фиктивно» проданы Курилы, Сахалин и Камчатка. Тогда все территории, которые могли бы подвергнуться атакам Англии и Франции, можно было оформлять на США, как супруг, которому грозит банкротство, переписывает все нажитое на ближайших родственников – куда они, мол, денутся. Допустить, что «спасители» Аляски - Стекль и Костромитинов - отводили роль подобных родственников Американскому правительству и частной торговой компании, не только исторически не логично, но и абсурдно. При этом до сих пор не найдено документов, освещающих два ключевых вопроса, ответы на которые смогли бы доказать или опровергнуть подозрения в фиктивности сделки: 1. Какие гарантии возврата наших колоний предоставляла американская сторона? 2. Каков механизм возврата Аляски из США России? Исходя из того, что подобные вопросы в известных нам источниках даже не были подняты, а сама сделка была исключительно «основана на полном взаимном доверии»[13], очевидно, что «фиктивной» продажа Аляски в 1854 году стала только после срыва мошеннически задуманной сделки.
Итак, перед нами классический пример мошенничества, только в международных масштабах: вначале заинтересованное государство при помощи посредников уговаривает другое государство сделать вид, что последнее будто бы продало первому свои территории и документально это оформить. Тогда третья сторона якобы будет иметь территориальные претензии к мнимому покупателю, а не к подлинному владельцу. Если это мошенническое дело выгорит, то государство, доверившее свои территории в мнимую собственность, расстается с ними согласно подписанному сторонами договору, а устные договоренности и условия страной-покупателем моментально забываются. Обратим внимание, что по этому фиктивному договору деньги не были бы выплачены, и тогда мнимый покупатель выигрывал вдвойне и на сэкономленные 7, 600 млн. долларов мог бы вооружить армию и флот для защиты Аляски от прежнего обманутого им владельца.
§2. Передача Сахалина Российско-Американской компании и возврат острова под государственное управление
Передать русские колонии в Америке Соединенным Штатам под предлогом военной необходимости и гарантий их безопасности в Крымскую кампанию Стеклю и его американским «партнерам» не удалось. И с 1856 г. в правительственных кругах начинается планомерная подготовка к сдаче Аляски Соединенным Штатам, растянувшаяся на десятилетие. С 1856 г. узкий круг лиц в российском правительстве во главе с в. кн. Константином Николаевичем, который с восхождением на престол старшего брата получил неограниченное влияние в политике, начинает планомерное экономическое и административное уничтожение Российско-Американской компании – главной помехи отторжения от России ее заокеанских владений.
Начало этому было положено выведением острова Сахалина из ведомства РАК в 1856 годк Российско-Американская компания получила о. Сахалин незадолго до этого, .в 1853 году, когда никем не занятые доселе острова Тихоокеанского бассейна начали облюбовывать иностранцы, русское правительство распорядилось занять остров Сахалин, положить начало его хозяйственному освоению, обеспечить безопасность русских поселений. Реализация данного плана была возможна только усилиями РАК – частной компании, которая в этом деле могла приобрести долгосрочные экономические выгоды. Приведем выдержки из «Записки о занятии острова Сахалина», переданной председателем Главного правления РАК управляющему Министерством иностранных дел 22-го марта 1853 г. Правительственное поручение представлялось компании в следующем: «По случаю снаряженной американцами в Японские моря экспедиции правительству угодно для обеспечения русских заселений при устьях р. Амура, распространить таковые заселения и на ос. Сахалин, с предоставлением этого дела распоряжению Российско-Американской компании»[14]. Исполнение данного поручения требовало прежде всего строительства оборонительной системы острова, которая бы могла обеспечить охранение русских поселений, а также воспрепятствовать любому посягательству на неприкосновенность русских границ: «Для лучшего исполнения сего поручения Главное Правление Компании, основываясь на новейших об ос. Сахалине сведениях, доставленных от капитана 1 ранга Невельского, полагает занять два пункта, один на западной, другой на южной стороне острова, и устроить там два редута по образу учрежденных в колониях – избрание сих пунктов предоставить соображению, придерживаясь указанного направления.
Но как сих двух редутов будет может статься недостаточно для воспрепятствования иностранцам, ежели они пожелают занять на берегу Сахалина, по близости Амурского Лимана, другие удобные пункты русскими незаселенные, то необходимо во всех удобных бухтах и заливах, лежащих между двумя предполагаемыми главными редутами устроить редуты небольших размеров, чтобы присутствием русского флага и наших заселений отвратить возможность поселений там иностранцев. Число удобных мест, а вследствие и число необходимых для занятия их редутов малого размера, будет зависеть от местных соображений, и может быть определено со временем по получении более подробных сведений.
Для исполнение этого плана употребить состоящую при экспедиции капитана 1-го ранга Невельского казенную команду, которая в настоящем году, если местное начальство воспользуется предоставленными оному от Компании средствами, может быть усилена до 200 человек нижних чинов, при надлежащем числе офицеров. Частию этих людей, которые и впредь должны оставаться на местах для составлении гарнизонов в редутах, на тех же самых основаниях, на которых они ныне содержаться при Амурской экспедиции, можно занять на первый случай, в 1853 году указанные выше два пункта на берегу Сахалина тем же порядком, как занято Петровское зимовье, и устроить в этом же году в занятых пунктах необходимые, хотя временные, для помещения людей и запасов строения… В последствии, по всей вероятности, потребуется постоянно содержать в этих местах сильный морской пароход, но заведение оного ныне было бы преждевременно»[15].
Хозяйственное развитие острова также ложилось на плечи РАК: «Со своей стороны Главное Правление, ежели заблаговременно будет на то разрешено, может распорядиться отправлением туда в 1853 году партии плотников из Якутска, и дать предписание начальнику Аянского Порта, употребить для перевозки в экспедиции людей, материалов и пр., имеющие прибыть в тот порт компанейские суда.
На кругосветных судах, имеющих отправиться в текущем году в колонии и Аян, Главное Правление может послать все необходимые для окончательного устройства предполагаемых заселений, и для установления торговых сношений с туземцами товары, припасы, материалы.
К 1854 году может прибыть туда особый начальник для заведывания этим предприятием независимо от Амурской экспедиции, а так же могут быть посланы туда из России и колоний необходимое для торговых и промышленных надобностей число служащих и служителей от Компании, и для службы в тех морях одно или два судна из колониальной флотилии»[16].
Как уже было отмечено, с самого начала развитие Сахалина предполагалось за счет РАК, единственное, на что могла рассчитывать компания, так это на ограниченную финансовую компенсацию, которая даже отчасти не покрывала планируемых расходов: «Хотя Главное Правление не имеет еще никаких данных, чтобы ожидать от этого предприятия выгодного влияния на капиталы и обороты Компании, но исполняя волю Правительства, готово принять на себя расходы по сему делу ….(выделено мною – И.М.). Сверх того, так как настоящее предприятие потребует со стороны Компании несравненно больших предварительных и постоянных расходов нежели Амурская экспедиция, а Компания ныне при других своих обязанностях не имеет достаточно свободных капиталов, то необходимо отпустить оной на этот предмет, впредь до расчета, единовременно до 50 тыс. руб. Если же по ходу дела потребуется, как Главное Правление предполагает постоянно содержать в том крае сильный пароход, то на заведение оного необходимо будет назначить Компании особые средства»[17].
Права и обязанности Российско-Американской компании относительно Сахалина закреплялись волей Государя Императора. Территория эта волей царствующего монарха включалась в привилегии РАК, и компания становилась полноправным собственником острова. Данные основания изложены в письме в. кн. Константина Николаевича в Главное Правление РАК от 12 апреля 1853 г.: «Государь Император по всеподданнейшему докладу Г. Государственным Канцлером, в присутствии моем, предположений относительно острова Сахалина, в 11 день сего апреля Высочайше соизволил утвердить по сему делу следующие основания:
1)Предоставить Российско-Американской компании занять остров Сахалин и владеть оным на тех же основаниях, как владеет она другими землями, упомянутыми в ее привилегиях.
2)Обещать Компании для занятия и защиты на Сахалине Компанейских учреждений, предоставлять в распоряжение ее воинских нижних чинов и офицеров, и чинам сим считаться на службе Компании и находиться на полном ее иждивении.
3)Компания обязуется занять на Сахалине те пункты, которые по местным соображениям окажутся важнейшими, к чему и приступить в нынешнем лете; а с 1854 года иметь там особого своего правителя, которому в политическом отношении состоять под начальством Генерал-губернатора Восточной Сибири или другого правительственного главного начальника, как будет указано высочайшею волею.
4) Компания обязуется не допускать вновь на Сахалин никаких иностранных заселений, ни произвольных, ни по взаимному соглашению, и может передать остров сей только обратно Правительству.
5)Правительство пользуется на острове Сахалине для казенных потребностей каменным углем безвозмездно, но добывая его своим иждивением.
6)Для ограждения берегов острова и гаваней от вторжения иностранцев Компания обязуется содержать достаточное число судов, но в случае военного нападения требует для защиты войска от Правительства.
7)При первоначальном занятии Сахалина в нынешнем году могут быть употреблены, с разрешения Генерал-губернатора, некоторые средства из Амурской экспедиции, но сия последняя хотя и числится по некоторым предметам на компанейском счете, должна однако же быть совершенно отделена от Сахалинской и оставаться по-прежнему в непосредственном распоряжении Правительства.
8)Компанейское начальство должно обращаться с требованиями своими о назначении к нему офицеров и нижних чинов на Сахалине к Генерал-губернатору Восточной Сибири, а сей последний обязан исполнять эти требования безотлагательно; в прочем Главное Правление, в случае надобности, может обращаться с просьбами по сему предмету и к высшему Правительству на случай необходимости и удобства отправления на Сахалин офицеров и нижних чинов на кругосветных компанейских судах из балтийских портов.
9)Офицеры и нижние чины, имеющие назначаться на службу Компании на Сахалине, должны отправляться туда на компанейских судах и на иждивении компании от самого места их прежнего служения.
10)В нынешнем же году назначить и обязать Компанию взять не менее 100 человек из Камчатки.
11)На издержки по сему предприятию отпустить Компании ныне же безвозвратно и без всякого впоследствии расчета пятьдесят тысяч руб. сер. из суммы ассигнованных в распоряжение Генерал-губернатора Восточной Сибири на составление особого капитала по предприятиям относительно […] на каковой предмет могли бы быть впоследствии обращены какие-либо новые сбережения сметных или других сумм по Восточной Сибири.
Высочайшую волю сию Я ныне сообщаю Генерал-губернатору Восточной Сибири.
Управляющий Морским министерством КОНСТАНТИН»[18].
Таким образом, любые вопросы относительно административного и хозяйственного управления Сахалином теперь жестко регламентировались дарованными РАК привилегиями, а, следовательно, положение острова могло быть изменено не ранее завершения привилегий компании, а именно 1865 года. До этого времени любое вмешательство в положение дел РАК на данной территории представлялось недопустимым.
Когда в начале Крымской войны попытка продажи русских колоний потерпела фиаско, инициаторам сделки стало очевидно, что чем слабее будут позиции РАК, тем легче убедить Россию отказаться от своих заокеанских владений. Напротив, укрепление компании, расширение ее влияния на новые территории, развитие экономического потенциала тихоокеанского региона под эгидой РАК грозили похоронить идею отторжения Аляски. В этом отношении серьезную угрозу намерениям продажи представляло освоение компанией Сахалина, что в дальнейшем сулило РАК солидные экономические и политические дивиденды. Именно поэтому, ибо другому здравому объяснению это не поддается, вопреки воле Императора Николая I, спустя три года после начала освоения острова Российско-Американской компанией Государь Александр II по представлению в. кн. Константина Николаевича передает Сахалин в ведение генерал-губернатора Восточной Сибири. Вот о чем сообщал Главному правлению РАК в. кн. Константин Николаевич в своем письме за №1250 от 7 апреля 1856 г.: «Государь Император по всеподданнейшему докладу моему представления Генерал-губернатора Восточной Сибири о необходимости при нынешних обстоятельствах передать из владения Российско-Американской компании в ведение и управление Правительства остров Сахалин, Высочайше повелеть соизволил ныне же исполнить сие и передать Сахалин в ведение и управление Главного начальства Восточной Сибири с тем, что по соглашению Компании с местным начальством дозволяется отводить ей земли на острове и на материке устьев Амура для хозяйственных учреждений, что пользование каменным углем на Сахалине остается в исключительном владении Правительства, и что с Компании не следует требовать отпущенных ей на предполагавшиеся заведения на Сахалине 50 тыс. руб. сер.
Высочайшую волю сию я ныне же объявляю Г. Генерал-губернатору Восточной Сибири и Государственному Канцлеру иностранных дел, - о чем сообщаю Главному Правлению в последствии извещения моего от 12-го апреля 1853 г., № 617»[19].
В связи с этим любопытным представляется письмо, датируемое 8 апреля 1856 г., т.е. днем позже письма Константина, направленное тому же адресату, что и выше представленное. Это письмо управляющего Морским министерством за №12488 следующего содержания: «Согласно воле Государя великого князя генерал-адмирала, имею честь покорнейше просить Главное Правление Российско-Американской компании о сообщении мне сведений, не были ли в чем-нибудь изменены или дополнены представленные Компании, по Высочайшему повелению 11 апреля 1853 года, права на владение островом Сахалином и, между прочим, касательно находящегося там каменного угля, а также какие меры предполагается со стороны Главного Правления Компании принять относительно этого острова в течение нынешнего года»[20].
На первый взгляд, последнее письмо представляется абсурдным: в письме от 7 апреля 1856 г. великий князь официально сообщает в Главное правление компании о фактическом прекращении деятельности последней на острове, на следующей же день из недр подопечного в. кн. Константину ведомства выходит письмо, в котором, как ни в чем ни бывало, уточняется, не злоупотребляет ли РАК правами на «владение островом Сахалином», представленными ей «по Высочайшему повелению 11 апреля 1853 года», - правами, о грубом попрании которых сообщало предыдущее письмо.
Судя по всему, в. кн. Константин Николаевич первоначально не решался действовать столь открыто против интересов государства, избрав путь постепенной компрометации деятельности РАК на Сахалине посредством Морского министерства, которое должно было подготовить материалы о своевольном «изменении» компанией прав на вверенный ей остров, именно эту цель преследует письмо управляющего Морским министерством от 8 апреля 1856 г.»согласно воле великого князя». Однако, покровительство Императора в этом щекотливом вопросе позволило Константину действовать более решительно, разом покончив с интересами РАК на Сахалине. Все это и было изложено в письме великого князя от 7 апреля, даже опередившем им же запущенный бюрократический механизм Морского министерства.
За Российско-Американской компанией на Сахалине сохранялись по сути смешные права, на которые могла претендовать любая торговая компания причем не только российская: «Государь Император по поводу представления Генерал-губернатора Восточной Сибири о необходимости при нынешних обстоятельствах остров Сахалин передать из владений Российско-Американской компании в ведение и управление Правительства Высочайше повелеть соизволил ныне же исполнить сие и передать Сахалин в ведение и управление Начальства Восточной Сибири с тем, что по соглашению Компании с местным начальством дозволяется отводить ей земли на острове и на материке устьев Амура для ее хозяйственных учреждений.
В следствии таковой высочайшей воли, объявленной Главному Правлению Его Императорским Высочеством Генерал-адмиралом в отзыве от 9 апреля за № 12500, Главное Правление обращалось с представлением к Его Высочеству об определении затем отношений и преимуществ, какими может пользоваться в тех местах Компания, ежели удобно будет, чтобы она по-прежнему участвовала и содействовала Правительству в дальнейшем развитии этого края.
Его Императорское Высочество по соглашению с Генерал-губернатором Восточной Сибири относительно прав и преимуществ, которые Компания испрашивала для себя на о. Сахалин и на р. Амур, изволил признать, что Компании справедливо и полезно разрешить:
1)Пользоваться лесом и каменным углем для собственного его употребления бесплатно, разрабатывая эти материалы своими средствами. Разрешение это по мнению Генерал-губернатора будет способствовать устройству в тех местах различных заведений, и особенно паровых судов, а дабы ни лес, ни каменный уголь не были вывозимы на продажу, то должно возложить на местное начальство наблюдение, дабы лесу на суда вовсе отвозимо не было из тамошних портов, а каменный уголь дозволялось брать только на паровые суда, и в том количестве которое для употребления каждого такового судна нагружать на оное должно. (выделено мною – И.М.)
2)Производить свободную торговлю, и всякого рода не противные законам сношения с туземцами под наблюдением местного начальства в том отношении, чтобы не производить со стороны торгующих притеснений туземцам, а с другой, для ограждения торгующих от неприязненных покушений туземцев, и устранения вообще всякой возможности к враждебным между ними столкновениям.
3)Разрешение по вышеупомянутым предметам, а равно отвод земель под постройки, пашни и сенокосы предоставить по принадлежности действию и распоряжениям тамошнего Военного Губернатора, к которому начальствующие лица и агенты Компании и должны обращаться по всем предметам»[21].
В письме Главного правления начальнику Аянского порта от 25 мая 1856 г. прослеживается попытка закрепить за Компанией местную торговлю на острове: «Что же касается до дальнейших действий Компании в этих местах, то Главное Правление нужным считает оныя собственно производством местной торговли в том размере, какой по обстоятельствам призван будет возможным и выгодным, а равно в устройстве таких только учреждений, какие могут способствовать удобнейшему снабжению колоний некоторыми предметами продовольствия, а также легчайшему сообщению колоний с Сибирью. В сих видах Главное Правление полагает в действиях Компании на Сахалине и при Амуре руководствоваться главнейшими основаниями:
А) Учредить компанейские фактории с целью как торговли туземной, так и с Японией, а также устраивать в удобных местах торговые мосты и магазины.
Б) Для снабжения мясом колоний завести скотоводство, и просить об отводе на сей предмет удобной и достаточного пространства полосы пастбищной земли по Амуру.
В) Производить ловлю зверей и торговлю с туземцами в соответственном по обстоятельствам размере.
Г) Для необходимых компанейских работ стараться где можно употреблять туземцев по взаимном с ними соглашении.
Д) На все компанейские постройки употреблять местный лес, а для надобностей парового производства каменный уголь бесплатно согласно вышеупомянутому разрешению.
Главное Правление, возлагая на Ваше Высокоблагородие приведение в исполнение таковых предположений своих, и представляя располагать действия Ваши сообразно местной возможности, и по предварительным в чем следует сношениям и соглашениям с местным начальством вполне уверено, что вы со своей стороны не упустите ничего для устройства там дел и торговли Компании к существенной пользе ее, и поддержанием во всех отношениях ее достоинства.
Копию с этой бумаги Главное Правление вместе с сим препровождает к Г. Капитану 1-го ранга Казакевичу и просит его об оказании Вам во всех надобностях Компании в тех местах возможной помощи и содействия для обоюдной пользы Правительства и Компании»[22].
Итак, у РАК был отобран о. Сахалин, переданный Правительством Компании за три года до этого. Таков был первый шаг к вытеснению РАК пока в пределы Аляски, шаг, явившийся выражением непокровительственного отношения к Компании только что восшедшего на Российский престол нового Императора. На деле, под прикрытием Высочайшей воли началось планомерное ограничение русского присутствия в тихоокеанском регионе: «Министерством от 8 мая за №12625-ть, сообщает о том Вашему Высокоблагородию и поручает Вам во всех дальнейших распоряжениях Ваших по заселению и торговле в Приамурской области руководствоваться вышеупомянутым изменившимся положением Компании в том крае.
С сею целью необходимо прежде всего распорядиться роспуском и обращением к своим местам команды собранных для Сахалинской экспедиции, а так же прекращением всех приготовлений для прочного компанейского водворения на Сахалине и на Амуре»[23].(выделено мною – И.М.)
Передача Сахалина в ведение Правительства не только серьезно подрывала экономическое положение РАК, недальновидное устранение Компании с острова имело в дальнейшем печальные для России последствия. Уже тогда свертыванием русского присутствия на Сахалине стретигическим интересам России на Тихом океане был нанесен значительный урон, который обернулся нашим поражением в Русско-японской войне, потому что , если бы РАК продолжала освоение острова, Сахалин стал бы надежным морским форпостом на ближайших подступах к Японии..
§3. Секретный план продажи Северо-Американских колоний России 1857 года
Начиная с отнятия у Российско-Американской компании о. Сахалина, политика узкого круга высших государственных сановников, имевшая целью продажу российских заокеанских владений, приобретает официально оформленную стратегию. Свидетельство тому – «Записка об уступке Соединенным Штатам наших владений в Северной Америке»[24] от 29 апреля 1857 года под грифом «весьма секретно» следующего содержания: «(НА ПОЛЯХ: Осталось (вить) без исполнения, пока не кончится вопрос об уничтожении контракта между Компанией нашей со Сан-Франциско, условия которого могут чрезвычайно уронить ценность владений наших в Северной Америке.) Министерство Иностранных Дел вполне разделяет мысль его Императорского Высочества Великого Князя Константина Николаевича относительно уступки наших владений, находящихся в ведении Северо-Американской Компании, Соединенным Штатам на известных условиях. По строгим и точным исследованиям начал, на которых эта уступка может быть произведена, Министерство приходит к следующему заключению: желая сохранить во возможной тайне предположение правительства, чтобы не повредить делам Компании, Министерство полагало бы предварительно снестись с нашим Посланником в Соединенных Штатах, поручив ему выдать мнение Вашингтонского Кабинета по сему предмету. Правительство Соединенных Штатов поймет вполне, как важно для коммерческой компании хранение тайны. Но как при переговорах с Кабинетом Вашингтона, Действительному Тайному Советнику Стеклю необходимо знать по крайней мере главные начала, на которых мы соглашаемся уступить наши Северо-Американские колонии, то, по мнению нашему, они должны заключаться в следующем.
1. Уступка эта ограничится одними землями, в Северной Америке находящимися, со всем принадлежащим в них Компании имуществом, кроме ее судов. Алеутские и Курильские острова могли бы остаться во владении России, если бы один общий порт не связывал все владения Северо-Американской Компании.
2. Передача должна совершиться через 4 с лишним года, когда кончаются права и привилегии а равно условия, заключенные с Северо-Американской Компанией. Отсрочка эта необходима для того, чтобы дать время Компании привести к окончанию свои операции и дела. Кроме того, передача наших обязанностей в отношении Компании Правительству Соединенных Штатов повлекла бы большие столкновения и конечно уменьшила бы наши требования в отношении к последним.
3. Весьма трудно определить денежное возмездие, которое должны мы требовать за уступку наших владений в Северной Америке, особенно когда все дело, для сохранения возможной тайны, должно обсуждаться тремя или четырьмя лицами. Тем не менее однако можно сделать следующие выводы: Компания в настоящее время получает по 18 руб. на акцию, а всего на 7484 акции - 134.712 руб., кроме того откладывает в основной капитал по 13.471 руб. в год и для раздачи бедным 673 руб. Итого 148.856 руб. Полагая по 4% на капитал, сумма его составляется в 3.721.400 рублей серебром, что и должно представить вознаграждение собственно Компании.Гораздо трудно исчислить сумму, которая следует нашему Правительству от Соединенных Штатов за уступку земель. Многие важные источники доходов в наших Американских колониях остаются нетронутыми; таким образом, обильные пласты каменного угля, леса, отличные бухты, привлекающие корабли для починки, наконец, лед, за который только сейчас взялась Компания наша, - все, что, кроме пушных зверей, будет служить предметом важных доходов при употреблении значительного капитала, и потому может быть справедливо было бы требовать ту же сумму в вознаграждение Правительства, какая предположена для вознаграждения самой Компании, т.е. сумму в 3.741.400 р., что вместе составит 7.442.800 рублей серебром. Сверх того, Северо-Американские Штаты обязываются назначить ежегодные пенсии лицам ныне получающим таковые за долголетнюю и усердную службу Компании до их смерти.
4. Само собою разумеется, что исполнение всех отдельных условий Северо-Американской Компании, а именно: с Гудзон-Бейской Компанией (оканчивающихся впрочем в 1859 году), с Финляндской Китобойной Компанией и с другими, должны перейти на Соединенные Штаты, если срок их не окончится при передаче дел Компании.
5. Северо-Американской Компании можно предоставить Алеутские и Курильские острова, если это сообразно видам Правительства, и на тех условиях, которые оно признает полезными. Эта мера считается нужной как для поддержании торговли Восточной Сибири, для которой не может не быть ощутительным отсутствие действий Американской Компании, так и для развития нашего коммерческого флота.
6. Одно из необходимых условий при передаче наших владений в Северной Америке должно состоять в сохранении Православной веры, исповедуемой всем христианским населением наших колоний, не исключая и местных инородцев, обратившихся в эту веру. Правительство наше в этом случае, предоставит себе право иметь в тех местах Духовную Миссию, по примеру существующей в Пекине, которая будет находиться в заведовании Архиепископа Камчатского-Курильского.
(Примечание к ст.3. Можно еще иначе выявить цифру стоимости, а именно: Компания из доходов своих расходует каждогодно в пользу подданных России: акционеров, служащих и других лиц, около 800.000 рублей серебром, что и составляет по 4 на 100 капиталу в 20 миллионов рублей серебром – изображенную стоимость колоний в последние годы)»[25].
В «записке», подготовленной в недрах Министерства иностранных дел не указан ни автор, ни адресат. Перед нами уже готовая разработка продажи Русских колоний, основные моменты которой следующие: 1) уступка должна быть осуществлена в 1862 году («Передача должна совершиться через 4 с лишним года…»); 2) вместе с Аляской следует отказаться от Алеутских и Курильских островов («Алеутские и Курильские острова могли бы остаться во владении России, если бы один общий порт не связывал все владения Северо-Американской Компании»); 3) затребовать за Колонии 7.442.800 рублей; 4) «…все дело, для сохранения возможной тайны, должно обсуждаться тремя или четырьмя лицами». Таким образом, в «Записке» прямо говорится о том, что вся сделка, начиная с идеи и кончая ее реализацией, носит характер заговора.
Осознавая, какое колоссальное сопротивление в обществе вызовет отторжение от России ее территорий, инициаторы уступки готовят почву для реализации своего проекта. Основными мерами подготовки к продаже Русской Америки здесь явились:
1)умаление экономического значения Русской Америки в глазах общественности,
2) дискредитация деятельности РАК
3) подрыв системы колониального правления,
4)внушение Государю Императору мысли о возможности отказа от государственной собственности вообще и от российских территориальных владений в частности..
Эти шаги предпринимались последовательно и настойчиво, чему может служить доказательством данный документ:
Письмо в. кн. Константина Николаевича А.М. Горчакову от 7 декабря 1857 года:
Его Сиятельству Князю А.М. Горчакову.
7 декабря 1857 г.
Возвращая Вашему Сиятельству прилагаемые бумаги, я нахожу сообщение нашего посланника в Вашингтоне касательно действий Российско-Американской компании в высшей степени важными и обратил особенное внимание на следующие мысли его и указания:
1) что компания не может продолжать следовать нынешней системе своей, не вовлекая Правительство наше в тем более затруднительные споры с американцами, что сии последние будут правы;
2) что американцы сами как бы вызываются доставить денежное вознаграждение купцам Сан-Франциско за отмену условия, заключенного нашей компанией;
3) что в случае упорства компании американцы будут вредить не только компанейской, но и вообще всей русской торговле в Америке и
4) что английское правительство, убеждаясь в невыгодности компанейского правления областями и народами, намерено ныне же изъять остров Ванкувер из управления Гудзон-Бейской компании.
Мне кажется, что доводы г. Стекля и все соображения его весьма основательны и должны быть приняты в руководство, но я полагал бы в настоящее время, нам нельзя останавливаться этим предметом, но следует идти далее в виду будущего развития и России и Северо-Американских Штатов сообразно особенной природе и исторического значения обоих государств.
Первая должна всячески стараться укрепляться в центре своем, в тех сплошных коренных русских областях, которые составляют по народности и вере настоящую и главную силу ее, должна развивать силу этого центра, дабы сохранить те из своих оконечностей, владения коими возможно и приносит ей истинную пользу. Северо-Американские Штаты, следуя естественному порядку вещей, должны стремиться к обладанию всей Северной Америкой и поэтому рано или поздно встретиться там с нами, и не подлежит сомнению, что овладеют нашими колониями даже без больших усилий, а мы никогда не будем в состоянии возвратить их. Прошу Ваше Сиятельство привести себе на память письмо мое к Вам по этому предмету из Ниццы прошедшею зимой, когда я указывал на эти обстоятельства и упоминал об избытке денежных средств в казне Северо-Американских Штатов, говорил, что нам следовало бы воспользоваться этим и заблаговременно продать им наши колонии и этим самым разрешить дружелюбно и с выгодой для нас вопрос, который в противном случае разрешится против нас и притом завоеванием.
Кроме этого прошу Вас обратить внимание на следующее обстоятельство. В наш век торговые компании, которые независимо от промышленных предприятий управляют племенами и народами, оказываются неспособными к деятельности второго рода.
Действительно роль купца и администратора, соединенная в одном лице, невозможна и подобное крайне вредно для подвластных компании народов, которые крайне страдают от второстепенных агентов, а директорам компаний, даже при полной благонамеренности их, невозможно усмотреть из Лондона или Петербурга за тем, что делается в Индии или в Северной Америке. У нас при отсутствии всякой гласности и при невозможности писать против компании вред еще ощутительнее. Посему независимо от стараний продать наши Северо-американские колонии Штатам Северной Америки, мне казалось бы необходимым:
1) назначить несколько самых способных гражданских чиновников и морских офицеров для отревизования колониального управления Российско-Американской компании с целью удостовериться в какой мере успешно Компания исполняет свои административные обязанности в отношении к народам ей подвластным.
2) Ныне же приступить к пересмотру ее Устава с целью изменить совершенно ее значение и обратить учреждение в чисто торговое, а не административное.
Вышеупомянутую ревизионную комиссию можно бы отправить в колонии в будущем году, для чего я полагал бы возможным снарядить особое судно.
Все соображения сии прошу Ваше Сиятельство повергнуть воззрению Государя Императора и уведомить меня о последующем повелении Его Императорского Величества.
Подписал:/ «Константин» [26]
Обратим внимание на преамбулу письма – доводы вашингтонгского посланника Стекля о позиции американского правительства в вопросе возможного приобретения Соединенными Штатами русских колоний. Эти доводы, с которыми великий князь, очевидно, согласен, граничат с шантажом, а именно: российскому Правительству обещаны «затруднительные споры с американцами», в которых «последние будут правы», американцы угрожают России тем, что «будут вредить всей русской торговле в Америке». Великий князь абсолютно согласен с этими угрозами и предлагает Канцлеру великой державы считаться с ними!
Рассмотрим теперь выраженную в письме позицию великого князя относительно деятельности РАК. Великий князь настаивает на том, чтобы административное управление Колониями было передано в государственное ведение, ломая тем самым изначально сложившуюся систему колониального правления. Непосредственное подчинение Правителя Русской Америки Правительству, а не Компании помогло бы избежать возможного сопротивления отчуждению русских земель и собственности РАК. Поэтому, по мнению Константина, было необходимо срочно «приступить к пересмотру ее Устава с целью изменить совершенно ее значение и обратить учреждение в чисто торговое, а не административное» [27]. Великому князю нужны были доказательства несостоятельности РАК, пусть даже и небеспристрастные. Поэтому он предлагает срочно отправить в колонии комиссию в составе «несколько самых способных гражданских чиновников и морских офицеров для отревизования колониального управления Российско-Американской компании с целью удостовериться, в какой мере успешно Компания исполняет свои административные обязанности в отношении к народам ей подвластным» [28].
И, наконец, в своем письме в. кн. Константин указывает на необходимость давления Горчакова на Императора: «Все соображения сии прошу Ваше Сиятельство повергнуть воззрению Государя Императора и уведомить меня о последующем повелении Его Императорского Величества». Без сомнения, сам великий князь также излагал свои воззрения Императору, но ему была необходима поддержка в этом вопросе наиболее авторитетного в международных делах лица, каковым и являлся А.М. Горчаков.
Ответ Горчаковы позволяет уточнить его первоначальную позицию по этому вопросу и увидеть, что ряд предложений, готовивших дискредитацию РАК, исходил именно от него:
«Ваше Императорское Высочество, в письме, которым Вам благоугодно было удостоить меня 7-го сего декабря, позволили изъяснить, что, независимо от старания продать наши Северо-Американские колонии Штатам Северной Америки, как Вам кажется необходимо:
1) назначить несколько самых способных гражданских чиновников из морских офицеров для обревизования всего колониального управления Российско-Американской компании, с целью удостовериться, в какой мере успешно Компания исполняет свои административные обязанности в отношении к народам ей подвластным;
2) ныне же приступить к пересмотру ее устава, с целью изменить совершенно ее значение и обратить в учреждение чисто торговое, а не административное.
Подвергнув письмо воззрению Государя Императора, вменяю себе в обязанность представить на благоуважение Вашего Высочества некоторые мои мысли по содержанию онаго...
1) Обревизование дел компании в административном и торговом отношении чрез назначенную Правительством комиссию, доставило бы нужные данные, как для определения ценности колоний, если окажется выгодным продать их, так и для начертания нового устава Компании, если колонии останутся собственностью России (выделено мною - И.М.).
Но Правительство обнаружило бы недоверие к Компании, состоящей под особым ее покровительством, и тем уронило бы ее кредит, столь важный в торговых делах, если приняло подобную меру до наступления времени, когда можно будет изъяснить ее необходимостью приготовить материалы для пересмотра Устава.
2) желательно, чтобы продажа, если она должна состояться, была следствием предложения Соединенных Штатов, а не нашего Правительства.
Посему я полагал бы:
1) предписать Действительному Статскому Советнику Стеклю, чтобы он не компрометируя ни себя, ни Императорское Правительство, осторожно внушил Вашингтонскому Кабинету мысль о возможности склонить Россию к уступке колоний на выгодных условиях (выделено мною -И.М.);
2) отправить экстренную комиссию в колонии за два года до истечения срока дарованных Компании привилегий и
3) на основании отзыва посланника и сведений, доставленных комиссиею приступить к окончательному разрешению вопроса.
Хотя сии соображения не были еще обсуждены Министром Финансов, попечению которого вверена Компания, и который бы имел более возможности обнять предмет во всех его отношениях, однако же осмеливаюсь представить Вашему Высочеству личное свое мнение.
29 декабря
К. Горчаков» [29]
Как видно из письма, Горчаков, будучи единомыслен с в. кн. Константином Николаевичем по вопросу о необходимости продажи русских земель, не был сторонником открытых и решительных действий в отношении отказа от русских колоний. Он допускал, основываясь при этом на неопределенности позиции Государя, выясненной им в результате доклада письма великого князя Константина Николаевича, и подлаживаясь под эту позицию, что сделка может не состояться именно по этой причине. Потому Горчаков колеблется и рекомендует в.кн. Константину действовать более осторожно и предусмотрительно, вовлекая в интригу «вашингтонгский кабинет»..
Уже отмечалось, что помимо государственного саботажа РАК, Константин пытается оказывать давление на брата-Императора. Для Александра II, по всей видимости, вопрос уступки русских территорий выглядел не столь однозначно, и воздействие на позицию Государя по этому вопросу предпринималось с различных сторон. Действительно, под необходимость продажи российских владений в. кн. Константин Николаевич подвел еще одно – финансово-экономическое основание, причем основание, грозящее опасными прецедентами государству. Это основание, как уже одобренное Высочайшей Волей, высвечено в письме великого князя А.М. Княжевичу, бывшему в то время в должности….:
«Его Высокопр-ву
А.М. Княжевичу
Зимой 1857 года получив в Ницце от покойного Тенгоборского записку его о тогдашнем состоянии наших финансов, я немедленно сократил расходы по морскому ведомству, испросив Высочайшее разрешение не вооружать весь Балтийский флот и не посылать в том году эскадры в Средиземное море, и в то же время, изыскивая новые источники для получения денег, писал из Ниццы Министру Иностранных Дел, что было бы весьма полезно продать Северо-Американским Штатам наши владения в Северной Америке. Эта мера казалась мне тем более нужною, что в случае войны с морской державой мы не в состоянии защитить наших колоний, и тем более своевременною, что в 1857 г. Северо-Американские Штаты имели значительный перевес государственных доходов перед расходами.
После того Я имел случай узнать по этому предмету мнение Адмирала Графа Путятина, капитана 1-го ранга Шестакова и Посланника нашего в Америке Стекля, которые все одобряли помянутое предложение.
Препровождая Вашему Высокопревосходительству копию с письма моего Князю Горчакову и полученного на оное ответа, считаю неизлишним обратить Ваше внимание на сказанное предположение в виду нынешних финансовых затруднений наших, и тем более, что по Вашему докладу мысль о продаже вообще государственных имуществ одобрена Государем Императором (выделено мною - И.М.).
КОНСТАНТИН
«27-го» Октября 1859 года» [30].
От Государя Александра II получено одобрение возможности продажи государственных имуществ вообще в случае финансовых затруднений. По сути это была индульгенция на любые финансовые аферы с государственной собственностью, решение, к которому Государя сумели склонить и каковым тут же ловко воспользовались заинтересованные лица.Причем продажа Русской Америки окажется не единичным случаем в череде распродажи российской собственности в 60-е годы XIX в.
Таким образом, в 1857 году было положено начало правительственному лобби продажи Русской Америки, в которое уже тогда входили в. кн. Константин Николаевич, канцлер А. М. Горчаков, барон Стекль.. Цель была поставлена, пути реализации определены. Но заговорщикам препятствовали, во-первых, процветающая Российско-Американская компания, фактическая хозяйка Аляски, и, во-вторых, общественное мнение, в России, ни при каких условиях не готовое одобрить отторжение от Империи ее законных владений. Исходя из этого, следовало превратить стратегического монополиста РАК в убыточное предприятие, дискредитировавшее себя в глазах российского правительства и общества. Сделать колонии, не только приносящие прибыль в казну, но и осуществляющие снабжение и развитие всего русского Дальнего Востока, разорительной обузой для Империи. С этой целью Российско-Американская компания была подвергнута процедуре искусственного банкротства. Подобный механизм активно использовался в приватизационной практике современной России, когда искусственно разоряли заводы и фабрики, а потом за бесценок продавали их промышленные площади. Судя по всему, в секретной «Записке об уступке Соединенным Штатам наших владений в Северной Америке»[31] от 29 апреля 1857 планируемый год продажи - 1862 был выбран не случайно. К этому времени, по мысли Константина Николаевича, должна была быть проведена ревизия, на основании результатов которой заканчивающиеся в 1861 г. привилегии РАК продлены не будут. Таким образом, планировалось, что Российско-Американская компания к 1862 году прекратит свое существование, целиком переложив все бремя ответственности за управление и снабжение Аляской, Курильскими и Алеутскими островами на государство, которое окажется к этому не готовым, и эти осиротевшие территории будут легко проданы Соединенным Штатам. Комбинаторы аферы свои силы переоценили только в планируемых сроках, в остальном махинация по продаже русских земель была разыграна как по нотам.
§4. Внутриправительственная дискуссия по вопросу о продлении привилегий РАК.
Компрометация Российско-Американской компании стала важнейшим средством ее уничтожения и одновременно осторожной подготовкой общественного мнения к мысли о «ненужности» России ее заокеанских владений. Так, к началу 1861 г. дискуссия по вопросу продления привилегий РАК раскалывает общественное мнение. Свидетельством, что эта дискуссия усиленно навязывалась обществу являются письмо от 18 февраля 1861 г. в. кн. Константина Николаевича министру финансов с резкими доводами против Российско-Американской компании[32] и опровержение его основных тезисов в записке члена государственного совета генерал-адъютанта барона Врангеля, бывшего главным правителем колоний и морским министром[33]: «Близко знакомый с положением колоний наших, с духом управления ими и не чуждый положению народов обитающих север и северо-восток Сибири, управляемых непосредственно Правительством, - да позволено мне по поводу сообщенной мне копии с отношения Государя Великого Князя Генерал-Адмирала к Г. Министру финансов высказать свое мнение об изменении устава Российско-Американской компании»[34].
Поводом для письма великого князя Константина стала вопрос о продлении привилегий РАК: «Рассмотрев доставленный Управляющему Морским Министерством при отношении Вашего Высокопревосходительства от 10-го ноября прошлого года за №7209 проект нового устава Российско-Американской компании, считаю нужным сообщить Вам следующие соображения мои по сему предмету.
Проектом нового устава испрашивается для Российско-Американской компании еще на двадцать лет, т.е. по 1-е января 1882 года право управлять нашими колониями в Америке и на островах Восточного океана и исключительное право промыслов и торговли в сих местах, и вследствие этого - разные другие права и преимущества»[35].
Константин указывает на то, что компания не распространила должного влияния и попечения на подвластных туземцев, а также, что РАК не способна и не должна совмещать административное и торговое управление территориями: «1. Компания более полувека управляет подвластными России народами на берегах Северо-западной Америки и островах Восточного океана, пользуясь для сего правами административными, судебными и полицейскими. Сравнивая сведения о наших колониях обнародованные мореплавателями русскими и иностранными, отчеты самой Компании и сведения, которые получались из колоний, оказывается, что в течение помянутого времени число жителей туземцев уменьшилось, благосостояние их нисколько не увеличилось и враждебное расположение к русским не изменилось. Последние правители колоний, подобно первым промышленникам, которые селились в тех местах, находятся весьма часто в войне с туземцами и принуждены усиливать свои средства к обороне. 60-ти летнее самовластное управление Компании имело еще последствием, что туземцы не получили не малейшего убеждения в том, что над ними и над самой Компанией есть высший и праведный судья в лице Русского Государя, к которому последний из подданных может обращаться в крайних случаях с просьбой о защите и покровительстве, и который не отринет их просьбы. Они не видали у себя правителей, поставленных от Государя Императора, которые были бы выше компанейского начальства и которые бы имели единственной целью своей деятельности благосостояние туземцев, а не торговые интересы. Сверх того, Компания несмотря на благонамеренность и отличные качества многих из главных правителей вынуждена была действовать на местах через промышленных людей, часто развратных, буйных и своевольных, которые постоянно дозволяли себе оскорблять и притеснять туземцев, и на эти притеснения обиженный весьма редко получал удовлетворение. По сему этому должно сказать, что Компания не оправдала высокого доверия Правительства, которое предоставило ей управление колониями, и в этом нельзя обвинить ни директоров, ни главных правителей, между коими известны личности заслуживающие полного уважения, но это следует приписать ошибочности самого устройства управления, неправильности того распоряжения, которое предоставило торговому обществу власть правительственную. Интересы торговые не всегда совпадают с видами правительственными и потому права администратора, судьи и деятельность купца не должны никогда соединяться в одном лице или учреждении. Администратор заботится о благосостоянии, довольстве и выгодах народа коим управляет, а купец старается извлечь для себя сколь возможно более выгод из сношений с этим народом. Судья должен давать правый суд в споре покупщика с продавцом, но возможно ли это, если он судит в своем деле. По сему присвоение административных и обязанностей торговому обществу, какова является Российско-Американская компания не может быть полезно ни для Правительства, ни для акционеров, ни для жителей колоний. Оно сверх того несовместно с достоинством Правительства и Правительство не вправе отречься от исполнения священной для него обязанности управлять подвластными ему народами и давать им праведный суд и расправу»[36].
В своей записке\. Являющейся ответом на обвинения великого князя, барон Врангель указывает, что вышеприведенные обвинения противоречат не только принципам колониального развития, но и реальной ситуации: «Предлагаемым изменениям предшествуют обвинения в разных действиях Компании будто бы несогласных с видами Правительства и нанесших Государству вред, а именно:
1) В течение 60-ти лет существования Компании число жителей туземцев уменьшилось, благосостояние не увеличилось и враждебное расположение к русским не изменилось.
Объяснения. Для пояснения этого пункта, мы должны обратить внимание на то, что туземное население разделяется на подвластных России (алеут и кадьякцев) и неподвластных, совершенно свободных, ни от кого не зависимых индейцев (колоны и северные племена материка Америки). После Шелехова, открыто воевавшего с непокоренными кадьякцами, и Баранова, употреблявшего уже покоренных островитян на разные промысловые и воинственные экспедиции, произошли в системе управления колониями радикальные изменения, приведшие и к изменениям в самом Главном Правлении в столице. Вследствие ревизии колоний Капитаном Головиным в 1818 году, изменен устав Компании, и главными правителями колоний стали назначаться штаб-офицеры Императорского флота с утверждения Государя Императора и в качестве коронных агентов для наблюдения за исполнением государственных законов, в защиту туземцев от своеволия и притеснений. С тех пор приведенное выше обвинение не имеет применения. Главные Правители командировали каждогодно во все отделы колониальных владений морских офицеров императорской службы, лиц доверенных и благонадежных, с поручением опрашивать жителей, удовлетворять справедливые жалобы и доносить Главному Правителю о всех замеченных ими неисправностях и произвольных действиях.
А с 1831 года и поныне, сам Главный Правитель осматривал отдельные части колониальных владений. Положа руку на сердце, можно со всею справедливостью сказать, что власти обходились с туземцами почти всегда добросовестно и кротко, и ни одна справедливая жалоба не оставалась неудовлетворенною, телесных наказаний над туземцами не употреблялось, криминальных преступлений /за исключением, кажется, одного случая, подавшего повод к высылке виновного в Охотск/ не случалось. Колонии снабжены были продовольствием исправно; алеут стали перевозить на промыслы в более отдаленные пункты на парусных судах во избежание тех опасностей, которым они подвергались прежде, переезжая те же расстояния на байдарках; заведены больницы, устроены школы, вновь воздвигались церкви, - и по мере сил и возможностей, не жалели ни издержек, ни трудов для водворения благочестия, нравственности, зачаток некоторой цивилизации между доселе дикими племенами края. О враждебном их расположении к русским разве только в преданиях остались некоторые следы /Разумеем это натурально только в отношении к подвластным племенам, которые все приняли Православное вероисповедание/»[37].
Врангель указывает, что компанейское управление заокеанскими территориями гораздо эффективнее казенного управления отдаленными землями: «Всякий, объезжавший север и северо-восток Сибири, Камчатку, например, должен по справедливости засвидетельствовать, что подобных фактов, доказывающих заботливость и благонадежность начальства, не встречается там в таком объеме, как в колониях, где главное начальство не стесняется в средствах исполнения»[38].
Бывший правитель Русской Америки прямо заявляет, что уменьшение численности местных народов на вверенных компании землях, - это неправда, хотя подобные тенденции исторически закономерны: «Что же касается до уменьшения народонаселения, то едва ли в последнее 30-летие это замечено. Впрочем, явление это не токмо исключительное в колониях наших, но напротив было бы исключением, если бы народонаселение не подвергалось уменьшению. В Сибири, в Камчатке, на островах Южного Океана, на всем огромном материке Америки, везде, где прикасалась европейская цивилизация племен диких, туземное население видимо уменьшалось. Этот факт, всему миру известный, не составляет явление неразгаданное, и обвинить Российско-Американскую компанию за то, что управляемые ею народы подвергались тому же закону, кажется, самая строгая справедливость не допускает»[39].
Врангель вынужден опровергать доводы Константина, которые основаны на элементарном незнании сути проблемы: «Замечание на счет враждебного расположения туземцев к русским, вероятно относится к неподвластным России индейцам в самом близком соседстве Ново-Архангельска, под его стенами обитающим. Они, как и все соплеменные им дикари материка, торгуют свободно с американцами Соединенных Штатов, которые снабжают их ружьями и порохом, и как народ по духу воинственный, ведет междоусобные войны, позволяет себе разные дерзости впротиву русских, и бывает за то, в свою очередь наказываем по справедливости. Виновата ли в этом Российско-Американская компания? Разве благоразумнее или человеколюбивее было бы с ее стороны, если бы она вступила с этими народами в вечную истребительную войну, которая все-таки не привела к желаемой цели. В доказательство указываю на наш Кавказ»[40].
Все обвинения, выдвинутые в. кн. Константином Российско-Американской компании относительно туземцев, оказываются голословными, например, ничем не подкреплено утверждение, что «туземцы не получили ни малейшего убеждения в том, что над ними и над самой Компанией есть высший и праведный судья в лице Русского Государя»[41]. В своей записке Врангель, полемизируя с великим князем, отмечает следующее: «Туземцы, разумеем подвластных, убеждены в приведенной выше истине, никак не менее камчадал, якутов, тунгусов и признают ближайших поставленных над ними начальников, как лиц доверенных от Правительства, которое совпадает в их понятиях с Компанией. В торжественные дни особенно, а в обыкновенные воскресные дни постоянно, собираясь в церквах чаще камчадалов и тунгусов, они имеют случай помолится за Царя и весь Царский дом. Сменяемые через каждые 5 лет Главные Правители и их помощники, так сказать осязательно напоминают самим приездом из России о той высшей власти, именем которой они приезжают управлять краем. Главный Правитель, действуя и в качестве доверенного от Правительства лица, в этом отношении независимый от Компании, представляется в глазах туземцев высшею инстанциею, надобно тому, как областные начальники и губернаторы в понятиях сибирских народов, с тою только разницею, что Главные Правители чаще сближаются с туземцами посредством личных расспросов, чем начальники в Сибири, где на недоступных тундрах кочуют подвластные России племена»[42].
Комментарии Врангеля к обвинениям великого князя обнажают не только беспочвенность, но и очевидную надуманность обвинений. Например, утверждение, что «туземцы не видали у себя Правителей, поставленных от Государя Императора, которые были выше компанейского начальства и которые имели бы единственною целью своей деятельности благосостояние туземцев, а не торговые интересы»[43], не выдерживают критики даже с точки зрения здравого смысла. На это обвинение Врангель отвечает следующим: «Мы можем засвидетельствовать с полным знанием дела, что Главные Правители, приезжая в колонии, чувствуют себя и действуют там как начальники весьма самостоятельные, совершенно независимые от Дирекции Компании во всех случаях, когда дело идет о защите нарушенной справедливости, угнетенной невинности, соблюдении государственных постановлений, устройстве богоугодных учреждений, заботе об улучшении быта туземцев, - и всегда Главные Правители стараются соразмерить и соглашать коммерческие предприятия с местными средствами и благосостоянием жителей. Главный Правитель, утвержденный Государем, высоко ставит и чтит ту доверенность Правительства, с которою оно возложило на него обязанность правительственного контролера. А доверенность и обязанность эта именно потому плодотворны, что возложены на него же, главного распорядителя и начальника по всем прочим отраслям колониального управления: он сменяет и назначает нового начальника в какой-либо отдельной местности, тот час по получении справедливой на него жалобы; он взыскивает не посредством бесплодной переписки, а на самом деле, при малейшем к тому поводе. Разделение власти контролера от власти главного распорядителя, в выборе которого поступают с возможной разборчивостью, поведет к столкновению без конца, к перепискам, справкам, обвинениям, оправданиям и т.д., без всякого полезного для кого-либо практического результата. Когда ответственность лежала на Главном Правителе, он пользовался всеми правами уполномоченного от Компании лица и мог действовать быстро, не стесняясь формальностями; но как скоро и самая ответственность контролера, и главного правителя подчинится бюрократическим формам, то место быстроты действий займется медлительностью, неизбежною при соблюдении узаконенных форм, которые в том крае неудоприменимы.
В приведенном обвинительном пункте, между прочим, сказано, что грубые, необразованные личности из низкого сословия назначаются иногда в местные начальники, которые дозволяют себе оскорблять и притеснять туземцев и будто на эти притеснения весьма редко обиженный получает удовлетворение.
Не смеем утверждать, чтобы не случались в отдаленных от надзора пунктах некоторые неправильности и обиды, - где же это не случается на огромном пространстве Империи, даже в местностях, гораздо более доступных для надзора со стороны благонамеренных начальников, - но мы уверены, что во всех случаях, когда подобные бесчинства доводимы бывают до сведения главного правителя, наверно последует удовлетворение»[44].
Исправление существующих неурядиц путем изменения Устава Врангелю представляется невозможным: «Среди обвинений в записке к Министру финансов оправдываются директоры и главные правители и снимается с них вина в приведенных неурядицах, которые приписываются «ошибочности самого устройства управления». Смеем думать, что если эти неурядицы происходили не вследствие физических местных затруднений от разбросанности и отдаленности полудиких стран, и следовательно от явной невозможности их совершенно устранить (а всего менее устранились бы посредством изменения устава), - то главные правители, допустившие беспорядки, никак не могли быть оправданы, а должны бы, по всей справедливости, ответствовать перед законом»[45].
В своем письме Константин Николаевич выступает против прошения Российско-Американской компании продлить на 20 лет ее исключительную монополию «пользоваться всеми предметами и выгодами, какие промышленность и торговля могут извлечь как на поверхности, так и в недрах земли, без всяких со стороны других на то притязаний и исключительное право рыболовства и китоловства во всех водах Российско-Американских колоний»[46]. Великий князь утверждает, что данная привилегия фактически тормозит экономическое развитие края, не дает развиваться торговому флоту, провоцирует деятельность иностранных промышленников: «Неограниченной здесь монополией Компания пользуется уже более полувека в ущерб другим подданным Государя Императора, которые желали бы обратить свои капиталы и труд на помянутые промыслы и торговлю, и в течение этого времени она могла с убытком вознаградить себя за издержки, понесенные ею при первоначальном устройстве своих владений в колониях. При этом должно заметить, что эта монополия Компании убила частный купеческий флот наш, который начинал появляться в Восточном океане и нисколько не помешала иностранцам наполнять наши воды своими судами и торговать с туземцами. В настоящее время русских купеческих судов не существует при наших берегах, а ежегодно являются туда сотни американских и английских судов с несколькими тысячами матросов, которые занимаются теми самыми промыслами от участия в коих исключены одни русские подданные вследствие исключительного права предоставленного Компании»[47].
На основании подобных доводов в. кн. Константин Николаевич заключает, что продление привилегий принесет России «положительный вред», и что следует преобразовать РАК в «обыкновенное торговое общество»: «Соображая все вышеупомянутое, я нахожу, что предоставление Российско-Американской компании тех прав и преимуществ, о продлении коих еще на 20-ть лет она ныне домогается, было важною государственною ошибкою, и что существование ее при этих правах принесло России положительный вред. Весьма счастливо, что приближающийся ныне срок дарованным ей привилегиям дает возможность Правительству исправить помянутую ошибку и обратить Компанию в обыкновенное торговое общество»[48].
Врангель с легкостью разбивает надуманный довод великого князя, что «монополией Компания пользуется в ущерб другим подданным Государя Императора и эта монополия убила частный купеческий флот наш»[49]. Однако в его защите по данному пункту больше недоумения и непонимания причин данного обвинения: «Цель торговых монополий, не в